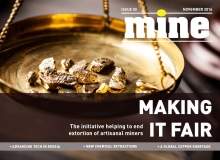 Artisanal miners are often under threat due to the blurred lines between their small-scale works and illegal operations. These informal groups can be vulnerable to extortion or abuse by criminal gangs, as well as harsh government crack-downs. The Fairmined initiative aims to help artisanal miners access international markets before they've reached the required formalisation process, while also tackling some of the severe risks they face in the early stages. We catch up with Fairmined to hear more about the new 'entry standard' and its success.
With sights set on innovation, we profile how mining giant Alrosa is helping to accelerate mining technology development in Russia, speak to Deloitte about the importance of innovations in Australia's industry, and look at the evolution of mine scheduling software following Maptek's latest launch.
Plus, we investigate the reality of a world copper shortage and track developments in chemical extraction techniques.
MINE magazine is free for the iPad: download our app to read the latest issue and browse our back issues for free.
In this issue
Accelerating Technology in Russia
Russian mining giant Alrosa is to support the mining and metals component of GenerationS-2016, a technology accelerator focused on start-ups from Russia and Eastern Europe. With Alrosa inviting projects across the field, we profile what impact this could have on mining innovation.
Read the article
Deloitte Discusses Innovation in Australia
A Deloitte report on the state of mining innovation in Australia has concluded that, while companies recognise the need to innovate, the industry is failing to implement it effectively. We find out more.
Read the article
Striking a Fair Deal in Gold
The line between artisanal and illegal mining is often blurred and artisanal miners are often extorted or abused by criminal gangs. A new initiative called Fairmined aims to help artisanal miners access international markets and we catch up with them to hear about their new entry standard.
Read the article
Is a Copper Shortage in the Pipeline?
New research has found that out of 80 projects in the copper mining pipeline, only six are due to complete by 2020, and demand could outstrip supply by 2018. What are the reasons for the disruption in copper project development around the world? We investigate.
Read the article
The Edge of Chemical Extraction
Mining with chemicals is commonplace, and also a major pinch point in production where innovation holds the promise of both speeding up and maximising yield. We track the newest developments in mining chemicals, profile projects seeking to overcome the environmental dangers and look at some interesting new fields.
Read the article
Evolution of the Digital Mine
Software provider Maptek has released new tools that it says will improve mine scheduling processes, allowing engineers to achieve practical, high-value schedules that can be implemented at a production level. What can mining companies gain from this software?
Read the article
Next issue preview
The Philippines Government announced wide-scale mine closures in September following a nationwide environmental review. With some large-scale operations closing down, we find out what was exposed and the impact of such a comprehensive measure.
Across the regions, we catch up with the Namibia Mining Minister about the country's heavy investment in mineral deposits, with the Bisie Tin project setting up in the DRC we examine what goes into establishing a new operation in a potentially challenging location, and report on Unearthed – the mining industry's hackathon event in San Francisco.
Meanwhile, in technology, we speak to MIT scientists about their accidental discovery of a new smelting technique, and get a look at Hexagon's newest mining vehicle solutions.
Digital magazine FAQs
You can read MINE for free on the iPad. Download our app from the App Store to read the latest issue and browse the back issues in our archive.
You can also continue to read the desktop version for free on our web viewer. (Browser compatibility: The web viewer works in the latest two version of Chrome, Firefox and Safari, as well as in Internet Explorer 9 and 10. Some features may not be compatible with older browser versions).