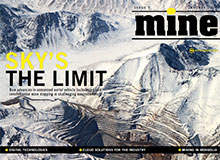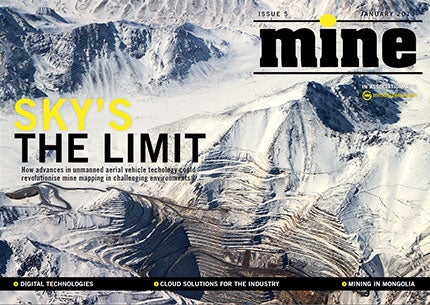 In the latest issue we explore how unmanned aerial vehicle technology is pushing the limits of mine-mapping technology, and profile the Los Pelambres mine in Chile where a record-breaking 80-minute mapping mission was achieved.
As the industry turns to digital technology to streamline business and capture reliable data, we speak to technology experts about the digital revolution mining revolution and find out how rapidly emerging cloud computing solutions can benefit the industry.
We also, we speak to British miner Craig Notman about his experiences mining for gold in Mongolia and the dangers he faced there.
Click here to read your free copy.
In this issue
Pushing the Limits
An unmanned aerial vehicle has completed a record breaking mapping missions above one of the world's highest mines. MINE asks C-Astral Aerospace's co-founder Nejc Trost about elevating UAV technology to new heights.
Read the full article.
Minera Los Pelambres, Chile
We take a look at Los Pelambres mine, the world's fifth-largest copper deposit with an estimated 2.1 billion tons of untapped reserves.
Read the full article.
Clouds of Change
Cloud computing has taken business, quite literally, by storm. We speak to SAP's Peter Majeed about the solutions which will benefit the mining industry now and in the future.
Read the full article.
Mining in a Digital Age
The mining industry is increasingly turning to digital technologies to streamline business models and capture reliable data. We speak to Wipro's vice president about the 'digital mining revolution'.
Read the full article.
A British Miner's Mongolian Experience
For 12 days, British miner Craig Notman swapped coal mining in the UK for gold digging in Mongolia. MINE finds out about the dangers he faced while working with poor artisanal miners.
Read the full article.
Pueblo Viejo Gold Mine, Dominican Republic
With proven and probable reserves of 25.3 million ounces, Pueblo Viejo mine is the second largest high sulphidation gold deposit in the world. We take a look at the mine, which produced first gold in August 2012 and is expected to start commercial production in late 2012.
Read the full article.
Next issue preview
Sustainability is a pressing issue for the mining industry. In the next issue we speak to the CEO of Brazilian mining giant Vale's Technology Institute, Luiz Mello, to find out more about the company's vision for a sustainable mining industry, and its focus on technological solutions to improve the efficient use of natural resources and to reduce emissions from pollutants.
We also ask Major Drilling about specialist drilling in uncompromising environments, and how the need to find commodities is taking the industry into ever more remote locations. Moreover, as production at South Africa's mines has suffered setbacks, including strikes and a decline in the operating environment, we assess the risks faced by producers operating in the region.
We also take a look at operations at the Marikana platinum mine in South Africa and the Renard Diamond project in Canada.
Digital Magazine FAQ
The digital magazine is viewable on any computer with Flash Player installed. It is also viewable on mobile devices, iPhones and iPads, although some features and videos may be disabled.
View the archive of back issues.