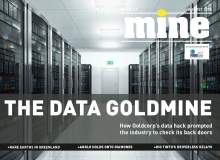 A major data breach at one of the world's largest gold miners could have catastrophic consequences for the company. In April, hackers shared sensitive data from Canada's Goldcorp concerning confidential employee information and threatened further leaks with evidence of 'corporate greed and sexism'. Whether or not the accusations are true, it's a harsh warning and we explore how major firms can better protect their data.
Also, we take a look at what Greenland may be able to offer the growing trade in rare earths, ask why Anglo American is retaining De Beers despite a failing market, and take a look inside Chuquicamata – the world's biggest open copper mine.
In tech, we catch up on the leading trends in mining simulation technologies and hear about Rio Tinto's problems running its driverless freight train programme in Pilbara.
In this issue
A rare discovery
Greenland Minerals and Energy has been exploring the Kuannersuit rare earth mine in southern Greenland and will soon be able to apply for an operations licence. But is there any chance of breaking China's near-monopoly on the sector?
Read it here.
Diamonds are forever
Anglo American has kept De Beers as a prize asset despite huge competition and dwindling demand. What's behind this thinking? We take a deeper look at the fortunes of Anglo American and De Beers.
Read it here.
Protecting the data goldmine
Goldcorp gold mining company suffered a major data breach in April. Hackers shared sensitive internal data about the company and its employees, with promises to leak more damaging material. We look into what companies can do to better protect their data.
Read it here.
Simple simulation
Mining simulation is becoming ubiquitous as companies are exploiting the new synergies and savings offered by advances in modelling software, big data and real-time monitoring. We look at some of today's leading trends in mining simulation.
Read it here.
Copper, Chile & Codelco
Our reporter visits Codelco's Chuquicamata in Chile – the worlds' biggest open copper mine – to find out about daily operations and a $20bn investment plan.
Read it here.
Driverless train woes
Rio Tinto has been forced to cut its iron ore production guidance after repeated software glitches delayed its driverless freight train programme in Pilbara by an estimated three years. We look into the problems and how the delay could affect the sector.
Read it here.
Next issue preview
Following a UN report exposing the scale of illegal mining worldwide, we look into the true cost of these operations for the world's people, environment and businesses.
Elsewhere in the world we ask whether it's time for Kenya to become a mining leader and what minerals it contains, find out if scandium could be a breakthrough metal to change Australia's fortunes, catch up with Stellar Diamonds' Tongo project in Sierra Leone, and speak to Beowulf Mining about Sweden's remaining mineral potential and its position in the global mining market.
Mine Safety and Health Administration (MSHA) about new standards and how effective the Rules to Live By campaign has been, and profile how Anglo American is introducing the human factor to health and safety.
Digital magazine FAQ
You can read MINE for free on the iPad. Download our app from the App Store to read the latest issue and browse the back issues in our archive. Sign up for a free subscription in the app and never miss a new issue.
You can also continue to read the desktop version for free on our web viewer. (Browser compatibility: The web viewer works in the latest two version of Chrome, Firefox and Safari, as well as in Internet Explorer 9 and 10. Some features may not be compatible with older browser versions).