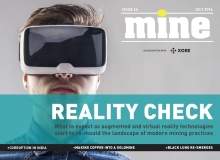 Virtual and augmented reality present a major opportunity to transform industrial applications, and for mining, this encompasses the early stages of exploration and mine development through to building new tools and carrying out submersive training programmes. As commercial-scale production puts this technology in the hands of more miners, we look at the possible applications and who is leading the way.
We speak to Telematics4u about its new sensor-based tracking technology that's helping reduce criminal activities in India's mining supply chain, investigate the persistent global issue of black lung in coal mining, and discover the factors shaping the availability and supply of phosphorus.
Also, we look at copper mining in Zambia and whether Glencore's Mopani copper mine could boost the country's economy, and catch up with Queensland's controversial Carmichael coal mine – its effects on Indian industry and the Great Barrier Reef.
MINE magazine is free for the iPad: download our app to read the latest issue and browse our back issues for free.
In this issue
Turning copper into gold
With Glencore investing $1.1bn into Zambia's Mopani Copper Mines, we take a look at the history of copper mining in the country and ask what the future holds if Mopani becomes a world-class operation by 2023.
Read it here.
Tackling corruption with tech
Corruption, fraud and illegal mining are persistent problems for Indian states such as Goa, Karnataka and Andhra Pradesh. We speak to Bangalore-based Telematics4u about how the industry is turning to sophisticated sensor-based tracking systems for commodities management.
Read it here.
Developing phosphorus
Phosphorus is an irreplaceable ingredient of fertilizer and phosphate rock, from which most phosphorus is derived, is only commercially viable to extract in a handful of countries. We investigate the forces shaping its availability.
Read it here.
Reality check: using augmented and virtual tech
The launch of Oculus Rift on a commercial scale has made augmented and virtual reality achievable for many industries. We see the varied applications of this new technology and who is leading its development.
Read it here.
Carmichael coal: economy vs environment
The Queensland Government's approval of mining leases and a rail project at the controversial Carmichael coal mine in Australia have ramped up huge environmental protests. We examine the scale of this project, its benefits and environmental risks posed to the Great Barrier Reef.
Read it here.
Black lung: the enemy returns
At an Australian Senate hearing in March, miners claimed that mining companies are not taking proper measures to protect workers, resulting in a resurgence of pneumoconiosis, or black lung. We investigate.
Read it here.
Next issue preview
Despite cutting the value of De Beers' assets every year since 2012 Anglo American has stood firm in its decision to retain the company as a prize asset. This is despite huge competition from the synthetic market and dwindling demand from India and China. We take a deeper look at the fortunes of Anglo American and De Beers.
Also, we examine what Greenland may have to offer the growing trade in rare earths, ask what mining companies can do to better protect their data in the wake of a major breach at Goldcorp in April, and find out more about the leading trends in mining simulation.
Plus, we look inside Codelco's biggest open copper mine, Chuquicamata, and learn about the problems with Rio Tinto's Pilbara project after the company was forced to cut iron ore production guidance after repeated software glitches delayed its driverless freight train programme.
Digital magazine FAQ
You can read MINE for free on the iPad. Download our app from the App Store to read the latest issue and browse the back issues in our archive. Sign up for a free subscription in the app and never miss a new issue.
You can also continue to read the desktop version for free on our web viewer. (Browser compatibility: The web viewer works in the latest two version of Chrome, Firefox and Safari, as well as in Internet Explorer 9 and 10. Some features may not be compatible with older browser versions).