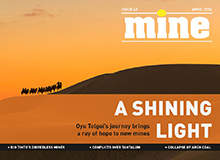 MINE magazine is free for the iPad: download our app to read the latest issue and browse our back issues for free.
Oyu Tolgoi is a ray of hope for the mining industry. The major, undeveloped copper-gold mine is preparing for full operations despite a slog of government and funding problems, and a backdrop of slumping global commodity prices. While the mine holds promise, its development seems to buck several trends. We speak to the project's financial adviser Milbank to find out how Oyu Tolgoi can ensure success in the current market.
Also, we investigate who is gaining from excavating the conflict mineral tantalum, speak to Rio Tinto about its two driverless sites in Pilbara, Australia, ask what the collapse of US Arch Coal tells us about the state of America's mining industry, and find out how Nippon Dragon Resources' new thermal fragmentation method could change how ore is obtained.
And in resources, AMMA provides an insight into the benefits of connecting women with female roles models in the mining industry, and we learn about Austmine's Innovation Mentoring programme to support new developments and technologies.
In this issue
Dark Days for US Coal
We track the fall of the US's Arch Coal which sent shockwaves through the industry, dramatically capturing the huge impact that China's economic woes and the switch to cleaner energy will have on the industry.
Read the article.
On the Trail of Tantalum
Although widely used in the electronics industry, the source of tantalum has changed dramatically over the past 15 years to become a major conflict mineral today. We take a deeper look at tantalum mining to find out who's benefiting.
Read the article.
Making Connections: Working for Gender Diversity
The Australian Women in Resources Alliance (AWRA) hit the ground running with its e-Mentoring Program for women and a guide to mastering flexible work. AMMA explores female roles models in the resource industry.
Read the article.
Light at the End of the Tunnel
Oyu Tolgoi, the largest undeveloped copper-gold mine in the world, is ploughing on despite slumping global commodity prices. We speak to the development's financial advisors about how it's managing to buck trends.
Read the article.
Rio Tinto's Driverless Mines
Rio Tinto's mines in Pilbara, Australia have achieved a world first by moving iron ore entirely without drivers using driverless trucks controlled from an operations centre more than 1,200km away. We catch up with Rio Tinto to find out more.
Read the article.
Bringing the Heat
Canada-based junior mining company Nippon Dragon Resources has developed a new mining method called thermal fragmentation, which uses heat to 'spall' high-grade mineral veins. Could this method shift the paradigm of many mining operations?
Read the article.
Innovation or Extinction
Australian mining association Austmine has launched the Innovation Mentoring in METS programme, which aims to help innovators take their ideas through the development and commercialisation process. MINE finds out more about this support scheme.
Read the article.
Next issue preview
Russia's Sarylakh antimony and gold mine is one of the coldest on earth and can plummet as low as -46°C. In contrast, Canada's 3km-deep Kidd Creek Mine is surrounded by magma creating ambient rock temperatures of up to 55°C. We take a look at mines in extreme conditions to find out how operations are made possible and workers kept safe.
We investigate the impact of nickel mining on Madagascar and its environment, ask why the Association for Mineral Exploration British Columbia is calling for a reform of land access regulations, and review the US Environmental Protection Agency's efforts to prevent mining companies declaring bankruptcy to avoid pollution clean-ups.
Also, we hear about the University of Exeter's new and economical method of finding copper deposits in magmatic rocks, and explore how airborne electromagnetic surveys help miners identify and analyse specific deposits.
Digital magazine FAQ
You can read MINE for free on the iPad. Download our app from the App Store to read the latest issue and browse the back issues in our archive. Sign up for a free subscription in the app and never miss a new issue.
You can also continue to read the desktop version for free on our web viewer. (Browser compatibility: The web viewer works in the latest two version of Chrome, Firefox and Safari, as well as in Internet Explorer 9 and 10. Some features may not be compatible with older browser versions).