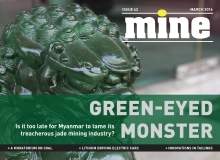 MINE magazine is free for the iPad: download our app to read the latest issue and browse our back issues for free.
Myanmar's jade mining industry is suffering the effects of long-term corruption, with profits lining the pockets of the wealthy few while the country's healthcare and education systems struggle for funding. Added to this, the lack of formalised safety regulations is leaving miners vulnerable to further accidents. With a new government promising change, we investigate how Myanmar can make jade sustainable.
Following fiery debates at COP21, we ask how realistic the the demand for a global moratorium on new coal projects is, and speak to the National Coal Mining Museum of England's new director about coal becoming a relic of the past.
Also, we find out why Tesla has chosen Chile as a potential supplier of lithium for its Nevada battery production plant. In operations, we explore developments in waste storage and profile Boart Longyear's new TruProbe drilling system.
In this issue
Lithium: the Key to Electric Cars
In order to support battery production at its new Nevada plant, Tesla is reportedly looking towards Chile as a source of cheap lithium. We find out more about this potential deal and about lithium – an element that will make or break the electric car industry.
Read the article here.
Myanmar's Monster
Jade is a much sought-after though dangerous mineral to mine, as was sadly proven by the Myanmar landslides that cost the lives of around 100 miners. We look into the jade market and find out why it sorely needs to change.
Read the article here.
Data Mining
Boart Longyear unveiled its TruProbe system in 2015 that claims to identify minerals and metals faster and more cheaply than previous methods. We profile this innovative new system ahead of its launch.
Read the article here.
When the Dam Breaks
A deadly mud slide at a Brazilian iron ore mine sparked debate over better ways to store ore waste to protect both lives and the environment. We explore the latest innovations.
Read the article here.
Coal: From Asset to Artefact
The National Coal Mining Museum of England appointed a new director weeks after the country's last deep-cast coal mine closed. We speak to director Mike Benson about the history of UK coal.
Read the article here.
Keep it in the Ground
December's UN climate summit in Paris was another opportunity for activists and leaders from several countries to call for a moratorium on new coal projects, but the backlash has been strong. We ask, is it practical to phase out coal?
Read the article here.
Next issue preview
The collapse of Arch Coal perfectly captured the pressure put on the US industry by China's economic strife and the switch to cleaner energy. We trace the fall of Arch Coal, once one of the biggest coal mining companies in the country, to reveal the state of America's modern mining industry.
Against a backdrop of closures, the huge Oyu Tolgoi copper-gold mine is set to proceed with its development. We find out why Milbank financial advisers forecast success in the current market. Also, we take a closer look at tantalum mining to discover who is benefiting from this metal, which has become a major conflict mineral.
Also, we catch up with Rio Tinto on the success of its pioneering driverless mines in Pilbara, Australia, and speak to Canadian junior Nippon Dragon Resources' about its new thermal fragmentation mining method.
Digital magazine FAQ
You can read MINE for free on the iPad. Download our app from the App Store to read the latest issue and browse the back issues in our archive. Sign up for a free subscription in the app and never miss a new issue.
You can also continue to read the desktop version for free on our web viewer. (Browser compatibility: The web viewer works in the latest two version of Chrome, Firefox and Safari, as well as in Internet Explorer 9 and 10. Some features may not be compatible with older browser versions).