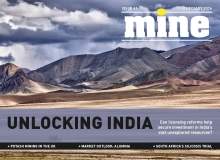 MINE magazine is free for the iPad: download our app to read the latest issue and browse our back issues for free.
India is reportedly preparing a new mineral exploration policy which, if successful, would give foreign and private sector companies access to exploration licences in the country. As an area with such a wealth of resources available, we investigate the challenges India still faces in its efforts to redefine its mineral exploration landscape, including boosting public funding and tackling corruption.
Also, we hear the latest on the class action suit of former employees against 32 South African gold mining companies accused of causing irreparable lung damage through neglect, we look at Sirius Minerals' £1.7bn potash mine in the UK, and find out why Canada's new Liberal party Prime Minister has the potential to champion both environment and industry.
Plus, we investigate the impact unsteady bauxite supplies are having on aluminium production, and speak to award-winning engineer Graeme Jameson about his revolutionary Jameson Cell, and his latest flotation cell development.
In this issue
Canada's Prime Time
Canada's new Prime Minister Justin Trudeau has promised more funding for mining and to reform relationships with First Nations communities. But can this new liberal movement balance its commitments to industry and environment?
Read the article.
Exploring India: Unlocking Potential
India is reportedly preparing a new mineral exploration policy, which could make exploration licences accessible to more foreign and private sector companies. We ask what other challenges the country needs to address to improve its mineral exploration landscape.
Read the article.
Fertiliser of the Future
A £1.7bn potash mine has been approved for construction in a North York national park, despite considerable opposition. We catch up with Sirius Minerals to hear the latest plans for this 'once in a lifetime opportunity'.
Read the article.
A Story of Supply
Global bauxite mining and alumina capacity is forecast to grow by 29.6% over the next ten years, reaching 179.6 million tonnes by 2024. But what can we expect of this commodity, as its capacity expands and more sources emerge?
Read the article.
Mining on Trial
A landmark trial has begun in South Africa, as ex-miners are suing 32 gold mining companies for failing to adopt safety measure leading to irreparable lung damage and disease. We hear about the trial and find out how this action could affect the industry.
Read the article.
Keep on Innovating
Award-winning engineer Graeme Jameson made a seismic impact in the mining sector in the 1980s with his Jameson Cell invention, and recently received the Australian Prime Minister's Prizes for Science. At 79 years old, we speak to Jameson about his latest invention in development.
Read the article.
Next issue preview
After planning a super-sized battery production facility in Nevada, Tesla is now struggling to source the lithium it needs at the price it wants, and is reportedly speaking to the Chilean Government's Codelco about a deal. We find out more, and look into other possible sources of lithium, an element able to make or break the electric car industry.
Following the Brazilian mud slide, we investigate innovations in waste storage, look into the dangerous market for jade highlighted by the Myanmar disaster, and profile Boart Longyear's TruProbe system that it claims will revolutionise drilling.
Also, we speak to communications specialist Huawei about its technology portfolio and the future of mining communications. Plus, in the aftermath of the Paris UN climate change summit we ask, is there a realistic way to phase out fossil fuels?
Digital magazine FAQ
You can read MINE for free on the iPad. Download our app from the App Store to read the latest issue and browse the back issues in our archive. Sign up for a free subscription in the app and never miss a new issue.
You can also continue to read the desktop version for free on our web viewer. (Browser compatibility: The web viewer works in the latest two version of Chrome, Firefox and Safari, as well as in Internet Explorer 9 and 10. Some features may not be compatible with older browser versions).