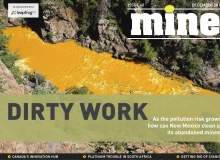 The toxic spill at the Gold King mine in New Mexico has drawn attention to the environmental risks posed by the state's thousands of abandoned mines. As the authorities struggle to tackle the problem, we investigate what it will take to clean up these forgotten sites.
Ontario-based innovation hub the Northern Centre for Advanced Technology has partnered with four companies to introduce new mining technologies to the facility's operating mine, which serves as a test-bed for new products. We take a look at the new technologies being trialled at the site.
Also in this issue, we investigate how Anglo American's sale of its South African platinum assets is affecting the country's industry and workforce; plus we take a look at less environmentally damaging alternatives to cyanide processing and find out how Russian miner Mikhailovsky GOK's iron ore operations made the switch to digital with the help of Dassault Systèmes' software.
MINE magazine is free for the iPad: download our app to read the latest issue and browse our back issues for free.
In this issue
Scandals and Strikes: Platinum in South Africa
Anglo American's selling of its South African platinum mines is causing concern about the country's industry and the thousands of lost jobs. Lindsay Dodgson asks, is there hope for platinum mining in South Africa?
Read the article.
The Rise and Fall of Glencore Xstrata
With China's stalled economic growth and depressed global commodity prices, shares in Glencore Xstrata have reached an all-time low. Julian Turner asks, can the world's biggest mining commodities trader regain investor trust?
Read the article.
Canada's Mining Innovation Hub
The Ontario-based Northern Centre for Advanced Technology (NORCAT) operates its own mine where companies can test, tweak and showcase new products. Rod James speaks to CEO Don Duval about the latest innovations that will define the mine of the future.
Read the article.
Removing Cyanide from Modern Mining
The use of cyanide in mining operations is facing increasing public opposition, with some countries banning it entirely. So should the toxic chemical be phased out of processing, and what are the alternatives? Heidi Vella reports.
Read the article.
Making Sense of the Numbers
In this case study Dassault Systèmes explains how Russian iron ore producer Mikhailovsky GOK used its GEOVIA Surpac mine planning software to help increase production and resolve routine mining issues.
Read the article.
Dirty Work: Can New Mexico Clean Up its Abandoned Mines?
Damage wrought by the Gold King mine spill in Colorado has highlighted the staggering number of abandoned mines in New Mexico. Lindsay Dodgson reports on the complex nature of the state's deserted mines problem.
Read the article.
Next issue preview
A landmark trial has begun in South Africa, as former employees are suing 32 gold mining companies for irreparable lung damage, due to long-term failures to implement safety measures. We catch up with the trial and see how permitting class action could set a precedent for the industry.
In our regional focus, we hear about Sirius Minerals' recently approved £1.7bn potash mine in the UK, consider how India's proposal for a new mineral policy could affect exploration as well as foreign investment in the country, and ask why mining companies are hailing in Canada's new Liberal party Prime Minister.
Also, we investigate the impact of unsteady bauxite supplies on aluminium production, and speak to award-winning engineer Graeme Jameson about his revolutionary Jameson Cell, and his latest development.
Digital magazine FAQ
You can read MINE for free on the iPad. Download our app from the App Store to read the latest issue and browse the back issues in our archive. Sign up for a free subscription in the app and never miss a new issue.
You can also continue to read the desktop version for free on our web viewer. (Browser compatibility: The web viewer works in the latest two version of Chrome, Firefox and Safari, as well as in Internet Explorer 9 and 10. Some features may not be compatible with older browser versions).