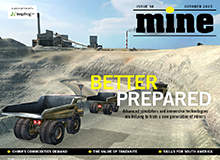 MINE magazine is free for the iPad: download our app to read the latest issue and browse our back issues for free.
The mining industry is seeing growing demand for advanced simulation-based training, in particular for the operation of remotely controlled equipment. We find out more about this growing market and the technologies being developed to help train the next generation of mine operators.
In other technology news, we find out how Vancouver-based start-up MineSense has caught the industry's attention with a real-time sensor system that promises to improve the yield of sorting low-grade ores and how the technology's commercialisation is coming along.
We also investigate the potential effects of the recent downturn of the Chinese construction and manufacturing sectors on commodity prices, and take a look at Tanzania's efforts to take advantage of its unique resource of the rare stone tanzanite. As a UK partnership sets out to address the skills shortage in the South American mining sector we find out which specialist skills are in demand, plus we ask what Shenhua's even-year fight for its coal project in New South Wales tells us about the challenges of securing a coal mining license in Australia today.
In this issue
Chasing the Dragon's Tail
Chinese construction and manufacturing has seen a sharp downturn that looks set to last. Chris Lo looks into the knock-on effect on commodity prices and the health of the mining sector.
Read the article.
True Value
Tanzania is the only place where mines extract the rare stone tanzanite, but the country has so far failed to profit from its scarcity. Lindsay Dodgson asks how Tanzania can take advantage of its blue treasure.
Read the article.
The Way to Better Ore
Dr Gareth Evans learns more about real-time sensor technology from Vancouver-based start-up MineSense, and why it's being widely cited as the key to maximising future revenues.
Read the article.
Remote Possibilities
Advanced simulation technology is increasingly being deployed in the mining industry to improve training and minimise equipment downtime. Julian Turner speaks to Immersive Technologies in his analysis of the simulator technology market.
Read the article.
From Penryn to Peru
UK Trade & Investment and the newly formed Cornish Mining Alliance have joined forces to address the shortage of specialist mining skills in South America. Julian Turner learns more from UK recruitment specialist Hunter Personnel.
Read the article.
Missing the Mark
It took Chinese company Shenhua seven long, hard years to finally gain approval for Watermark coal mine in New South Wales. Heidi Vella asks what hurdles face mining companies trying to secure a coal mining lease in modern-day Australia.
Read the article.
Next issue preview
Interest in undersea mining is growing, leading to concerns that legislation and environmental strategies aren't keeping up with the rapid development of this new sector. We find out how scientists are working with the industry to make sure the impacts on marine ecosystems are understood and mitigated before undersea mining takes off on a large scale.
We also get a market forecast for tin, which performed badly in 2015 and has been targeted by new legislation to prevent illegal trading, take a look at new technologies to extract rare earth elements from coal ash, and ask Wits Mining School of Mining Engineering how mining training is changing with the times. Plus, we find out how low metal prices are driving mining companies to invest in markets far beyond their usual interest – from infant milk in China to medical marijuana – and take a look back at the legacy of deep-pit coal mining in the UK, which will end with the closure of the last remaining mine in December.
Digital magazine FAQ
You can read MINE for free on the iPad. Download our app from the App Store to read the latest issue and browse the back issues in our archive. Sign up for a free subscription in the app and never miss a new issue.
You can also continue to read the desktop version for free on our web viewer. (Browser compatibility: The web viewer works in the latest two version of Chrome, Firefox and Safari, as well as in Internet Explorer 9 and 10. Some features may not be compatible with older browser versions.)