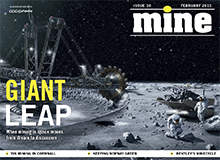 We're pleased to announce that MINE is now free for the iPad. Download our app from Newsstand to read the latest issue and browse our back issues for free.
Some explorers have already set their sights on space, but how realistic is the prospect of mining asteroids for water and minerals? In this issue we learn more about the potential of off-earth mining and the challenges of 'getting out there'.
Back on earth, we check in on the development of Canada's Ring of Fire, a remote region that holds promising resources but also poses many challenges to prospectors, and find out whether high demand for tin could lead to a mining revival in Cornwall, one of the UK's historical mining regions.
As environmental groups in the US continue their legal battle with Fasure Creek Mining over the company's false reporting of water pollution, we investigate whether this case is an indication that authorities aren't doing enough to enforce environmental legislation. Another environmental battle rages in Norway, where Nordic Mining's plan to dump millions of tons of mining waste in a fjord has caused wide-spread concern for the country's 'green' image. We take a look at both sides of the argument.
Moreover, we speak to Bentley about the development of its new MineCycle software application in partnership with South Africa-based mining majors and get an outlook on recruitment and job prospects in the mining industry for the coming year.
Read the issue for free on your iPad through our app, or if you're on a desktop computer you can also read it in our web viewer.
In this issue
Still Burning?
Northern Ontario's Ring of Fire could deliver enormous economic advantages but the project has largely stalled due to various challenges. Abi Millar asks what the provincial government is doing to help development get off the ground.
Click here to read more.
A Cornish Comeback
Could high demand for tin and declining resources worldwide lead to a revival of tin mining in Cornwall in the UK? Dr Gareth Evans explores how the outlook for the commodity is linked with the future of this historical mining region.
Click here to read more.
Big Issues
At the recent Living With Minerals conference in London, four senior extractive industry figures shared their views on the current state of the industry. James Perkins presents the best bits.
Click here to read more.
Taking on Space
Some of the technologies required to mine in space already exist, bringing asteroid mining into the realm of possibility. Steve Carter, vice president of product alignment at Dassault Systèmes GEOVIA, assesses the risks and rewards for those exploring this new frontier.
Click here to read more.
A Call for Justice
Coal company Frasure Creek Mining stands accused of manipulating water pollution reports related to its operations in Kentucky, US. Julian Turner investigates the issue of false reporting, and asks if laws are fit for purpose
Click here to read more.
Keeping it Green
Nordic Mining's plan to dispose of millions of tons of waste in a Norwegian fjord has been met with criticism from all angles, but the company insists its proposal is sustainable. Elly Earls takes a look at both sides of the story.
Click here to read more.
Shared Vision
Bentley Systems is collaborating with South African-based miners to develop new MineCycle software applications, built to allow decision-making agility. Heidi Vella-Starr finds out more about the project.
Click here to read more.
Dealing with a Downturn
Defined by job cuts, the mining labour market in 2014 was a depressing affair. Does this year offer a ray of light? Ross Davies asks Andrew Pollard, CEO of Vancouver-based Mining Recruitment Group.
Click here to read more.
Next issue preview
It is estimated that poverty-stricken Haiti has $20bn worth of gold and minerals hidden under its mountains. With mining in the country about to kick off, we take a look at Haiti's mining potential, as well as the possible risks and rewards.
In environmental news, we find out about the effect South America's gold mining boom is having on rainforests, and take a look at research investigating whether algae can be used to clean up contaminated water while also producing a biofuel and recycle trace metals.
We also ask why investors are expecting to see a rise in zinc prices this year, chart the trend to nationalise resources as more countries take a stronger grip of their stocks and chat about automated drilling technology with Sandvik Mining, one of the companies leading the transition with its AutoMine Drilling system.
Digital Magazine FAQ
You can read MINE for free on the iPad. Download our app from Newsstand to read the latest issue and browse the back issues in our archive. Sign up for a free subscription in the app and never miss a new issue.
You can also continue to read the desktop version for free on our web viewer. (Browser compatibility: The web viewer works in the latest two version of Chrome, Firefox and Safari, as well as in Internet Explorer 9 and 10. Some features may not be compatible with older browser versions.)