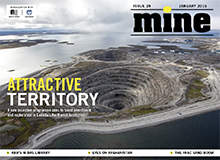 Mining plays a central role in the economy of Canada's Northwest Territories but investment has been declining in recent years. A new government incentive launched last summer is set to change this. We find out how the funding scheme aims to encourage new exploration projects in the region.
We also take a look at Afghanistan's mineral potential, which has attracted the interest of the global mining industry, and ask whether mining activity – and the investment and infrastructure it could bring to the country – will help or hinder the recovery of the war-torn economy.
Moreover, we catch up with ABB to find out more about its new power automation application for mine operations, take a look at Glencore's ambitious investment strategy and future possibilities of a merger with Rio Tinto following last year's rejected bid, and find out why the frac sand market is one to watch as the fracking boom continues in the US and elsewhere.
Click here to read your free copy.
In this issue
Incite to Explore
The government of Canada's Northwest Territories is hoping to boost mineral exploration with its new Mining Incentive Program. Chris Lo asks NWT Geoscience Office director John Ketchum for details
Click here to read more.
Recovery by Resources?
War-torn Afghanistan is on the mining industry's radar, but how do the expected benefits of mining on the country's economy compare to potential drawbacks? Abi Millar takes a look into Afghanistan's mining future
Click here to read more.
The MIDAS Touch
New power automation software from ABB allows mining engineers to control a mine's electrical infrastructure from one single workstation. Elly Earls asks MIDAS Library's product manager Fernando Tani for the details.
Click here to read more.
The Productivity Challenge
As operational costs continue rise, Mike Beare of SRK Consulting and Kevin Price of Infor explore how mining companies can improve productivity through the adoption of proactive asset management strategies.
Click here to read more.
Ambitious Acquisitions
Glencore made a record $100bn bid for Rio Tinto in July 2014, and had it comprehensively rejected. Studying its previous giant acquisition of Xstrata, Dr Gareth Evans hunts for clues behind the country's investment strategy.
Click here to read more.
One to Watch
Eyes are on the frac sand market, with experts predicting a positive future of growth. Dr Gareth Evans asks why business is booming and what opportunities there are in the US and elsewhere.
Click here to read more.
Next issue preview
Mining Canada's Ring of Fire for its vast resources could deliver enormous economic advantages to the region, but the project has been stalled by various challenges. We ask what the provincial government in Northern Ontario is doing to help development get off the ground.
We also find out whether tin mining could make a comeback in Cornwall in the UK as demand remains high and hear from Dassault Systèmes about the potential of off-earth mining and the progress or pioneering projects.
Moreover, we investigate whether Norway is jeopardising its reputation as a green leader by allowing Nordic Mining to dump nearly 6 million tonnes of tailings into the Forde Fjord, speak to Bentley about its new MineCycle mine design and management applications and catch up with recruiters around the world to get an outlook on this year's labour market.
Digital Magazine FAQ
MINE is available on iPad and as a free desktop version*. You can download our app or read the latest issue here.
View the archive of back issues.
Sign up for your subscription here.
*Browser compatibility: The desktop version can be viewed in the two latest editions of Chrome, Firefox and Safari, as well as in Internet Explorer 9 and 10. Some features may not be compatible with older browser versions.