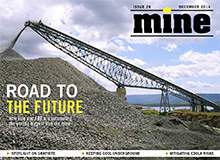 Vale and ABB have set out to fully automate the world's biggest iron ore mine, the Carajás Serra Sul S11D in Brazil. We find out more about the technology involved and ask what it takes to automate an operation of this scale.
We also speak to the developers of a new ice cooling technology which promises to keep underground mines cool at a lower cost compared to traditional methods, and find out how mining companies can mitigate the risks of operating in regions affected by the Ebola outbreak.
Moreover, we take a look at the market for graphite and the challenges and business opportunities awaiting explorers over the next few years, chart the world's major uranium reserves on an interactive map and pay tribute to John Miskovich, the Alaksan miner and inventor of the Intelligiant water cannon who passed away earlier this year.
Click here to read your free copy.
In this issue
One to Watch
Limited supply from China and surging demand from high-tech markets make graphite a commodity to watch. Elly Earls finds out more about the key challenges and opportunities for graphite explorers and producers
Click here to read more.
Radioactive Riches
The five most uranium-rich countries account for over 75% of the world's total uranium output. We find out who makes the top list based on known recoverable resources
Click here to read more.
Automation of Amazonian Proportions
ABB plans to fully automate the world's biggest iron ore mine. Ross Davies learns more about the Brazilian project, which will feature a truckless transport system controlled by digital substations.
Click here to read more.
Cold as Ice
With rock temperatures topping 50°C underground, keeping mines and miners cool is essential and expensive. Dr Gareth Evans explores a new approach to 'ice cooling' currently in use at Harmony's Phakisa gold mine in South Africa.
Click here to read more.
Tribute to John Miskovich
Growing up in the Alaskan gold mining industry, John Miskovich went on to invent a water cannon that changed not only mining, but other industries, too. After his passing earlier this year, Adam Leach pays tribute to the inventor.
Click here to read more.
Taking Action
As the Ebola outbreak continues to disrupt mining operations in Africa, Abi Millar asks Ebola expert Dr David Heymann how mining companies can help themselves and the communities they operate in.
Click here to read more.
Next issue preview
Recent reports have highlighted Afghanistan's potential as a mining destination, but do the opportunities outweigh the risks for investors? We take a look at the country's mining future. We also find out how Canada's Northwest Territories government is trying to boost diamond mining in the region with a new incentive scheme for explorers.
A new application by ABB allows the monitoring of complex automated operations from a single control room.
We find out more about the technology and ask whether it could help boost the spread of automation in mining.
We also hear from consultants about the benefits of adopting more proactive asset management strategies, analyse Glencore's ambitious acquisition plans and investigate the market potential and environmental risks of frac sand mining.
Digital Magazine FAQ
MINE is available on iPad and as a free desktop version*. You can download our app or read the latest issue here.
View the archive of back issues.
Sign up for your subscription here.
*Browser compatibility: The desktop version can be viewed in the two latest editions of Chrome, Firefox and Safari, as well as in Internet Explorer 9 and 10. Some features may not be compatible with older browser versions.