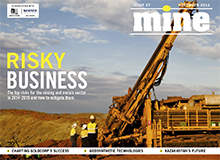 Productivity is now the top mining business risk according to analysis from Ernst & Young, while access to water supplies is highlighted as a new major concern for the industry. We speak to E&Y analysts to find out more about the top business risks in the mining and metals industry and how operators and investors can mitigate them.
We also review Goldcorp's financial success in 2013 and ask how the company bounced back from difficult times thanks to a shift in strategy, take a look at Kazakhstan's potential future as a new mining hotspot and investigate the applications and benefits of geosynthetic technologies for the mining industry.
Moreover, we round up innovative projects that have turned restored mines into tourist attractions to give new life to abandoned sites, and profile the biggest players in rare earth elements around the world.
Click here to read your free copy.
In this issue
The Risk List
New analysis from E&Y lists productivity as the top mining business risk, followed by access to capital and social license to operate, while highlighting water and energy as a new high-priority issue. Abi Millar finds out more
Click here to read more.
Goldcorp Bounces Back
Goldcorp surpassed analyst forecasts in its latest quarterly results with an impressive recovery from a 28% loss at the end of 2013. Rod James finds out how the company navigated out of difficult times with a shift in strategy
Click here to read more.
Raw Potential
Kazakhstan has been tipped as the world's next mining hotspot, but can it make the most of its untapped assets? Elly Earls finds out what challenges need to be addressed before the country's resource potential can be unlocked.
Click here to read more.
UK PLC Around the World
Academic, financial and technical expertise are all highlighted in a recent UKTI report which reviews the role played by UK companies in the global mining sector. Rhiannon Garth Jones looks at some of the most exciting projects
Click here to read more.
The Case for Geosynthetics
As the first conference to address the use of geosynthetics in mining comes to a close, Ross Davies asks the event organisers about the applications and benefits of geosynthetic technologies for the mining industry
Click here to read more.
Extraction to Attraction
From an underground bouncy castle wonderland to a health spa, defunct mines are being transformed into unique tourist attractions. Heidi Vella-Starr takes a look at some of the most innovative regeneration projects.
Click here to read more.
Rare Treasures
Rare earth elements are much sought after for their various applications in technology but their scarcity means the countries lucky enough to have resources hold significant sway over global supply. We take a look at the world's biggest producers of rare earth elements
Click here to read more.
Next issue preview
In the next issue, we find out how ABB's project to fully automate the world's biggest iron ore mine – Vale's S11D project in Brazil – is progressing. We also review a new method of delivering ice underground which has been successfully trialled in a South African gold mine.
Limited supply from China and surging demand from high-tech markets have made graphite a commodity to watch. We get a market forecast to find out more about the challenges and opportunities this creates for graphite explorers.
We also profile the countries with the largest uranium resources, find out how mine operators can mitigate the health and business risks caused by the Ebola outbreak and pay tribute to John Miskovich, Alaskan miner and inventor of the Intelligiant water cannon.
Digital Magazine FAQ
MINE is available on iPad and as a free desktop version*. You can download our app or read the latest issue here.
View the archive of back issues.
Sign up for your subscription here.
*Browser compatibility: The desktop version can be viewed in the two latest editions of Chrome, Firefox and Safari, as well as in Internet Explorer 9 and 10. Some features may not be compatible with older browser versions.