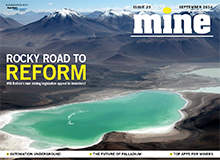 After years of negotiations Bolivia has passed new mining legislation, including a ban on cooperatives partnering with private companies and a ban on private firms registering minerals as assets. We find out how the changes were received by Bolivians and potential investors.
We also take a look at the growing palladium market, investigate the City of London's position as a global hub for mining investment and find out about the environmental and social impact of artisanal gold mining in Peru.
Moreover, we find out how ABB is setting its sights on a new era of automation for underground mining and explore the best mobile apps for miners.
Click here to read your free copy.
In this issue
Bolivia's Rocky Road to Reform
Natural resources are the exclusive dominion of the Bolivian people, according to the country's 2009 constitution, but President Evo Morales' recent mining reforms have not found universal favour. Dr Gareth Evans finds out why.
Click here to read more.
Metal's Rising Star
Palladium may lack the glamour of gold or the per-ounce price of platinum but, as Paul French discovers, its market is growing faster than any other precious metal.
Click here to read more.
Know Your Place
A mobile, location-based system created by ABB and Mobilaris aims to improve personnel safety and boost productivity in underground mines. ABB's Patrik Westerlund tells Elly Earls why this technology is the beginning of a new, automated era for underground mining
Click here to read more.
London Calling
London remains the undisputed centre of global mining finance. Deloitte's UK head of mining tells Julian Turner about the city's unique corporate demographic and how canny junior operators can raise investment capital.
Click here to read more.
21st Century Mining
Mobile apps are playing their part in the industry by improving safety, productivity and even work/life balance. Chris Lo reviews five apps that demonstrate the extent of innovation in the market.
Click here to read more.
The Cost of Gold
Journalist Stephen Sapienza has seen first-hand the damage gold mining can do to the environment and human health. Heidi Vella learns more about his experiences with artisan miners in Peru.
Click here to read more.
Next issue preview
A controversial ironsand mining project off New Zealand's coast has been turned down for environmental reasons. With developer TTR set to appeal the decision, we find out more about the project's risks. We also examine Glencore's conduct in the DRC and the UK Government's role in ensuring human rights due diligence of UK companies operating abroad.
With emerging mining regions now contributing 60%-80% of new reserves added globally, we ask how soon the 'emerging market' will become simply 'the market'. Moreover, we find out how a 'freedome' structure over a mine in Chile reduces the impact of mining operations on nearby vineyards, explore the potential and challenges of mining in Saudi Arabia and take a look at the growing interest in diamonds led by emerging markets around the world.
Digital Magazine FAQ
MINE is available on iPad and as a free desktop version*. You can download our app or read the latest issue here.
View the archive of back issues.
Sign up for your subscription here.
*Browser compatibility: The desktop version can be viewed in the two latest editions of Chrome, Firefox and Safari, as well as in Internet Explorer 9 and 10. Some features may not be compatible with older browser versions.