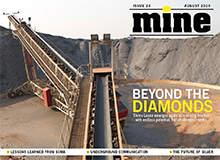 Sierra Leone's abundant natural resources were once used to fund a bloody civil war. Now, twelve years after peace was restored in the country, the government is banking on the same resources to transform Sierra Leone into a middle income nation – but challenges remain in the form of regulation, infrastructure and social impact. We investigate the state of the country's mining sector.
A number of safety failings were uncovered in the aftermath of the Soma disaster in Turkey which claimed 301 lives earlier this year. We ask which lessons have been learned and review wireless systems that can help improve underground communication in emergency situations.
Moreover, we take a look at the future of the silver market in the light of recent price volatility, find out how a newly discovered plant that absorbs metals could be used for a more environmentally friendly mining method, and profile Goldcorp's Cerro Negro gold mine which began operations in April 2014.
Click here to read your free copy.
In this issue
Speculating on Silver
Silver has been the strongest performing asset class for a decade, and yet paradoxically, in the wake of record price lows, the worst over the last year. Dr Gareth Evans analyses silver's recent price volatility and looks ahead to 2015.
Click here to read more.
Beyond the Diamonds
Sierra Leone is again emerging as a mining market with endless potential, most notably from its infamous diamond resources. Heidi Vella explores the state of the country's mining sector.
Click here to read more.
In the Aftermath
301 lives were lost earlier this year as a result of Turkey's biggest mining disaster. With a number of failings brought to light, Adam Leach asks how future risks can be minimised.
Click here to read more.
Eyes and Ears Underground
The industry is increasingly switching from wired to wireless technology to improve underground communications in emergency situations. Heidi Vella looks at the most advanced systems on the market.
Click here to read more.
Metal Munchers
Could plants that absorb and store metals in large amounts without being poisoned usher in a new frontier of environmentally friendly mining? Adam Leach finds out.
Click here to read more.
Cerro Negro Gold Mine, Argentina
Mining at Goldcorp's Cerro Negro gold mine began in April 2014 and commercial production is expected to start later this year. The mine is expected to produce 550,000oz of gold during the first years of production and has an expected life of twelve years.
Click here to read more.
Next issue preview
After years of negotiations Bolivia has finally passed several new mining laws, including a ban on cooperatives partnering with private companies and a ban on private firms registering minerals as assets. We find out what the changes will mean for companies operating in the country.
We also get a market forecast for palladium, investigate the City of London's position as a global hub for mining business and speak to the contributors of a Pulitzer Center book on the effects of gold mining on local communities around the world.
Moreover, we look at ABB's new platform that provides real-time positioning of staff, equipment and vehicles in underground mines and explore the best mobile apps for mining.
Digital Magazine FAQ
MINE is available on iPad and as a free desktop version*. You can download our app or read the latest issue here.
View the archive of back issues.
Sign up for your subscription here.
*Browser compatibility: The desktop version can be viewed in the two latest editions of Chrome, Firefox and Safari, as well as in Internet Explorer 9 and 10. Some features may not be compatible with older browser versions.