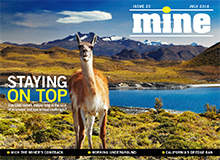 Chile's copper mines may have weathered the recent earthquake unscathed, but the country's mining industry is feeling economic tremors caused by fluctuations in commodity prices, the limited lifetime of current projects and the impact of severe energy shortages. We take a look at Chile's mining sector to find out whether the country can maintain its position as copper king.
We also explore the investment strategy ex-Xstrata CEO Mick Davis is taking with his new company X2 Resources, take a look at the world's top iron ore producers and find out how the Canadian mining sector is trying to improve working conditions in underground mines to attract a new generation of miners.
Moreover, we review the legal proceedings on the future of suction dredge mining in California and find out whether the controversial method, which is deemed highly efficient, is causing too much environmental damage, and take a look at Ivanhoe Mines' Platreef mine project in South Africa.
Click here to read your free copy.
In this issue
Chile Unshaken
The massive earthquake which struck Chile in April miraculously left the country's copper operations unscathed. Adam Leach asks how the industry is holding on to its top position in the face of earthquakes, fraught industrial relations and enduring energy instability.
Click here to read more.
Rising Above
After resigning from Xstrata in the wake of bitter merger negotiations with Glencore, Mick Davis is making a comeback with a new and well-backed force in the natural resources sector. Chris Lo learns more about X2 Resources.
Click here to read more.
Ferro Giants
The world's top ten iron ore producers account for more than 90% of the total global iron ore output. We take a look at the countries and their leading players.
Click here to read more.
Recruiting Underground
Underground mining often means difficult working conditions, long hours and a fly-in fly-out lifestyle. Heidi Vella finds out how Canada plans to attract a new generation of miners to jobs in this sector.
Click here to read more.
Efficiency vs Damage
Suction dredge mining: highly efficient method or environment destroyer? In the midst of Californian legal proceedings on the future of this controversial mining practice, Dr Gareth Evans explores the argument.
Click here to read more.
Industry Project: Platreef Mine
Ivanhoe Mines is developing the Platreef project in the Limpopo province of South Africa, which will begin production of platinum, nickel, copper and gold in 2020.
Click here to read more.
Next issue preview
After revising many of its mining laws, Sierra Leone is now setting out to attract foreign investment in its bourgeoning mining industry. We find out what the once troubled nation has to offer in terms of resources and which security risks potential investors could face. We also speak to analysts to get a market forecast for silver, and take a look at new research into whether plants that can absorb and store metals such as nickel and gold in large amounts could have a use in mining.
The tragic events which took the lives of hundreds of miners in Turkey in May have highlighted the importance of communication in the event of a mining accident. We take a look at the current state of communication technology for mines and speak to experts to find out what went wrong at the mine and which lessons need to be learned.
Digital Magazine FAQ
MINE is available on iPad and as a free desktop version*. You can download our app or read the latest issue here.
View the archive of back issues.
Sign up for your subscription here.
*Browser compatibility: The desktop version can be viewed in the two latest editions of Chrome, Firefox and Safari, as well as in Internet Explorer 9 and 10. Some features may not be compatible with older browser versions.