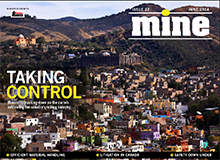 Anglo American chief executive Mark Cutifani recently warned that innovation in the mining industry is progressing too slowly and that the rising costs of extraction and transport need to be addressed with fresh ideas. We examine the rate of change and innovation in the industry and ask whether enough is being done.
We also take a look at the latest equipment that is helping to improve efficiency in material handling, find out how the Mexican Government is cracking down on the illegal mining cartels infiltrating the country's legitimate industry and review the most important court cases shaping mining litigation in Canada this year.
Moreover, we investigate new efforts to improve worker safety in Australian mines in the wake of a spike in accidents fatalities and ask Women in Mining why mining companies can benefit from having more women on their boards.
Click here to read your free copy.
In this issue
Doing it Differently
As insiders warn about a lack of innovation in the mining industry, Adam Leach investigates whether enough R&D is going into addressing the rising costs of exploration and operations.
Click here to read more.
Efficient Innovation
Each phase of the material handling process is under scrutiny as the industry seeks to tighten costs and improve processes. Adam Leach takes a look at the most efficient technologies available.
Click here to read more.
Cartel Culture
Organised crime has spread in the Mexican mining industry to an unprecedented extent. Heidi Vella asks why Cartels are switching from drug trade to iron ore and how government and industry are responding to the threat.
Click here to read more.
Mining in the Courts
As mining issues in Canada are increasingly being fought over in court, Heidi Vella asks specialist lawyers from McCarthy Tétrault about the key cases and developments shaping mining litigation this year.
Click here to read more.
Mission Zero Harm
A recent spike in mining-related injuries and fatalities in Australia has prompted safety alerts across the sector. Elly Earls finds out how the industry is trying to meet its goal of 'zero harm' to workers.
Click here to read more.
Women on Board
Mining boardrooms lack women, compared to the rest of the world. Women in Mining UK chair Amanda van Dyke tells Chris Lo about the organisation's new report and the value women bring to the boardroom.
Click here to read more.
Next issue preview
Afghanistan has been ravaged by war for three decades, leaving the country's mineral deposits – estimated to be worth more than one trillion dollars – mostly untapped. We investigate whether the country could become a mining nation and which infrastructure and security challenges must be overcome.
We also find out how Chile's copper mines remained unshaken by the earthquake which struck the country in April and find out whether difficult working conditions and safety risks in Canada's underground mines are putting off young workers.
Moreover, we take a look at the latest progress in the push for seabed mining in the Pacific Ocean and investigate the environmental impact suction dredge mining in Canada in the light of new, stricter regulation in California.
Digital Magazine FAQ
MINE is available on iPad and as a free desktop version*. You can download our app or read the latest issue here.
View the archive of back issues.
Sign up for your subscription here.
*Browser compatibility: The desktop version can be viewed in the two latest editions of Chrome, Firefox and Safari, as well as in Internet Explorer 9 and 10. Some features may not be compatible with older browser versions.