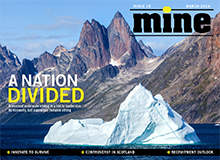 A number of trend reports for 2014 list 'innovation in drilling technology' as a key concern for an industry desperate for fresh ideas. In this issue we ask why the mining industry must innovate to survive and which role concepts, such as horizontal drilling and the increasing use of tunnel boring machines, could play a part in revitalising the exploration sector.
We also explore Greenland's plans to embrace mining in a bid to modernise the country's economy – a move that has divided the nation – and ask what the political and environmental implications would be.
Moreover, we take a look at a controversial new coal mine in Scotland that has caused concern over inadequate restoration funds, profile a new method developed by Finnish scientists to remove uranium from water, and ask recruitment experts for a global skills outlook for the year.
Click here to read your free copy.
In this issue
A Nation Divided
Last year, Greenland removed a blanket ban on uranium mining, a move that could have a profound political and economic impact. Adam Leach asks how mining could change the world's largest island.
Click here to read more.
Innovate to Survive
Deloitte is predicting a 'seismic shift' in mining methodologies this year, as the industry adopts new technologies to drive exploration. Julian Turner finds out more about the mines of the future.
Click here to read more.
Something's in the Water
A new method to remove uranium from water has unlocked the possibility of more efficient metal absorbent solutions. Ross Davies asks what it could mean for the mining industry.
Click here to read more.
Turning Dust into a Commodity
ZincOx Resources recycles zinc from electric arc furnace dust that is produced when recycling galvanised steel. Heidi Vella finds out more about the technology.
Click here to read more.
Ticking Time Bonds
The green light for a new coal mine in Scotland has opened up an age-old debate on the effect a mine can have on local communities. Adam Leach investigates.
Click here to read more.
Round Table: Skills Outlook
What's the state of labour in the industry? Four insiders from key mining areas around the world give Heidi Vella the low-down on current recruitment trends and the skills and jobs available in the industry.
Click here to read more.
Next issue preview
Indonesia has implemented a ban on ore exports, allowing only processed minerals to be exported. We investigate whether this move could encourage the building of much-needed smelting infrastructure, or will it see big players exit the country. We also take a look at Canada's ambitious push into the rare earth elements market.
Shell Canada and Caterpillar are testing a new fuel mixture containing liquefied natural gas, aiming to design a truck capable of running on dual fuel. We find out how this project could help reduce emissions and operating costs of future fleets. We also ask how Honeywell's BeltAIS monitoring system uses advanced technologies to improve conveyor belt reliability, and examine the potential of the radio frequency plasma torch, a new technology promising to improve precious metal yields from complex ores.
Digital Magazine FAQ
MINE is available on iPad and as a free desktop version*. You can download our app or read the latest issue here.
View the archive of back issues.
Sign up for your subscription here.
*Browser compatibility: The desktop version can be viewed in the two latest editions of Chrome, Firefox and Safari, as well as in Internet Explorer 9 and 10. Some features may not be compatible with older browser versions.