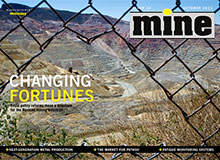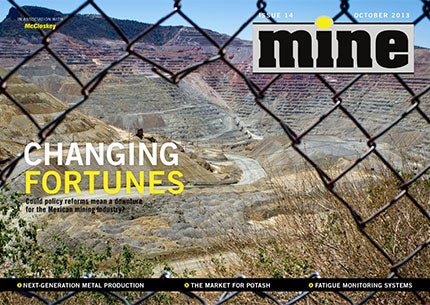 Mexico ranks fifth globally in terms of mining investment, but much-anticipated energy reform could change its path. We find out what lies ahead for Mexico's industry and whether a record amount of suspended mining projects this year could spell trouble for what was once South America's fastest rising star.
We also investigate a new report suggesting that improvements are needed in underground safety technology and take a look at Caterpillar's fatigue monitoring system, which could help reduce the number of accidents involving distracted drivers.
Moreover, we explore a technology which is claimed to revolutionise the way sought-after metals are produced, investigate the fallout from the breakup of the world's biggest Potash mining cartel back in July, and take a look at a report charting the economic impact of gold.
Click here to read your free copy.
In this issue
Emerging Markets: Mexico
Once one of the most prominent of the emerging nation economies, a series of factors have threatened Mexico's "Aztec tiger" status. MINE asks what investors can expect from a rapidly changing landscape.
Click here to read more.
The Gold Effect
The World Gold Council has revealed details of a first-of-its-kind report that examines the direct economic impact of gold around the world. We review the report and its findings.
Click here to read more.
The Pressure is on Potash
Following the break-up of the world's largest potash mining cartel, prices of the fertiliser are on a downward trajectory. But is the market set for total freefall? MINE investigates.
Click here to read more.
Next-Generation Metal Production
A UK-based company says it is working hard to revolutionise the way sought-after metals are produced. MINE spoke to Cambridge University spinoff Metalysis, which claims its technology can make mineral production cheaper and greener.
Click here to read more.
Safe Innovation
Although regarded as a dangerous occupation, mining has made major strides in safety thanks to technological advances. We ask if there is enough innovation to continue safety improvements.
Click here to read more.
Staying Alert
Caterpillar is introducing Seeing Machines' fatigue monitoring system to mining vehicle operators, in an attempt to reduce accidents related to tiredness in the industry. MINE finds out more.
Click here to read more.
The World's Deepest Mines
As technology and innovation pushes mining ever deeper, which mines have delved the furthest? We profile the ten deepest mines in the world, eight of which are in one region of South Africa.
Click here to read more.
Williamson Diamond Mine, Tanzania
The Williamson Diamond Mine, located 160kn south of Mwanza town in the Shinyanga Province of Tanzania, is one of seven mines operated by Petra Diamonds.
Click here to read more.
Next issue preview
European countries including Spain, Portugal, Cyprus and Slovakia have been experiencing a revival of their mining industries as companies are drawn to the region's stable political systems and large pools of skilled labour. We explore whether the industry has come full circle to make old Europe its newest re-emerging market.
We also find out how a new collaborative model of skills development in Canada aims to help keep north-western Ontario's mines properly staffed, and ask Blue Dog Scientific how a recent breakthrough in predictive rock blasting modelling could help predict how commercial explosives behave in different situations.
Moreover, we explore an innovative approach to rehabilitating old mining sites which uses municipal biosolid waste to create high quality topsoil, and take a look at the ten deepest open pit mines in the world.
Digital Magazine FAQ
The digital magazine is viewable on any computer with Flash Player installed. It is also viewable on mobile devices, iPhones and iPads, although some features and videos may be disabled.
View the archive of back issues.