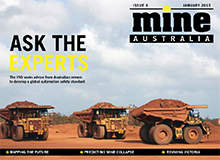 The International Organization for Standardization has been seeking input from experienced mine automation users in Australia in its work to develop global safety standards for automated operations. We find out how the country's automation pioneers have been contributing to the project and ask what effect an international safety regime could have on the wider adoption of automated technologies.
We also take a look at Rio Tinto's new 3D mapping software which promises to improve productivity, and speak to scientists at the University of Adelaide about their research into predicting the triggers of mine collapse.
Moreover, we ask whether the Victorian government can stimulate new resource projects in the state with incentive schemes for exploration, round up the responses to Tony Abbott's recent declarations of support for coal and take a look at BHP Billiton's Caval Ridge project in Queensland.
Click here to read this issue.
In this issue
Beating the Downturn
Victoria is seeing fewer and fewer new resource projects, but could government initiatives turn things around and give the state a much-needed boost? Elly Earls asks the experts.
Click here to read more.
Ask the Experts
With the International Organization for Standardization seeking advice from Australian experts for its proposed global automation safety standards, Adam Leach asks how the country's miners have contributed to the project.
Click here to read more.
Measuring the Unmeasurable
Rio Tinto's new 3D mapping tool offers a better view of pit activities previously deemed unmeasurable. Ross Davies finds out how the company plans to use the technology to reduce operational costs.
Click here to read more.
Predicting Failure
A project at the University of Adelaide is researching material failure in order to better design against material collapse – a problem faced by all mines. Heidi Vella-Starr finds out more from study leader Dr Giang Nguyen.
Click here to read more.
The Flame Still Burns
Recent comments by Australian Prime Minister Tony Abbott in support of coal appear in stark contrast to the other G20 countries' efforts to decarbonise. Adam Leach investigates Abbot's position in light of growing public opposition, an uncertain investment picture and Australian institutions divesting from coal stocks.
Click here to read more.
Project: Caval Ridge Coal Mine, Queensland
BHP Billiton and joint venture partner Mitsubishi opened the Caval Ridge mine, located in the Bowen Basin in Central Queensland, in October 2014. We take a closer look at the project.
Click here to read more.
Digital magazine FAQ
MINE Australia is available on the iPad and as a free desktop version*. You can download our app or read the latest issue here.
Sign up for your subscription here.
*Browser compatibility: The desktop version can be viewed in the latest two version of Chrome, Firefox and Safari, as well as in Internet Explorer 9 and 10. Some features may not be compatible with older browser versions.