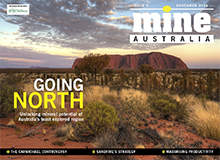 The Northern Territory is known for its world-class natural resource deposits and already home to a flourishing mining community, but its potential is far greater than what has already been realised. We profile the region to find out how policy changes and foreign investment could help unlock huge opportunities for the minerals sector.
We also speak to Sandfire Resources NL about its investment strategies in the wake of the DeGrussa prospect discovery and explore the technologies miners are turning to in order to boost operational efficiency in a time of falling commodity prices.
Moreover, we take a look at the ongoing controversy surrounding Queensland's massive Carmichael project, find out how environmental activists and locals in New South Wales are trying to halt the construction of expansions to the Maules Creek mine and other projects in the Leard State Forest region and take a look at Roy Hill Holdings' Roy iron ore project in Pilbara.
Click here to read this issue.
In this issue
Treasure Hunt
The Northern Territory has huge resource potential, but realising it won't be an easy task. Elly Earls asks what is being done to capitalise on the unparalleled mineral opportunities in Australia's most under-explored region.
Click here to read more.
Playing with Fire
As Sandfire Resources NL makes major investment moves outside Australia, Laura Walkinshaw asks CEO Karl Simich about the copper-gold producer's plans for strategic development at home and abroad
Click here to read more.
Doing More With Less
With the mining boom over, companies are shifting their focus from capital expenditure to capital efficiency. Adam Leach asks what mining firms can do to get more out of their operations.
Click here to read more.
Battle Lines
As Queensland's huge and controversial Carmichael project moves ahead, opinions are becoming increasingly polarised across Australia's growing coal mining divide. Dr Gareth Evans takes a look at both sides of the debate.
Click here to read more.
Man vs Mine
As expansion projects in New South Wales move closer to completion, environmental activists, farmers and Gomeroi elders continue to employ a range of tactics to hamper construction. Chris Lo takes a look at their efforts.
Click here to read more.
Roy Hill Iron Ore Project, Pilbara
Roy Hill Holdings' $10bn iron ore project in the Chichester Range in Western Australia is expected to start ore production in 2015 at a rate of 55 million tons per annum. We take a closer look at the mine which is ideally located to supply ore to the growing Asian markets.
Click here to read more.
Next issue preview
The chairman of the International Organization for Standardization has seeking input from experienced mine automation users in Australia in his push to develop global safety standards for automated operations. We find out how the country's automation pioneers have been contributing to the project.
We also find out how Rio Tinto's new 3D ore mapping software promises to improve productivity and speak to scientists at the University of Adelaide about their research into predicting the triggers of mine collapse.
Moreover, we ask whether the Victorian Government can stimulate new resource projects in the state with a co-funding scheme for mineral exploration, round up Australians' views on coal in a time of growing environmental opposition and take a look at BHP Billiton's Caval Ridge project in Queensland.
Digital magazine FAQ
MINE Australia is available on the iPad and as a free desktop version*. You can download our app or read the latest issue here.
Sign up for your subscription here.
*Browser compatibility: The desktop version can be viewed in the latest two version of Chrome, Firefox and Safari, as well as in Internet Explorer 9 and 10. Some features may not be compatible with older browser versions.