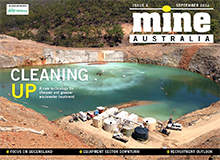 A spin-off of MINE Magazine, MINE Australia focuses on the Australian mining industry, bringing you all the latest news about commodities markets, exploration, new projects and technological innovation Down Under. This bi-monthly digital magazine is available for the iPad and as a web version.
Current methods of wastewater treatment are costly and time-consuming, but Australia's national science agency CSIRO has developed a new technology which uses the contaminants within the water to treat it and is fast gaining momentum. We find out why it is not only cheaper and quicker than conventional methods, but also more environmentally sound.
We also find out why coal production is soaring in Queensland despite falling prices, find out how equipment suppliers can stay on top in a time of declining business and speak to Ecologia Environment about assessing the impact of mining on vulnerable ecosystems.
Moreover, we take a look at the Maules Creek controversy to find out whether operator Idemitsu went too far in spying on environmental protestors at the project and gather a roundtable of recruitment experts to get an insight on the current job market.
Click here to read this issue.
In this issue
Sweating Assets in the Sunshine State
High operating costs have resulted in Queensland's mines feeling the downturn more than most, but production numbers continue to soar. Daniel Garrun asks Timetric analyst Clifford Smee about mining in the 'sunshine state'.
Click here to read more.
Waste Not, Want Not
New technology by the national science agency will make mining wastewater treatment cheaper, faster and greener, as Elly Earls learns from inventor Dr Grant Douglas.
Click here to read more.
Permission to Mine
Ecologia Environment provides environmental consulting services to mining operators and has worked amongst some of the most delicate ecosystems on the planet. Dr Lazaro Roque-Albelo tells Elly Earls about driving sustainability in the mining industry.
Click here to read more.
Tooling Up
Business is increasingly hard to come by for Australian mining equipment companies and contracts are fiercely contested. Adam Leach asks industry analyst Timetric about the key priorities for customers in the sector.
Click here to read more.
A Fine Line
With Idemitsu making headlines for spying on environmental protest groups in New South Wales, the manner in which mining companies protect their operations has come under the spotlight. Adam Leach asks how far is too far.
Click here to read more.
Mixed Messages
While large-scale mines receive government approval, companies are cutting jobs, a situation that has created a mixed picture for recruitment. Heidi Vella asks industry insiders if the skill shortage has turned into a skill surplus.
Click here to read more.
Next issue preview
Adani's controversial Carmichael project may one day make Queensland home to one of the world's biggest coal mines, but at great cost to the environment. Meanwhile, in Lead State forest, the battle to stop Maules Creek mine continues, even after the project has officially been given the go-ahead. We take a look at the two projects and the growing resistance to coal mining.
With the mining boom over, focus is shifting from capital expenditure to efficiency. We ask how companies can unlock the productivity potential of underperforming mines.
We also look ahead to the future potential of the Northern Territory after a record year of investment, learn about the challenges REX Minerals faces as a 'junior' exploration company and take a closer look at the Roy Hill Iron Ore Project in the Chichester Range in Pilbara.
Digital magazine FAQ
MINE Australia is available on the iPad and as a free desktop version*. You can download our app or read the latest issue here.
Sign up for your subscription here.
*Browser compatibility: The desktop version can be viewed in the latest two version of Chrome, Firefox and Safari, as well as in Internet Explorer 9 and 10. Some features may not be compatible with older browser versions.