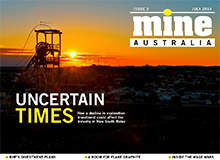 A spin-off of MINE Magazine, MINE Australia focuses on the Australian mining industry, bringing you all the latest news about commodities markets, exploration, new projects and technological innovation Down Under. This new bi-monthly digital magazine is available for the iPad and as a web version.
The mining industry in New South Wales supports tens of thousands of direct and indirect jobs and generates billions of dollars in royalties, but as investment in mineral exploration declines, those depending on mining are getting anxious. We take a look at the situation and ask how the industry can help secure the long-term economic future of the region.
We also speak to Lamboo Resources about its cleverly timed move into flake graphite, which puts the company into an ideal position to cash in on the booming market for lithium-ion batteries, and find out what BHP Billiton's plans to divest mining assets worth up to A$20bn could mean for the industry.
And, as the industry argues about whether Australian miners are paid too much and should exercise 'wage restraint', we ask how companies can get the productivity equation right.
Click here to read this issue.
In this issue
Cause for Concern?
Mining provides tens of thousands of jobs and billions in royalties in New South Wales, but investment in mineral exploration is declining. Elly Earls learns more from the NSW Minerals Councils and industry analyst Timetric.
Click here to read more.
Ideal Timing
Exploration company and graphite producer Lamboo Resources is poised to gain from the booming lithium-ion battery market. CEO Richard Trevillion tells Elly Earls how his team found "the right space at the right time".
Click here to read more.
Shift of Focus
BHP Billiton has signalled a possible demerger of mining assets worth an estimated A$20bn as the company focuses on iron ore, copper, coal and energy assets. Adam Leach asks what such a massive divestment could mean for the industry.
Click here to read more.
Wage Wars
The Australian mining industry is under attack for paying higher wages than other countries. Heidi Vella asks whether Australian miners should exercise 'wage restraint' or companies should boost efficiency at their operations.
Click here to read more.
Four Mile Uranium Mine
Production at Australia's fifth uranium mine, Four Mile in South Australia, began in spring 2014. We take a look at the project owned by Quasar Resources and Alliance Resources.
Click here to read more.
Next issue preview
Queensland hosts some of the country's most impressive mines but several projects have made headlines for the wrong reasons, including the controversial Abbot Point port expansion. We speak to analysts to find out more about the future of Queensland's mining industry.
We also hear from Australia's national science agency CISIRO about its new Virtual Curtain technology for the removal of metal contaminants from wastewater, which has just been successfully tested in a Queensland mine, and ask Perth-based Ecologia Environment how the industry's awareness of environmental issues has the need for sustainability increases.
Moreover, we find out how a downturn in mining activities is affecting the market for equipment suppliers and speak to recruitment experts about job prospects in light of recent large-scale job cuts in parts of the country.
Digital magazine FAQ
MINE Australia is available on the iPad and as a free desktop version*. You can download our app or read the latest issue here.
Sign up for your subscription here.
*Browser compatibility: The desktop version can be viewed in the latest two version of Chrome, Firefox and Safari, as well as in Internet Explorer 9 and 10. Some features may not be compatible with older browser versions.