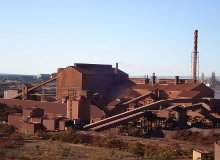 Brazilian Federal Public Prosecution Service filed a R$155bn ($43bn) civil lawsuit against mining company Samarco and its owners Vale and BHP Billiton over the tailings dam disaster in November 2015.
Rupture of the Fundão tailings dam occurred at the Samarco iron ore operation in Minas Gerais in Brazil, killing at least 17 people and releasing an avalanche of sludge that polluted more than 400 miles of rivers.
BHP Billiton said that it did not receive any formal notice of the claim and remains committed to helping Samarco to restore the environment affected by the burst dam.
Rio Tinto and its partners in the Mongolian Government and Turquoise Hill Resources received approval to proceed with a $5.3bn expansion of the Oyu Tolgoi copper and gold mine in Mongolia.
Development of the underground mine is set to begin in mid-2016, with first production expected in 2020.
After completing ramp-up of the underground in 2027, the mine is expected to produce more than 500,000t of copper per annum, compared with existing of 175,000t-200,000t.
Deep Space Industries, the Luxembourg Government and the national banking institution Société Nationale de Crédit et d'Investissement (SNCI) signed an agreement to develop technology for mining on asteroids.
The parties are set to cooperate in the initiative to explore, use and marketing of near-Earth objects (NEOs) such as asteroids.
The low-Earth orbit technology demonstration mission, known as Prospect-X, is an agreement to explore, use and commercialise space resources.
US-based Freeport-McMoRan (FCX) signed a $2.65bn agreement to sell its interests in TF Holdings to China Molybdenum (CMOC).
TF Holdings indirectly owns an 80% interest in Tenke Fungurume Mining. FCX holds a 70% stake in TF Holdings and 56% interest in Tenke.
The company will also negotiate with CMOC to sign agreements to sell its interests in Freeport Cobalt, including Finland's Kokkola Cobalt Refinery for $100m.
Johannesburg High Court ruled that gold miners who developed lung diseases from working underground in South Africa can claim compensation from mining companies.
It opens the way for existing and former miners to pursue a class action against mining companies for damages, for those suffering from diseases such as silicosis and pulmonary tuberculosis from dangerous underground working conditions.
Many miners are believed to have inhaled silica dust while performing drilling, resulting in incurable lung disease silicosis.
Eldorado Gold restarted construction at its stalled Skouries gold project in Halkidiki after securing approval from Greek authorities.
The company's Greek subsidiary Hellas Gold received approval from Greece's Ministry of Energy and Environment for the project's updated technical study.
After securing approval, Hellas Gold will now be able to resume construction activities at the Skouries project site, which were suspended in January due to environmental concerns.
The Parliament of Queensland passed new legislation, which requires mining companies to inform landholders and their neighbours about their proposed projects.
The new law restores balance between the rights of farmers, miners, and the community, protects farm infrastructure and restores community objection rights.
The new legislation reinstates rights removed by the previous LNP Government and gives landholders the right to object resource activities beside their key infrastructure.
New Zealand-based Todd unveiled plans to launch a bid for Australian iron ore mining and steelmaker Arrium, which is currently in voluntary administration.
Arrium is reportedly in the hands of administrators KordaMentha, although its strategy may involve splitting various portions of the operation to Chinese entities.
Cerberus Private Equity is partnering with Argand, and is also planning to participate in the bid.
New Zealand-based Aranz Geo launched a new model management platform designed to support continuous 3D modelling in mines.
The company collaborated with various mining and exploration companies to develop the new Leapfrog Central platform.
This software can be used to control and manage evolution of models and track them from a central point, helping improve decision-making.
Tonga Offshore Mining, the wholly owned subsidiary of Nautilus Minerals, upgraded mineral resource estimates for its underwater polymetallic nodule mining project in the eastern Pacific, off the coast of Mexico.
The Clarion-Clipperton fracture zone (CCZ) project's inferred mineral resource is estimated to have increased from 410 million tonnes to 685 million tonnes.
The latest figures include portions in the inferred, indicated and measured categories after completing exploration campaigns in the Central Pacific area in 2013 and late 2015.