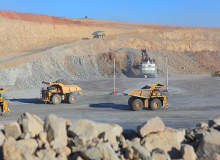 Rio Tinto" height="70″ src="https://www.mining-technology.com/wp-content/uploads/image-digitalinsightresearch/Archive/Mining%20companies/Image%201.jpg" style="padding: 10px" width="70″ />
Rio Tinto's plan to develop a $6.6bn underground expansion of Oyu Tolgoi copper-gold mine in Mongolia, is set to advance.
Rio Tinto and the Mongolian Government will finalise a deal over the long-awaited development of the mine's second stage before the end of March, reports The Sydney Morning Herald.
The latest news comes after one of the company's contractors began advertising for workers at the major underground, copper-gold mine.
Expansion of Oyu Tolgoi mine has been on hold since the company failed to reach an investment agreement with the government.
The Ontario Government and Matawa-member First Nations have signed a regional framework agreement on the development of the $60bn Ring of Fire chromite deposits in the north-western region of the province.
The Ring of Fire, which includes the largest deposit of chromite ever discovered in North America, will help to transform Ontario, creating jobs and improving its economic prosperity.
The prospect holds the potential for significant production of nickel, copper and platinum.
Queensland Government has rejected Glencore Xstrata's $20bn proposed bauxite mine plan in Cape York, Queensland.
The company, along with a group of land owners, planned to develop the mine, which is believed to have rich bauxite deposits but sensitive environmental aspects and heritage issues are causing concerns.
Queensland Deputy Premier Jeff Seeney was reported by The Australian as saying that the proposal has been rejected because it would take too long to deliver and may not benefit the local indigenous communities.
Rio Tinto has secured approval for the expansion of its $680m West Angelas joint venture project from the Western Australian Government.
West Angelas is an iron ore mine located in the Pilbara region of Western Australia, 110km north-west of Newman.
Said to be one of twelve iron ore mines the company operates in Pilbara, the mine is owned by Robe River Iron Associates, and 53% by Rio Tinto, and is operated by Rio Tinto Iron Ore.
The Mongolian Government may lift the ban on mining exploration licences in an attempt to aid industrial development.
Mongolia has coal, copper and gold principal reserves, and mining is important to the national economy. Several gold mines are located about 110km north of Ulaanbaatar, such as Boroo gold mine and Gatsuurt gold mine.
The ban on the issuing and processing of licences was put in place in June 2010, leaving many projects in a state of limbo.
The Democratic Republic of Congo (DRC) has instructed all mining companies to halt any project expansion requiring more power, due to power shortages in the Katanga province, according to government documents.
DRC is rich in natural resources and has major ores, such as cobalt, diamonds, gold and copper.
DRC Prime Minister Augustin Matata Ponyo Mapon told Reuters that the national power company, SNEL, should not grant any new energy contracts for mining companies and not allow any amendments to existing contracts.
US-based gold producer Newmont Mining has slashed production at its copper and gold mine in Indonesia by 70%, following the imposition of the ban on ore shipment and export tax.
The controversial ore export ban was imposed by the government on 12 January in an attempt to boost the domestic mineral processing industry, so as to increase exports value.
The county had initially given a respite from the ban to US mining companies Newmont Mining and Freeport-McMoRan copper and gold, who were allowed to export partially processed copper concentrate up to 2017.
Multi-commodity mining and exploration firm Alkane Resources has opened the A$116m ($105m) Tomingley gold mine in New South Wales (NSW), Australia.
NSW Minister for Resources and Energy Anthony Roberts opened the mine, which is located 14km north of Alkane's inactive Peak Hill gold mine and about 50km south-west of Dubbo, Tomingley.
The mine started operations in February this year following its first gold bar pour and the commissioning of the processing plant.
The project is anticipated to achieve design capacity by the end of April and is expected to produce between 350,000oz to 400,000oz of gold over a seven and a half year mine life.