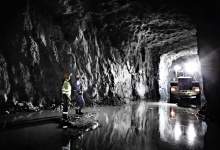 Automation technology provider ABB and mobile software company Mobilaris have teamed up to launch a new location-based system for mining operators that addresses two of their most important priorities: productivity and safety.
Mine Location Intelligence, which provides real-time positioning of vehicles, equipment and personnel in underground mines through a 3D web-based user interface, can not only minimise evacuation time and prevent miners from entering dangerous areas; it also reduces wasted time and energy, significantly boosting mining productivity. For anyone au fait with Google Maps, it's easy to use, too.
The technology's key capabilities are spatial search, navigation support, advanced data mining and analysis, and the creation and management of geofences. According to ABB's global product manager for integrated mine automation Patrik Westerlund, this solution is only the first step for location-based mobile technology in the mining sector.
"I think that within the next five to ten years it will be mandatory – by law or company policies – for every underground mine to have a system like our Mine Location Intelligence," he says. "The trend is that many open-pit mines are going underground and the cost per tonne is increasing dramatically. This demands a step-change in productivity and increased automation is a key component. Mine Location Intelligence is one important piece in this puzzle."
In this exclusive interview, Westerlund discusses the development and testing of Mine Location Intelligence, feedback from the industry and the future of location-based intelligence software.
Elly Earls: Can you explain the ways in which Mine Location Intelligence can improve mine productivity and safety?
Patrik Westerlund: Personal safety can be improved in many ways. The time for evacuation can be minimised by determining the best emergency escape routes and sending this information to the personnel at the locations, while surveillance of dangerous areas can be automated by geofences, which limit access to recently blasted areas, areas with dangerous gases or unsecure areas. Real-time and historical data can also be used to plan and evaluate the placement of rescue pods, and emergency exercises or real incidents can be analysed and used to improve work processes.
When it comes to productivity, today it is difficult to coordinate both production activities and maintenance activities in underground mines due to the lack of visibility and the lack of real-time situation awareness. Together with long travelling times, this has resulted in time wasting and low productivity.
Mine Location Intelligence increases the situation awareness for all user groups. For example, operations and maintenance have the same view of the situation. Further, all users always have the latest updated mining maps to hand, while the 3D view gives everyone the possibility to have the best view of their actual situation.
This increased situation awareness enables all users to take better decisions and avoid wasting time on things like travelling to the wrong place, going to a place and finding out when they get there that there is another machine working already, or looking for machines, equipment or people.
Also, the system is an open system that can be integrated with mine production management systems, fleet management systems and automation systems. It is integrated with ABB's System 800xA, which provides the possibility to automate functions like ventilation and traffic control, saving money and increasing productivity.
EE: How much interest have you had so far from mining operators?
PW: There has been a lot of interest from mining operators and they are very positive about the system. Of course, the part of the solution they are most interested in depends on the user group you are talking to but personal safety has attracted a lot of interest. The other part is the visibility that location tracking in a 3D map gives you. Mining operators see great improvement potential in just improving coordination and reducing the amount of time taken up with searching for equipment.
EE: When testing the system, what feedback did you get from both management and miners?
PW: The system was extensively tested before its launch; it is currently running in two mines and more mines are on the way. We've had a lot of ideas about potential new features that have come from all user categories, which is a good sign.
We were worried about integrity issues when it comes to tracking people. The system has many possibilities to restrict, control and track the detailed location information. However, instead of opting to restrict and control that information, the mines we worked with have solved the issue by selecting an 'open-to-everyone approach'. Miners' safety mentality is strong and everyone sees the benefits of others knowing your position in case of emergency.
EE: Do you anticipate any challenges in the implementation of the system for mining operators?
PW: A communication infrastructure is needed to make the system work. There is a strong trend and many mines are going for WLAN as their communication infrastructure, but there are still many different vendors and many different combinations of technology. Also, for sure, in the future, there will be new technology!
Yet, the Mine Location Intelligence system is technology-agnostic and can handle multiple position sources at the same time. This means that the system can be applied in mines with old technology and supports incremental investment in infrastructure.
EE: Will training be provided for miners and management? What will this involve?
PW: The system is very intuitive to use and everyone familiar with Google Maps and other commercial web applications can normally start to use it without any training. However, we do provide training to both users and engineers. Miners and all users will get basic training on how the system works and how to use it, while mine engineers get an extended training programme, covering how to publish and manage new and updated maps, how to create geofences, and so on. System engineers will also get training on how to administrate and maintain the system, including how to manage the wireless network to maintain accurate positioning.
EE: How do you hope to enhance the system in the future?
PW: Mine Location Intelligence is a part of ABB's Integrated Mine Automation solution for underground mines. In close cooperation with our customers and our innovative teammates from Mobilaris, we have a lot of new features in the pipeline.
There will be enhancement within the safety applications but also more applications where we use the Mine Location Intelligence integrated with ABB System 800xA process automation system to control and optimise processes in the mine.