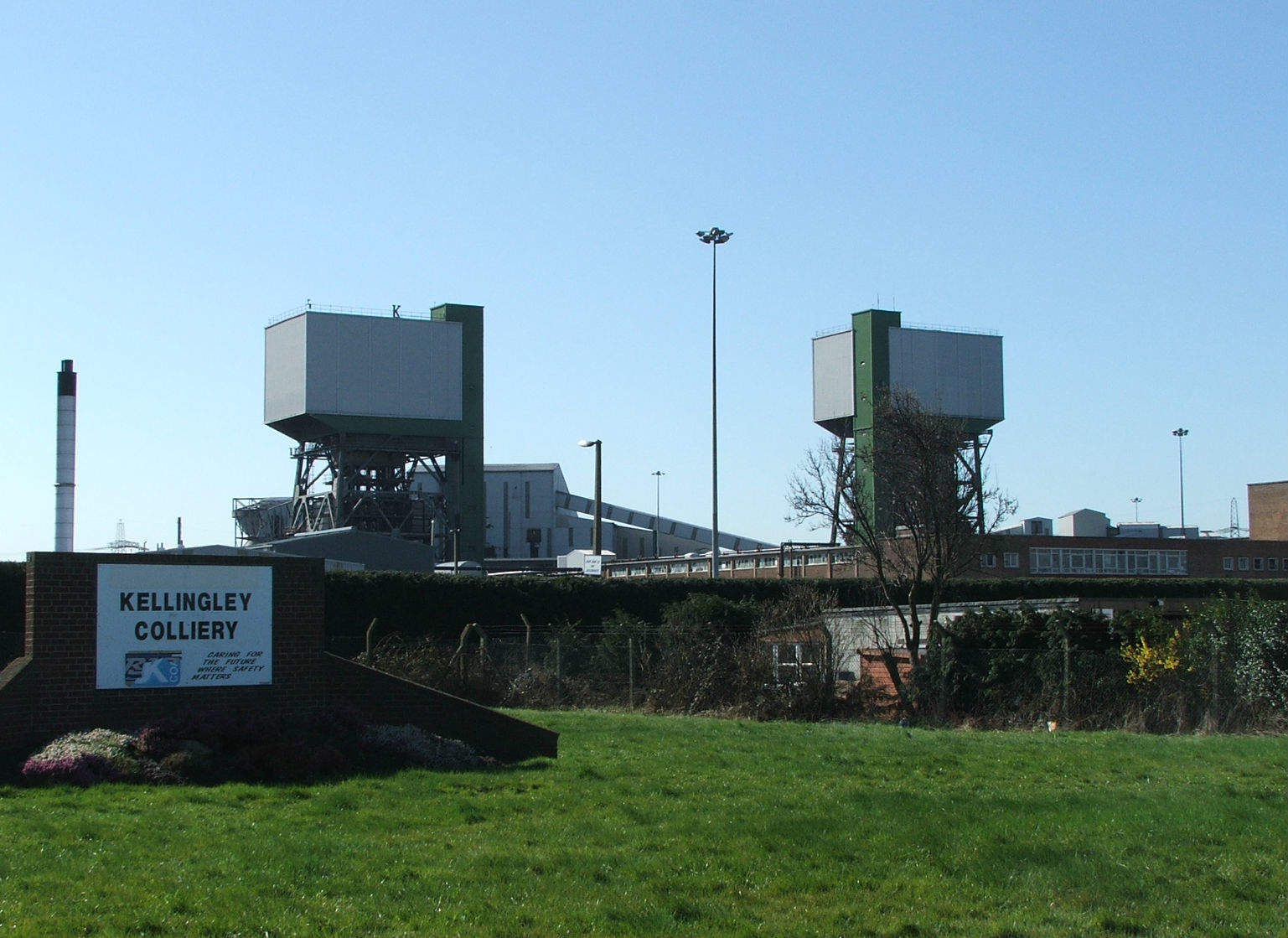 Coal mines used to be at the centre of UK communities, with workers digging up the valuable resources underneath their homes. In many areas mines were the dominant employer and generations of men followed each other into the pits. Now, neighbourhoods like this are rare in the UK.
After 50 years in business, Kellingley Colliery in Yorkshire will be closing in December. It was once the biggest deep coal mine in Europe, employing over 3000 people, but now it's due to be sealed up like the rest of deep-pit coal mines in the UK.
Coal shaped industry and communities
Gerry Starkey is a fourth-generation miner from nearby in Wakefield in Yorkshire, who now works at the National Coal Mining Museum. He followed his father into the industry and worked as a miner until 2010. He says that a lot of miners came to places like Kellingley from Scotland and Durham, and whole housing estates in that area were built to accommodate them.
"Everybody knew everybody," he says, remembering the sense of community. "Nearly everybody in that area did work at the mine or had some contacts with the mine."
"Whole housing estates were built to accommodate mines."
Mining areas also had steel and iron works built close to the pits, because they required a constant supply of coal. In this way mines not only provided work for miners, but also created millions of jobs in the surrounding industry.
How well do you
really

know your competitors?

Access the most comprehensive Company Profiles on the market, powered by GlobalData. Save hours of research. Gain competitive edge.
Company Profile – free sample
Thank you!
Your download email will arrive shortly
Not ready to buy yet? Download a free sample
We are confident about the unique quality of our Company Profiles. However, we want you to make the most beneficial decision for your business, so we offer a free sample that you can download by submitting the below form
By GlobalData
Coal Imp managing director Nigel Yaxley believes coal was fundamental to the industrial revolution. He says that coal was probably the "foundation for the whole of our economic development."
"There would have been no steam," he adds. "There would have been no railways without the coal underpinning it in the first place."
He adds that coal was fundamental to the UK navy and merchant navy also because the entire fleet was coal powered.
An unexpected end to an era
Back when the UK was a leader in the coal industry, not many would have anticipated a future without mining. In 1913, production of coal was at about 200 million tonnes with 100 million of that being exported.
Starkey started mining for a living in 1970. In 1983 he was assured he had a job for life in a mine in Selby, which closed 21 years later in 2004. When he first started his career, he says, "I never thought that I would still be living with the end of the mining industry."
In 2014, UK Coal claimed on its website that Kellingley had the potential to keep producing coal until the 2030s, and nine young miners were hired and trained up. Many of the new recruits were carrying on the family tradition and were the sons of miners that already worked in the pit. They expected to be there a long time; only to find out just a year later that their workplace was closing.
UK Coal considered extending the pit's lifetime by three years, but that would have required £338mn, which was considered not the best "value for money".
Yaxley believes the end of the deep coal mining era in the UK is an "absolute tragedy". He says that one of the most significant reasons for mines closing is that coal is not a popular part of the UK's aspirations of becoming a greener country. Climate change is an increasingly important part of the government's agenda, and coal doesn't fit into it, which those who worked in the industry can't argue with.
"They feel they've been dealt a bad hand because of the climate change issue," Yaxley says. "The only thing that will stop CO¬¬2 emissions from coal is CCS."
CCS, or carbon capture and storage technology, is a method of capturing waste carbon dioxide from burning fossil fuels so it doesn't enter the atmosphere. Under current UK policy, no coal power plants can be built without integrated CCS.
Energy company Drax was planning to introduce carbon capture technology to its plant in North Yorkshire, but abandoned the £1bn project in September due to the government's decision to reduce subsidies for renewable energy. Drax generates a significant amount of renewable energy, so its profits were hit hard when the tax exemption for renewable power was removed.
Some believe that if more money had been invested in CCS technology in the first place, then the UK could still be a leader in coal production.
Competing with the international market
According to Starkey, there is still plenty of coal underground that hasn't been mined out, but there just isn't the investment to fund the extraction and use of it.
"There's still more underground than what's actually been taken out," he says. "And we've been mining for, what, 500 years?"
However, with the UK government looking to phase out coal altogether, there is little investment opportunity to take advantage of the remaining reserves. There's also the issue of competition on the international coal market. Mines in the UK can't produce coal at a price that customers can get from cheaper suppliers such as Australia and China.
"UK deep mines are much deeper than any mines which are competing on the international market," says Yaxley. "The coal which is being imported from elsewhere is from shallower deep mines or surface mines… which have structurally lower costs."
The UK deep mines were typically around 800 metres deep, and workers often had to travel laterally over a long distance once reaching the pit bottom because of the age of the mines; a contributor to growing labour costs.
"I worked at places where we were over 1000m deep," Starkey recalls. "Not only that, but once you get off the cage in the pit bottom you were [walking] five or six miles to get to the coal face."
"UK deep mines are much deeper than any mines which are competing on the international market."
Furthermore, in the US coal is dug up via strip mining, where miners shred the land of coal and then fill in behind them. Starkey says that this method using big machinery makes the process a lot cheaper. This is a shame, he says, because it's such a destructive process.
"You're taking away the natural land," he adds. "It's all going to be man-made behind you, because you taking away all the hillsides and the forests."
Mining's legacy
Mining in the UK began with the Durham monks in the 14th century, who would dig into hillsides to extract the coal at Lumley, Rainton and Ferryhill. They did it this way, mining away until the hillside collapsed, before they realised that they could do so vertically into coal seams. Now, this long history is coming to an end, and Starkey says that once the mines are closed, there's no going back. Those in the industry say the mines "die", because they often become flooded.
"People think that mines are just going to be reopened," he says. "You can never reopen one…Once they've gone, they're gone."
He says that everything would have to start again from the beginning, which is unlikely to happen with the lack of investment and the costs that would be faced.
Not all memories of the deep-pit coal mines in the UK are necessarily fond. People lost their lives in the pits from explosions and accidents, including many children. The year long strike in 1984-85 was detrimental to the industry and it never quite recovered afterwards.
Nonetheless, the sense of pride that came from being a miner is still alive in the UK, and people who were close to the industry will be sad to see it disappear. Without coal, the UK would not likely have made so many industrial advances, and for that it remains an important part of history for former mining towns and the people who remember their heritage.