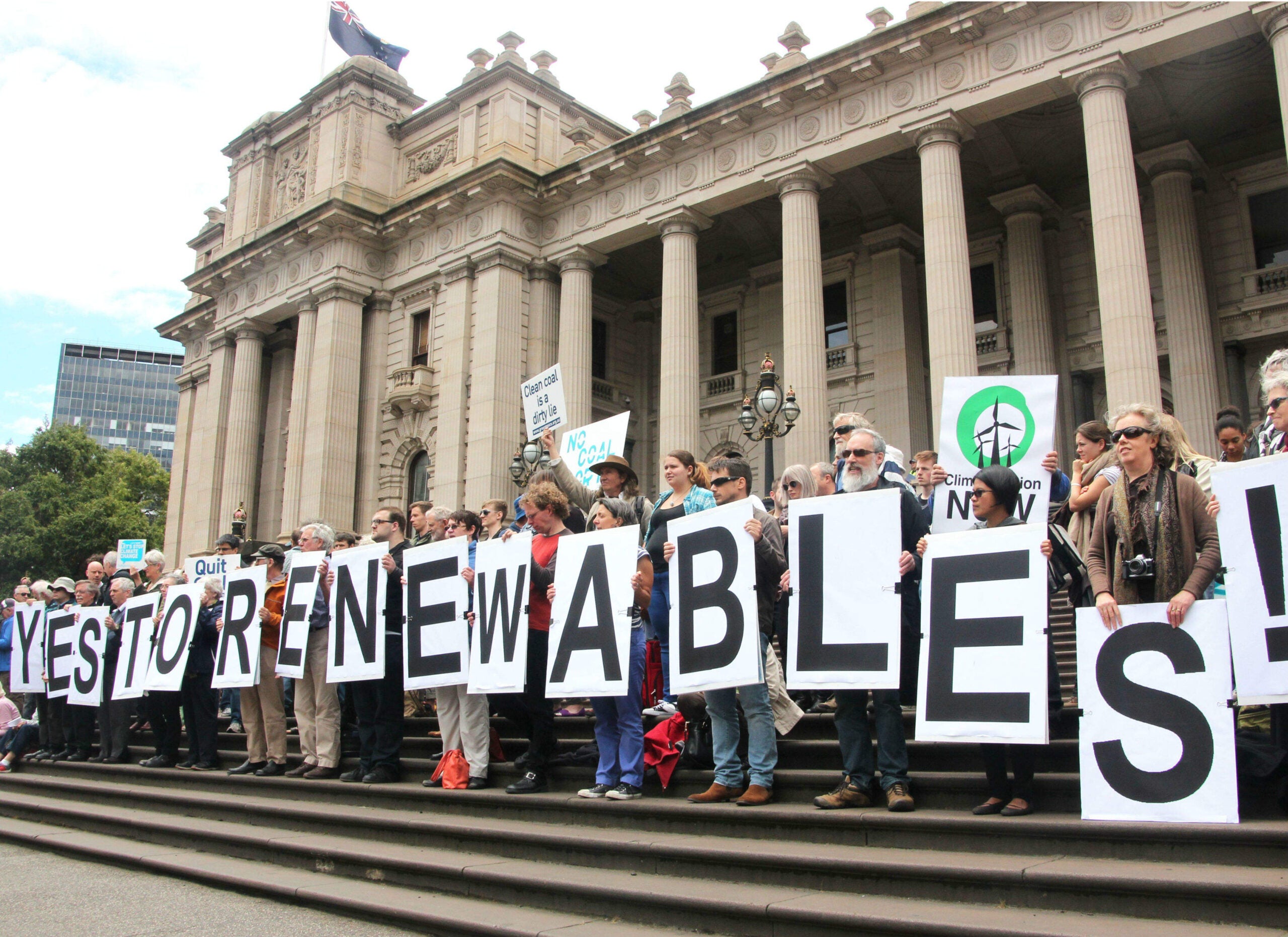 It's no secret that burning coal is a massive contributor to carbon concentrations in the atmosphere. At the Paris climate change talks, COP21, in December, President of the Republic of Kiribati Anote Tong put forward the idea that a global moratorium on coal extraction is the only way to realistically address global warming and carbon emissions.
While country leaders gathered to make a deal on how to cap the earth's temperature from rising by more than 2°C, clear barriers were discussed. For example, developing countries want to be able to supply electricity to all citizens quickly, and the economic viability of putting a halt to coal altogether is in question.
Since COP21, there has been a lot of pressure to make coal the fuel of the past. According to Alexander Ochs, senior director of climate and energy at the environmental think-tank Worldwatch Institute, technological advancements, alternative sources and power efficiency are all pulling down the curtain on coal's future, but a global moratorium on coal is at this stage "unlikely".
Ochs says that forecasts are difficult to make with regards to energy in the long-term, but we could see the dwindling of coal usage for many reasons. There are numerous factors currently having a very negative impact on coal production, such as a continued downward trend in the fossil fuel markets and the commitments of countries to shift away from coal and towards alternative sources.
"Overall, the sustainable energy technology and market trends are very encouraging," Ochs says. "I think Paris adds to this. It has set new signals; investments have to go from fossil into the renewables."
However, he adds that a moratorium on coal production on a global scale is improbable anytime soon. He says that many voices in the debate are unclear about what a moratorium would actually look like.
"Are we talking about the United Nations calling on everyone to reduce coal production to a minimum, or are we talking about a binding international treaty where no single country is allowed to produce coal any more?" he distinguishes. "The latter is I think is very unlikely in the near future."
A worldwide halt on coal – is there any need?
It's unlikely that a global moratorium could happen, not necessarily because countries still want to use coal and don't see the point in renewables, but because such a commitment may not be what's really needed.
"There's growing resistance in big consuming countries like China, India or the United States to continue coal production because of the local air and water pollution and the health impacts it causes, so it's not climate change or greenhouse gas emissions that are the number one issue; it's rather the local pollution."
"It's not climate change or greenhouse gas emissions that are the number one issue; it's rather the local pollution."
As Al Gore said in a Green Alliance speech last September, the people in China want to be able to breathe again. There has been a lot of pressure recently from the middle classes in China on its President Xi Jinping to reduce the unbearable smog and disease inducing pollution of the country.
There has been a significant drop in China's coal consumption in the past few years. It peaked in 2013 before falling 3% in 2014 and another 4%-5% in 2015. The country also recently announced a ban on new coal mines for three years, and plans to close 1,000 existing mines.
Around the world, moratoriums on coal are already happening on a small scale. Ochs says that something he thinks will strengthen in the future is the regime of small individual countries and districts calling for action in their areas.
"You already have mayors and governors and prime ministers around the world calling for a moratorium in their city, province or state," he says.
Just this month, US President Obama announced a moratorium on new leases for coal mined from federal lands, which are responsible for around 20% of greenhouse gas emissions from fossil fuel developments. "This is a serious, serious move forward," says Ochs.
Resisting countries, economics and growth
Not all countries are on-board with shutting down mines and cancelling their coal plans. Cutting all coal from the energy landscape would mean large schemes of compensation for countries that are main exporters of coal before they agree to it. For instance, Australia plans to double its coal exports and has 52 proposed coal developments in the pipeline.
This is an obvious economic decision; the more coal exported, the more money can be made. But the problem is the plan doesn't work in the long-term. If more coal is dug up, this affects the world price, causing it to drop even lower than at present. This would hurt existing coal mines, lenders and employees, which are already in the midst of a struggling industry.
No New Coal Mines, a campaign backing a global moratorium set up by The Australia Institute believe Australia's coal plan is completely inconsistent with a world that is trying to reduce carbon emissions. It was stated at COP 21 that if all the world's proposed coal plans go ahead, then the 2°C target would be unattainable.
"The world cannot tackle climate change while it continues to build new coal mines," says AI researcher Tom Swann. "Every new mine takes us backwards. When you are in a hole you have to stop digging."
India is another country with plans to build more coal plants. Its argument is also economic, but with wider consequences as India has300 million people with no electricity at all. At COP21, Srinivas Krishnaswamy from Vasudha Foundation India said: "the priority for India right now is to secure its energy future."
India's Energy Minister, Piyush Goyal posted on Twitter that, while the country was "contributing to the growth of renewable energy, it would simultaneously make sure our development process does not get hampered."
That being said, Prime Minister Narendra Modi has made it clear that India is heavily investing into energy efficiency, renewables, nuclear and gas, and is not just focusing on coal.
"By 2030, we will reduce emissions by 33% to 35% of 2005 levels, and 40% of our installed capacity will be from our non-fossil fuels."
"He's a very, very strong supporter of renewables," says Ochs. "He wants to make this one important pillar of the Indian economy, and also of the energy supply chain."
"We have set ambitious targets," said Modi at COP21." By 2030, we will reduce emissions by 33% to 35% of 2005 levels, and 40% of our installed capacity will be from our non-fossil fuels."
Just part of a much bigger picture
Ochs says that while India is indeed continuing to invest into fossil fuels, it is just part of the picture, and a lot of the new-build coal plants are subsidising old and insufficient ones, which is a step in the right direction for the environment. In addition, Modi announced The Solar Alliance into which the Indian Government is investing $30m.
Also, no country is hiding from the fact that fossil fuels won't last forever. China has enough coal in the ground to continue for around 30 years, and India has enough for about 90. Nevertheless, by the end of the century, these countries will be running out of coal, and to be self-sufficient with energy the last thing they want to do is become dependent on expensive coal imports.
"As the impacts of climate change are being felt more strongly, many countries, including India and China and many European countries, are becoming increasingly aware that their remaining coal resources are not eternal," says Ochs. "And they are discovering alternative sources that are not just cleaner but also competitive. The trend of fossils becoming more and renewables less expensive will certainly continue in the future."
Swann says that coal imports in India are down by a third on last year, but he believes the country could still do much more.
"Coal already poses big problems for India. Severe air pollution already kills thousands daily and more coal with make this worse," he says. "While India defends its right to emit, it also seeks global help to avoid coal. Support for clean development could be part of a coal mine moratorium."
Whether a global moratorium will ever happen is unclear, but as Ochs says, it probably won't happen any time soon. However, the environmental and economic pressures on coal as well as dwindling supply and increasingly poor public image are most likely going to see its usage diminish significantly in years to come.
"In a way, Paris is a global moratorium because it sets a climate policy framework making clear that the world needs to move in a certain direction, away from fossil fuels and toward renewables," says Ochs. "In addition there will be more and more governments on different political levels that will support a moratorium in their geographic area. But a binding international treaty saying that nobody's going to build coal anymore, is rather unlikely in the short-term."