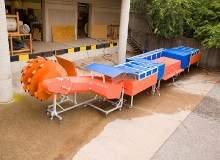 Brazil-based iron ore mining company Vale had a R$20bn ($5.7bn) civil lawsuit dismissed that was filed against it, BHP Billiton and Samarco, seeking damages for the Samarco mine disaster caused by a burst dam.
Samarco operates the mine and is a joint venture between Vale and BHP.
The public civil action was filed at Vara Federal of Rio de Janeiro by Sohumana Sociedade Humanitária Nacional (Sohumana) against the three companies in December last year following the bursting of a tailings dam at Samarco's Germano mine the previous month. At least 17 people are believed to have been killed and 50 people injured as a result of the incident.
Jacobs Engineering has secured a contract to develop the $5.3bn Oyu Tolgoi underground copper and gold mine in Mongolia.
Oyu Tolgoi is jointly owned by the Government of Mongolia (34%) and Turquoise Hill Resources (66%). Out of this 66% share, Rio Tinto owns 51%.
Under the contract, the company will provide engineering, procurement and construction management (EPCM) services for the next stage in the mine development.
The University of South Australia formed a collaborative research funding partnership with Centrex Metals to use molten salt technology that is expected to reduce energy and water usage, as well as cut mining industry costs.
The technology is predicted to slash expenditure of mineral processing through using molten salts.
Undertaken by UniSA's School of Engineering and Future Industries Institute, the research is based around the Oxley Potassium project.
Barrick Gold reached a $140m settlement to resolve a pending class action lawsuit before the US District Court that accused the company of allegedly falsifying facts of its Pascua-Lama project along the border of Chile and Argentina.
Court papers also accused that the company of falsely inflating its market value.
The settlement will resolve the class action that accused Barrick of misleading investors about environmental problems afflicting its project.
Imperial Metals received authorisation from British Columbia's Ministry of Energy and Mines and Ministry of Environment to return Mount Polley mine to normal operations.
The company temporarily suspended the mine operations on 4 August 2014 due to a breach of the tailings storage facility (TSF), which has since been repaired.
Imperial can now use the TSF to resume operations at Mount Polley.
The Queensland Government announced it would commit $42m in the 2016-17 state budget to manage public safety risks that are related to abandoned mine sites across the region.
With the increased investment, the programme will be able to make improvements to public safety, including for treating water impounded in mine sites, and filling abandoned shafts.
Some 3,500 of around 15,000 identified abandoned mine sites across Queensland are on state-owned land and most are very small.
Researchers from the University of Kentucky in the US developed full-scale models of longwall shearers featuring scrubber systems that can help reduce operators' exposure to coal.
The longwall shearer helps combat dust emissions, and was created by the University of Kentucky Department of Mining Engineering Alliance Coal chair Thomas Novak and assistant professor Chad Wedding.
Novak said that around 50% of all coal produced underground comes from longwall mines.
The South Australian Government provided A$50m ($37m) funding to support the new owner of the troubled Whyalla steelworks, which has been put up for sale after Arrium entered into voluntary administration in April this year.
Arrium, the iron ore mining and steel manufacturing company entered administration following continuous weak commodity prices and the dumping of low-quality foreign steel in the Australian market.
The government proposes to place the funding in a facility that can only be accessed by the new owner if it is used to support Whyalla operations.
BHP Billiton ordered autonomous upgrade packages for 18 drill rigs for its iron ore mines in Western Australia from Sweden-based Atlas Copco.
The mining company has been trialling Atlas Copco's autonomous technology on Pit Viper 271 rigs at the Yandi mine for the past two years.
The machines have operated for more than 15,000 hours autonomously, having drilled around one million metres.
BHP Billiton reached an agreement to sell its 75% interest in Indonesian coal producer IndoMet Coal to its equity partner Alam Tri Abadi (Adaro).
IndoMet Coal consists of seven coal contracts of work in in Central and Eastern Kalimantan. This includes the Haju mine, which has the capacity to produce one million tonnes of coal per annum and has been in production since last year.
Completion of the sale is subject to customary regulatory approvals.