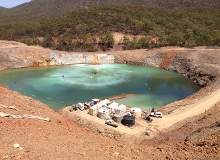 Mining giant Anglo American is reportedly planning to streamline its business by disposing of under-performing assets, including platinum mines in South Africa.
In addition to South African properties, the company is reportedly considering selling its nickel assets in Brazil and copper mines in Chile, reported the Sunday Times.
Production at the company's South African platinum mines was hit by an industry-wide five-month worker strike.
A gas accident in a coal mine in China's south-western municipality of Chongqing killed 22 workers, and left two others injured.
The incident occurred at the Chongqing's Yanshitai coal mine on Tuesday evening at around 3:40pm local time, according to initial reports from Chongqing Municipal Administration of Coal Mine Safety.
A total of 28 workers were working down the shaft at the time of the accident; six managed to escape, reported state news agency Xinhua.
Rescue workers have retrieved the bodies of those killed.
New Zealand rejected Trans-Tasman Resources' (TTR) application for a $70m underwater iron sand mining project in the South Taranaki Bight, saying that there was no clarity on its environmental impact.
The decision-making committee of the Environmental Protection Authority (EPA) has rejected the application, citing an uncertain scope and significance of the adverse environmental effects, including the potential harm fishing and Iwi interests.
The information presented by the company was not enough to convince the committee that the life-supporting capacity of the environment would be safeguarded, or that the adverse effects of the proposal could be avoided, remedied or mitigated.
Scientists from Commonwealth Scientific and Industrial Research Organisation (CSIRO) of Australia developed a new technology, Virtual Curtain, which can treat mining water and eliminate sludge by up to 90%.
Developed by CSIRO scientist Dr Grant Douglas and team, the technology was first tested at Queensland mine, where it was used to remove metal contaminants from mining wastewater.
The technology successfully treated wastewater and safely discharged rainwater-quality water that would have filled around 20 olympic-size swimming pools.
The curtain also reduced the sludge, a semi-solid by-product of wastewater treatment, by up to 90%, making the technology suitable for both the environment and economy.
The Mongolian Government accused Rio Tinto and its subsidiary, Turquoise Hill Resources, of failing to pay taxes and penalties relating to the $6.6bn Oyu Tolgoi copper-gold mine project.
The Mongolian Tax Authority has claimed that Rio Tinto has unpaid taxes, penalties and disallowed entitlements associated with the first phase development of mine.
Oyu Tolgoi mine's operating unit director Ganbold Davaadorj was quoted by Bloomberg as saying that the disputed amount is about $130m.
Capstone Mining revealed the results of the feasibility study for its Santo Domingo iron oxide-copper-gold project in Region III, Chile.
The project, which is 70%-owned by Capstone and 30%-owned by Korea Resources, is anticipated to produce one million tonnes (Mt) of copper, 4.2Mt of iron concentrate and 16,000oz of gold during its 18-year mine life.
However, in the first five years of full production, the mine will have an annual average production of around 110,000t of copper, and about 58,000t a year thereafter.
Romania's lower house of parliament rejected a proposed bill that would allow Gabriel Resources to proceed with its $1.5bn Rosia Montana project, which would have been Europe's largest open cast gold mine.
The company launched the project in the early 1990s by setting up the subsidiary Rosia Montana Gold (RMGC), which is yet to receive permits to commence operations.
The bill was initially approved by the government of Prime Minister Victor Ponta in 2013, but was widely criticised by thousands of anti-mine activists who protested against the bill and forced the senate to withdraw its decision.
Zambia's biggest copper producer First Quantum Minerals announced it was postponing projects worth more than $1bn due to the ongoing dispute with the country's government over payment of taxes.
First Quantum operations director Matt Pascal said that the 10% export duty introduced on unprocessed minerals has resulted in the piling up of $350m worth stock at the company's Kansanshi mine.
In addition, the Zambian Government is withholding more than $150m in value-added-tax (VAT) repayments from the company.