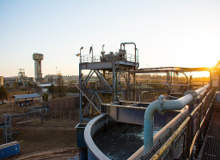 The Cimic Group's mining services arm Thiess secured a $130m contract for Rio Tinto's $5.4bn Oyu Tolgoi project in Mongolia's southern Gobi desert.
The contract will be carried out in a joint venture with local contractor Khishig Arvin, and is for an underground decline for the copper and gold project.
Thiess' work is set to start this month and scheduled for completion in 2020.
Komatsu-joy-global_L.jpg" alt="" />
Komatsu America signed an agreement to acquire the US-based surface and underground mining equipment manufacturer Joy Global for $3.7bn.
Komatsu said that the acquisition is in line with the company's strategy to strengthen its core mining equipment business.
Joy Global manufactures and services equipment for underground and surface mining applications.
BHP Billiton were set to provide up to $1.3bn to cover the costs of Samarco's burst dam incident that occurred in November 2015.
Samarco is a joint venture between Brazil's Vale and Australia-based BHP Billiton.
The amount was equivalent to a 50% share of the current estimate of Samarco's funding obligations under the framework agreement signed in March.
Newmont Mining signed an agreement to sell its interests in Indonesia's PT Newmont Nusa Tenggara (PTNNT) to PT Amman Mineral Internasional (PT AMI) for $1.3bn.
PTNNT operates the Batu Hijau copper and gold mine in Indonesia on the island of Sumbawa.
The total amount comprised cash proceeds of $920m and contingent payments of $403m, which was tied to upside metal prices and the development of Elang.
South Africa-based Sibanye Gold was planning to close Cooke 4 mine and Ezulwini gold and uranium processing plant due to continued operational underperformance and financial losses.
The company said it would enter a further consultation process with organised labour and other relevant stakeholders regarding the closure.
Sibanye acquired the Cooke underground and surface assets from Gold One in May 2014 as the uranium and gold mineral resources and reserves that are present in the Cooke surface tailings facilities form a critical component of the company's West Rand Tailings Retreatment Project (WRTRP).
Canadian company Centerra Gold signed an agreement to acquire US-based Thompson Creek Metals in a deal worth $1.1bn.
Thompson Creek operates the Mount Milligan mine in British Columbia, Canada.
Together with Centerra's Kumtor mine in the Kyrgyz Republic, the combined company is expected to be established as a low-cost gold producer.
The British Columbia (BC) Environmental Assessment Office in Canada was proceeding with Taseko Mines' request to amend the environmental assessment certificate for its $1.5bn New Prosperity gold / copper project in the Cariboo region.
Taseko also planned to file a notice of work (NOW) with the Ministry of Energy & Mines, which will allow it to gather information to advance mine permitting under the British Columbia Mines Act.
The company will work with the six local Tsilhqot'in First Nation bands on the consultative and substantive aspects of the NOW, as per the terms mentioned in the 2012 settlement agreement.
Australia-based Maptek and Bluhm Burton Engineering (BBE) subsidiary Vuma have signed a memorandum of understanding (MoU) to create a new mine design and ventilation solution system.
Under the MoU, the primary focus will be on enabling detailed data transfer between Maptek Vulcan mine planning software and Vuma ventilation simulation software.
Using Vuma software, underground mine ventilation, contaminant tracking, refrigeration and cooling networks can be evaluated.
Australian firm BGC Contracting secured contracts worth A$114m ($85.5m) from Incitec Pivot and Resolute Mining in Queensland.
Under the A$97m ($72.8m) contract, BGC will provide mining services to feed the onsite ammonium phosphate fertiliser manufacturing plant at Incitec Pivot's Phosphate Hill site 150km south of Mt Isa.
The five-year contract was set to start in October.
Amec Foster Wheeler secured a contract to expand and extend the life of Anagold Madencilik's Çöpler gold mine in the Çöpler district, Erzincan province, Turkey.
Under the engineering, procurement and construction management (EPCM) contract, Amec Foster will provide services including detailed engineering, procurement, and construction management services as part of the Çöpler Sulfide expansion project.
The company will also provide support during commissioning and performance testing at the mine.