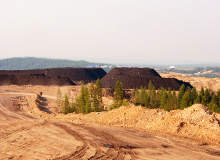 Carmichael" height="160″ src="https://www.mining-technology.com/wp-content/uploads/image-digitalinsightresearch/Archive/Main/GreatBarrierReef-EO.JPG" style="padding:10px" width="160″ />
The Australian Government approved the A$16.5bn Carmichael coal mine and rail infrastructure project in the Galilee Basin but imposed 36 conditions to safeguard the surrounding natural resources.
Environment Minister Greg Hunt said that: "A rigorous, open and thorough environmental assessment process was undertaken to take account of the public interest in the project."
The Carmichael project, which is being developed by the India-based Adani Group, is located in the north Galilee Basin in Queensland.
Russian mining and metals company Mechel has reportedly planned to merge its assets with those of metal producer Evraz and state development bank Vnesheconombank (Veb), to reduce its $9bn debt.
The proposal includes the merger of VEB's Amurmetall steel plant and some assets of Evraz and Mechel, but excludes the latter's Elga coal deposit and international units, Bloomberg reported citing two unidentified sources.
Mechel had been seeking ways to reduce its $8.6bn debts, as falling coal prices and the global slow down of steel production hit the company's performance.
Chile state-owned copper producer Codelco submitted a modified proposal for its $6.8bn Andina 244 project, after locals opposed it, fearing an impact on glaciers and water resources in the region.
The company agreed to recycle 65% of the water used at the mine and improve the quality of water in the Blanco river by building two new water treatment plants.
Codelco acting projects head Gerhard von Borries was quoted by Reuters as saying: "Two out of every three litres of water that the Andina expansion needs will come from recycled water, making the project very efficient in terms of water resources.
Australia-based MMG is a step closer to completing the acquisition process of the Las Bambas copper mine in Peru, since all of the compay's shareholders gave their consent to the $5.8bn deal.
During a meeting held in Hong Kong on 21 July, MMG's shareholders approved the proposed mine acquisition from Glencore Xstrata, which is expected to be transformational for the company.
MMG chief executive officer Andrew Michelmore said: "Once completed, this transaction will mark a significant milestone in our company's history."
Iran is implementing 41 mining projects at an investment of €6bn, according to Iranian Mines and Mining Industries Development and Renovation Organisation (IMIDRO) deputy director Jamshid Mollarahman.
Mollarahman was quoted by the Tehran Times, which cited the Mehr News Agency, as saying that the country is prioritising the expansion of mining and mineral exploration activities and that the projects will create about 25,000 direct jobs in the country.
IMIDRO director Mehdi Karbasian previously revealed that Iran plans to exploit around 5,000 mines to boost its mineral production.
Diamond mining company De Beers awarded a ZAR2.6bn ($245m) contract to Murray & Roberts Cementation (M&R) for the transformation of its Venetia open pit mine into an underground operation.
Converting the site, which is located in the Limpopo province of South Africa, will extend its life to 2042, claimed the company.
The contract includes the construction of an entire underground mine, including the sinking, equipping and commissioning of a decline shaft and two vertical shafts.
Rio Tinto's Hamersley Iron – Yandi unit announced plans to open the Pocket and Billiard South iron ore pit at its Yandicoogina operations in the Pilbara region of Western Australia.
The Yandicoogina Pocket and Billiard South iron ore project (Yandi PBS) will be 7km long and 1km wide, and is expected to produce 70 million tonnes of iron ore a year.
The company has already filed an environmental application for the Yandi PBS project.
The Green Party of Aotearoa in New Zealand criticised the government for approving mining permits at the endangered Maui's dolphin sanctuary, claiming it will threaten their existence.
The Green Party claimed that seabed-mining permits were issued for the area offshore to the west of the North Island, which is the only place in the world that supports communities of Maui's dolphins.
The grant is in addition to the permits issued for oil exploration at the North Island Marine Mammal Sanctuary.
Export of metal ore concentrate has resumed from Indonesia almost six months after the country issued a ban on it. Two firms, Sebuku Iron Lateritic Ores (SILO) and Lumbung Mineral Sentosa, agreed to pay the increased tax levied by the government in January.
Indonesian coal and mineral director-general R Sukhyar was quoted by Reuters as saying that SILO had sent two shipments of around 100,000t of iron ore concentrate and Lumbung had shipped around 8,000t of lead and zinc concentrate.
SILO is expected to export eight million tonnes of iron ore concentrate a year, while Lumbung is likely to ship 29,000t a year to China.