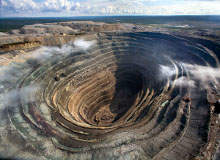 MacMines Austasia, the Chinese-owned company revealed plans to develop a $6.7bn China Stone Coal project in Queensland.
The company submitted the environmental impact statement (EIS) for the project. The project is expected to produce up to 38 million tonnes per annum (Mtpa) of coal during the mine life of 50 years.
MacMines Austasia plans to mine thermal coal through open-cut and underground mining methods.
Under the open-cut mining operations, it will use multiple draglines and truck and shovel pre-stripping, while underground operations will include three operating longwalls in two underground mining areas.
UK-based mining firms Anglo American and Lonmin announced plans to cut thousands of jobs amid a slump in commodity prices.
Anglo American is planning to cut 6,000 employees engaged in office works and other areas. The firm reported a pre-tax loss of $1.9bn during six months ending June.
The planned job cuts are not related to employees engaged in production.
Indian mining firm Adani suspended two major contractors, Parsons Brinckerhoff and Korean construction company Posco, which are working on the A$16.5bn ($12.5bn) Carmichael coal mine in Australia.
The company's latest move of dissolving the teams is raising speculation about the mega mining project.
The Guardian reported Adani saying the latest decision was linked to the suspension of engineering contractors in June.
Following the move, steelmaker Posco, which had been negotiating with Adani about taking equity stakes in the mine and rail link, will return to Korea.
Planetary Resources successfully launched its demonstration spacecraft Arkyd 3 Reflight (A3R) from the International Space Station's (ISS) Kibo airlock to begin testing technologies for mining minerals from asteroids.
The A3R, which launched to the ISS onboard the SpaceX Falcon 9 in April, started its 90-day mission to test its technologies, including the avionics, control systems and software.
The asteroid mining company plans to incorporate technologies into future spacecraft that will venture into the solar system and prospect for resource-rich near-Earth asteroids.
The British Columbia (BC) government in Canada gave its conditional approval for the reopening of the open-pit copper and gold Mount Polley mine after careful evaluation.
BC minister of energy and mines Bill Bennett and minister of environment Mary Polak announced that statutory decision-makers with their respective ministries conditionally authorised the Mount Polley Mine Corporation to begin restricted operations.
Bennett said: "This conditional restricted permit to re-start operations is the first of three significant steps the company needs to continue operation and does not include the ability to discharge water off the site.
"In the early fall, the company will need a second conditional permit to treat and discharge water in order for operations to continue."
Researchers from the Center for Ocean Solutions in the US and co-authors from various global institutions proposed a new strategy to extract deepsea resources without damaging the environment.
The paper was published to inform upcoming discussions by the International Seabed Authority (ISA), which proposes to extract minerals without affecting the diverse seabed habitats.
Discussions are expected to lead the way for future deepsea environmental protection and mining regulations.
Russian diamond producer Alrosa shifted operations at its Udachnaya pipe, one of the oldest kimberlite pipes in western Yakutia, from open-pit to underground mining.
Opened in June 1955, the Udachnaya mine is 640m deep, has been developed since 1967 by drilling and blasting methods and has a surface area of 1,600m x 2,000m.
In June 2014, the initial stage of the underground mine was commissioned and its design capacity of four million tonnes of ore a year is expected to be reached in 2019.
Canadian underwater mineral exploration company Nautilus Minerals awarded a contract to the Brisbane office of the DRA Group (DRA) for detailed design of the Solwara 1 dewatering plant.
Nautilus Minerals CEO Mike Johnston said: "The project team has been working closely with DRA for several years on studies and early engineering.
"DRA has extensive experience with similar floating dewatering/mineral processing facilities in related offshore industries."
Mongolia is reportedly planning to divest a stake in its $4bn Tavan Tolgoi coal mine to help attract foreign investment in the country.
Bloomberg quoted Erdenes Mongol chief executive Byambasaikhan Bayanjargal saying in May that within a period of two months, an agreement to develop the mine may be finalised.
The Tavan Tolgoi mine is located in the south Gobi desert and considered to play a vital role in Mongolia to convert its mineral wealth into economic gains.
With estimated reserves of 6.4 billion tonnes, the mine produces coal that can be used in steelmaking.
Canada-based Yava Technologies and its consultants partnered with Cape Breton University to design, build and validate a pilot-scale mining plant to extract mineral through a closed-loop process.
The pilot plant will help in assessing the viability of a full-scale plant to extract valuable minerals without releasing greenhouse gas.
The latest development will help extend mine life, reduce industrial waste and extract higher purity minerals.
Yava Technologies invented an environmentally friendly mineral extraction process, which does not need traditional mining equipment such as concentrators and smelters.