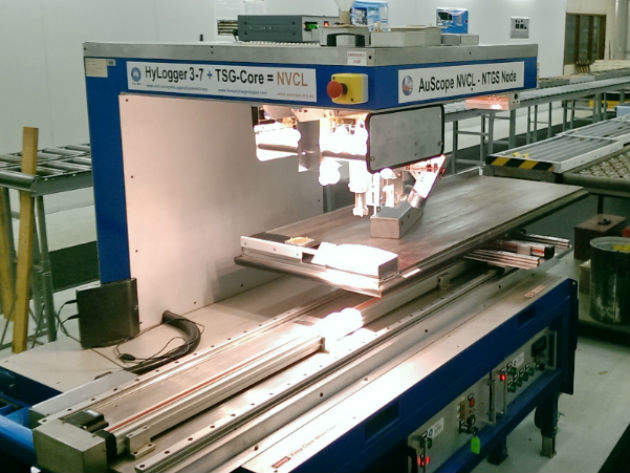 It is estimated that almost A$600m is spent each year on exploratory drilling in Australia.
Drilling in search of mineral resources is often a laborious process, and one that often requires bands of geologists, engineers and metallurgists on the ground to manually record drill cores.
Observations can be subjective and inconsistent, or worse still, erroneous, as well as being labour-intensive – all attributes the Australian mining sector wants to shed in its efforts to become more competitive and boost mineral exports.
It has been a concern of the Commonwealth Scientific and Industrial Research Organisation (CSIRO) for some time, culminating in the development of a prototype for an automated logging technology.
Cheaper, quicker and more accurate records
Driven by a robotic sampling system, HyLogger uses automated hyper-spectral analysis that makes logging drill cores faster and more accurate.
Its performance is based on non-invasive, non-destructive and statistically robust analysis of core, through RGB imaging and hyper-spectral characterisation of core in their original core trays.
Interpretation of the oxide, hydrous and anhydrous silicate mineralogy contained within drill samples is conducted in real-time using the aptly named CSIRO software; The Spectral Geologist.
This software also generates digital images, surface profiles and mineralogical interpretations.
"HyLogger was created by CSIRO as a tool to perform rapid, automated, hyper-spectral core and chips logging to provide contiguous and systematic mineral identification in near real-time," says Dr Joanna Parr, who leads on mineral resources at CSIRO.
"This greatly reduces inaccurate mineral identification and the costs and delays associated with lab analysis."
Natural fit: the CSIRO-Corescan licensing deal
In June, CSIRO – Australia's federal government agency for scientific research – revealed it had licensed HyLogger to the country's mining, equipment, technology and services (METS) group Corescan.
The aim is to use Corescan's international network of hyper-spectral mineralogy labs to deliver the technology to new markets.
"CSIRO has actually been developing the HyLogger technology for close to 15 years now," says Neil Goodey, Corescan managing director.
"CSIRO has actually been developing the HyLogger technology for close to 15 years now."
"They have focused on a kind of profiling instrument that takes measurements out of the centre of the core. Independent of CSIRO, at Corescan we have been developing an infrared spectrometer. Both contain a similar science, but are different techniques. They complement each other perfectly."
So this was a natural fit for the two organisations?
"Yes, very much so," says Goodey, adding, "I think it got to a point in CSIRO where they wanted to seek a commercialisation path outside of the agency. As Corescan is one of the leading groups in this field, we were the obvious partner."
The deal, explains Parr, "reinforces Australia's place as a global leader in the provision of mineral exploration and mining technology".
And Goodey agrees, saying that HyLogger's mineral analysis technology has the potential to considerably improve the efficiency of Australian mining operations – not least when it comes to cost.
"It's hard to believe, but drilling – putting holes in the ground – is one of biggest single expenditures a company makes currently," he explains.
"But the knowledge [from] the ore that comes out of the ground underpins the value chain of all the decisions made from that point onwards."
Do geologists still have a role to play?
As HyLogger can analyse and measure core objectively, it provides an alternative to the subjective analysis of geologists.
"I think we will see a lot more consistency and reliability of the knowledge that comes from the core," says Goodey.
"More importantly," he adds, "we can measure things that geologists can't see. Geologists do a pretty good job in identifying alterations, but there are limits to what they can see."
Does this mean we might see a gradual phasing out of geologists in drilling operations at the hands of such technology? Goodey doesn't think so.
"HyLogger isn't replacing geologists," he says. "They still have a lot of input in collating information, but they might not be required to sit out in a field looking at boxes of core trying to decide what there is, feeding that into their geological model, and then making decisions.
"The mineral identification part is an automated process."
Drilling deeper into the global market
Beyond Australia, Corescan currently has labs across South East Asia, Canada, the US, Mexico, Peru, Chile and Argentina. Given that HyLogger has not been built to deal with Australian deposit types specifically, all of these markets are capable of absorbing the new technology.
Nevertheless, the first order of business in unveiling HyLogger to miners closer to home, confirms Goodey.
"We are an Australian company with an Australian technology – so, naturally, we'll be approaching the local market first."
With mineral exploration increasingly moving 'undercover', whereby miners are faced with the challenge of delving deeper to find deposits, reliable and accurate drilling is a necessity.
New technologies, such as HyLogger, could play a large role in ensuring that the Australian mining sector remains competitive for years to come.