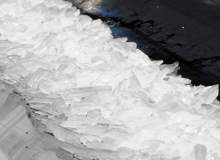 Cooling and refrigeration accounts for a significant proportion of the total electrical power consumed in deep mines, and with operators increasingly facing the dual challenge of rising energy prices and a growing need to dig deeper, the costs of running conventional water chillers are only going to rise.
There is, however, an alternative approach which is gradually gaining ground – ice cooling; and if recent results from Harmony's Phakisa gold mine are anything to go by, it could have something to offer the whole of the underground mining sector.
An old idea
Ice cooling itself is not a new concept. The South African Rand Mine is credited with first coming up with the idea in the 1980s, but as Pierre Brisset, sales manager at KTI-Plersch Kaeltetechnik – the specialist refrigeration company behind the ice technology deployed at Phakisa – explains, early attempts at exploiting it did not prove very successful. Huge installation costs and lack of reliability proved big stumbling blocks, and the process was only economically viable for ultra-deep mines below 3000m, such as the Anglo Ashanti Mponeng gold mine, the deepest mine in the world.
He says that it was not until 2013 that the idea really took off, when modern ice plant designs and innovative technology introduced a fundamental shift in the whole approach. "They completely change all economic parameters, especially in view of the energy savings involved in the context of soaring energy costs. Meanwhile, mines only go deeper and the efficiency of alternative cooling methods plummets according to the depth."
Extending capacity
---
---
The company's CEO Fortune Mojapelo details future plans for the project and why the company believes in the market potential of vanadium.
How well do you really know your competitors?
Access the most comprehensive Company Profiles on the market, powered by GlobalData. Save hours of research. Gain competitive edge.
Company Profile – free sample
Thank you!
Your download email will arrive shortly
Not ready to buy yet? Download a free sample
We are confident about the unique quality of our Company Profiles. However, we want you to make the most beneficial decision for your business, so we offer a free sample that you can download by submitting the below form
By GlobalData
---
That is because using water as the cooling medium has one major drawback: typically chilled at some distance away from the workings, it then picks up heat for every metre it subsequently travels to reach the cooler units, adding to the cost and reducing overall efficiency. Ice, by contrast, is colder to start with, travels down faster and produces water for use that is far colder than any introduced from the surface could possibly be.
The Phakisa mine already had a surface ice plant to cool underground service water and to supply local coolers near the workings, in addition to the traditional underground water chillers used to meet its bulk air cooling demand. With a need to extend its cooling capacity, Harmony awarded a contract to KTI in June 2013 to supply two 200-tonne/day containerised plate ice plants (PLIPs). The ice factory was pre-fabricated in record time at KTI's Balzheim works and delivered in early November, with assembly and commissioning taking just ten days.
Significant breakthrough
"The fast installation thrilled the consultants and SA mining industry. It used to take months to erect such plants and years to commission them until they reach the nominal performance," says Brisset.
He explains that the new concept of a modular, pre-fabricated and containerised plant is a significant breakthrough since it avoids the construction expense of a building and makes the installation and commissioning times very fast, without hidden costs. In addition, it also streamlines responsibility for the operation's success.
Potential benefits
Once up and properly running, the basic concept behind the system is straightforward. Ice is produced in the PLIPs and conveyed to an ice pipe, then falls, in the case of Phakisa, down to level 77 – 2,300m below the surface – in minutes, to enter a large underground reservoir, and rapidly chills the large mass of water it contains, which is then drawn off and used for cooling. Afterwards the warm water returns via de-mudding stations to the underground reservoir for re-chilling. Any excess water is pumped up again for reuse.
"Potential benefits are one thing, but the real proof of the pudding is how readily that promise translates into hard reality."
It all adds up to some big potential benefits for mine owners. On the capex side, it offers large cooling capacity of several megawatts, quickly and easily, and at reasonable capital cost, typically below R10,000 per kW installed.
Operational costs are attractive too. Since each kilo of ice absorbs 334kj of heat as it melts, it cools much more than 1l of water, which means the volume travelling down the mine in the first place, and then requiring to be pumped back up afterwards, is slashed by 80% or more. Aside from the direct energy savings on pumping, the system can also capitalise on low cost electricity, making ice overnight and melting it during peak times.
In addition, the PLIPs themselves are transportable and can be re-used on other sites.
Proof of the pudding
Potential benefits are one thing, but the real proof of the pudding is how readily that promise translates into hard reality on the bottom line – and it seems Phakisa's trial-size ice factory has demonstrated that very successfully.
"The PLIP over-performed ten percent above our expectation. In the end, the KTI plants proved to be very reliable 24/7 for the past twelve months," Brisset says, and he is clearly not the only one who thinks so. Harmony evidently do too, with a second phase extension already underway.
---
---
Beneath South Africa's gold mines there is a seemingly impenetrable tuberculosis (TB) epidemic spreading through the majority of the workforce.
---
A third PLIP is being erected, the fourth arrived at the end of October, while a fifth is currently at sea and due to reach South Africa in early November and number six is scheduled to follow by mid-November. KTI expects to have them all up and running before the end of this year.
Outdated models
Nevertheless, Brisset believes awareness of what the method has to offer still needs to grow. He says that KTI's new concept of modular containerized PLIP for mines has proven to slash the capital costs involved in installing and commissioning ice cooling systems, as well as their energy consumption. As a result, the depth at which ice systems become viable is now significantly reduced, compared with other cooling methods – and that has seen many of the previous representative models quickly becoming outdated.
"Based on earlier studies, most mine managers today tend to think that the break-even depth for ice cooling is near level 80. It is most probably above level 40 for a majority of mines."
Growing interest
Interest is, however, clearly growing.
Despite some 90 years' experience in refrigeration, KTI only very recently entered the mining market, but already they have been talking with a number of major groups involved in gold, platinum and copper extraction underground. There are new technical developments on the cards too, utilising underground blenders and the melt postponement concept to convey ice horizontally to the workings themselves, over haulage distances of a kilometre or more, which should further extend relevance of the method to an even wider range of mines.
"From a few ultra-deep South African gold mines, no doubt the concept will gradually spread and appeal to more underground mine in other territories and ores – coal mining industry, copper platinum and so on," Brisset says.
It looks as if the time may finally have come for ice cooling.