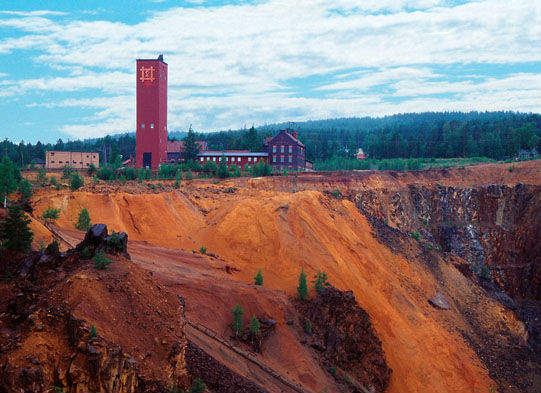 The targeting of the growing global green economy is a key element of the Geological Survey of Sweden (SGU's) metals strategy. "Access to metals such as iron, copper, silver and high-tech metals is a pre-condition for the production of modern energy and environmental technology such as wind power, solar cells, low-energy light bulbs and catalytic converters in cars. Green growth without access to raw materials for green technology is unfeasible," says a recent SGU document. "The demand for metals is expected to continue to be high over the next ten years as well as in a longer-term perspective."
The Scandinavian country is certainly not short of metals to supply this new economy. It is by far the largest iron ore producer in the European Union (EU) and it is also among the EU's foremost producers of non-ferrous and precious metals. The country is the bloc's second largest producer of silver, gold, lead and zinc and the third largest producer of copper. Recent moves by the Mining Inspectorate of Sweden could also see the nation's metals sector expand still further in the coming years.
Beowulf mining operations expands
In June, the bureau granted a three year licence to London and Stockholm listed explorer and developer Beowulf Mining to expand its operations in the country by exploring for polymetallic discoveries in the Bergslagen mining district. The area is known to be rich in copper, zinc, lead, gold, silver and iron ore. It includes mines such as Boliden's Garpenberg and Lundin Mining's Zinkgruvan zinc mine that are already operating.
"Zinkruvan is certainly one of the best polymetallic prospects in the country," said Patrick Pittaway of Cantor Fitzgerald Europe, Beowulf's advisor and joint broker said.
However, most of southern Bergslagen has seen little modern exploration, despite the fact that in addition to Zinkgruvan it also hosts Bersbo, one of Sweden's largest early copper mines. "Historically, this area has not been much worked over although those couple of operations that are ongoing are promising," said Beowulf Mining CEO Kurt Budge.
"Zinkruvan is one of the best polymetallic prospects in the country."
He refused to be drawn on how much the company was prepared to spend on exploring southern Bergslagen. "We can't say at the moment. It's tough to raise funds and we need to be very focussed on how it's spent," he explained. "It will be a step by step process over the three years to establish exactly what's there." The company hopes to build a detailed picture of what lies at shallow depth and has created a geographic information system (GIS) database, capturing significant historical data for the area.
"The company already has…an off-site expert team…analysing various aspects of the GIS database. The findings of these activities will inform our work for a second field programme later this summer," Beowulf said in a statement.
Other miners following suit
Other mining companies look ready to pile in where Boliden, Lundin and Beowulf have led. Canada-based gold producer Agnico Eagle Mines has made a three-year commitment to invest $7m in a polymetallic resource in Northern Sweden. This follows an agreement with fellow Canadian junior exploration company Orex Minerals to acquire a 55% interest in the Barsele 789876
The region located at the western end of the 'Skellefte Trend' – a prolific and reportedly massive sulphide deposit belt – intersects with the 'Gold Line' in Northern Sweden and hosts both polymetallic and gold deposits. According to estimates released by Orex, the Barsele Project's four zones contain a total indicated and inferred resource of 34.72 million tonnes of ore with grades estimated to range from 0.97 grammes per tonne (g/t) at the Central-Avan-Skiråsen Zones to 3.13 g/t gold at the polymetallic Norra Zone. For the other metals, Norra's indicated resource contains a grading of 30.3 g/t silver, 0.53 % copper and 0.72 % zinc.
Zinc prices on the rise
The expansion of Sweden's non-ferrous metals mining comes at a time when prices for some of the key metals – after years in the doldrums – look to be firmly on the up. In June, a number of banks including Goldman Sachs Group and Macquarie Group spoke of likely gains in zinc, which is used to galvanise steel in everything from auto bodies to suspension bridges.
So far this year, zinc has surged by 23% – reaching a ten-month high and outperforming the other base metals. Zinc has benefited from the closure of operations such as Vedanta's Lisheen mine in Ireland and MMG's Century mine in Australia. Zinc inventory in London Metal Exchange (LME) warehouses have shrunk to their lowest level since 2009 and Goldman predicts a global deficit of 114,000 tons this year, which will grow to 360,000 tons in 2017.
"This year zinc has surged by 23%, reaching a ten-month high and outperforming the other base metals."
Aside from supply tightness zinc is also strengthening on an expected rebound in demand from China, the world's biggest user whose smelters produce more than 40% of the world's zinc. Although the Chinese Government's recent sharp devaluation of its yuan currency has injected a note of uncertainty into the market the bulls still appear to outweigh the bears. The devaluation could well stimulate Chinese industrial output and therefore the demand for base meals.
An indication of the price trend is supplied by the LME. In early July its Metals Index, a gauge of the six main base metals, was heading for its best run since December 2013. Metals are also getting near-term support in the second half of this year from the US Federal Reserve pausing on introducing a rate rise over fears about the effects of the Brexit vote on the global economy.
Swedish metal mines to double by 2030
So what does all of this mean for Sweden's base metals sector? The SGU has outlined a minerals strategy to increase the competitiveness of the Swedish mining and minerals industry and thereby maintain and strengthen its position as the EU's leading mining nation, to 2030 and beyond. There is a scarcity of most metals in the EU, particularly nickel, iron, zinc, lead and copper, and Sweden is looking to capitalise on these shortages.
The SGU forecasts that by 2020 there could be as many as 30 metal mines in Sweden, compared to the current number of 16. But this could be dwarfed by the 50 mines that are forecast to be in operation by 2030. Iron ore production in 2020 is expected to amount to 120 million tonnes, a near doubling in output since the start of the present decade. And by the end of the next decade, the SGU estimates that production will amount to 150 million tonnes.
One hundred years ago Sweden's already world-class steel industry was the lynchpin that supported the establishment of the country's nascent aircraft and automotive industries, allowing companies such as Saab to come to the fore. If the government's forecasts for the role that metals can play in the development of the high-tech products are borne out, this could go some way towards sustaining a healthy Swedish metals mining sector for decades to come.