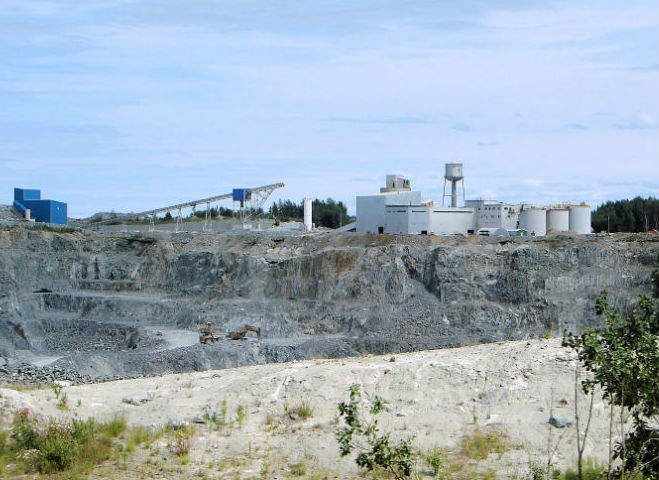 As well as valuable minerals, companies in the mining industry are increasingly excavating data. By analysing massive amounts of facts and figures, mining companies can gain new insights into where they should drill next, and what areas will be the most economically viable to explore.
Integra Gold is one such firm making headway with this technique. The Canadian gold exploration company purchased Sigma-Lamaque milling facility and mines in Val-d'Or, Quebec, Canada in September 2014. Quebec is known for its high-grade gold mining operations and sold Integra its main asset: Triangle, which is a large gold deposit in the Lamaque South gold project, currently being excavated by seven active drill rigs.
Instead of mining Sigma-Lamaque in the usual way, Integra acquired a huge 6TB dataset from previous owner Deutschbank, which was then released to the public.
"It was like opening up a treasure box," says Integra Gold chairman George Salamis. The idea was to invite the world to trawl through the data to devise the most inventive, cost-effective and pioneering ways of locating the next gold discovery in the Val-d'Or mines. The challenge, powered by crowdsourcing platform HeroX, ran from mid-September to 1 December 2015.
Challenging the status quo
Mines across the company's Lamaque project have been collecting data from mining operations for over 75 years, and over that time, nine million ounces of gold have been dug out.
The dataset consists of 75 years worth of information; 30,000 plus drill holes, half a million gold assays, hundreds of kilometres of underground workings digitised into plans and sections, and production records from individual stokes from the Sigma-Lamaque properties for the teams to sort through.
"There's not a lot of sharing that goes on in our industry, so convincing people that we weren't completely 'out to lunch' in open sourcing this database was probably the biggest challenge up front," says Salamis. "The next challenge was how we were going to take 6TB of data and circulate it around the world."
"A challenge was how we were going to take 6TB of data and circulate it around the world."
Integra Gold CEO Stephen de Jong says the challenge exceeded the company's expectations on every front, even though the technical team were sceptical at first. However, once the project got going, the team saw the power of the crowd, and even considered adding data from other mines outside the initial set.
Finalists were chosen from the submissions and given seven minutes to pitch and defend their idea. The winners were awarded a share of a $1m prize and the knowledge that their concept will be used to explore the previously abandoned mines in Val d'Or.
Salamis says the proposals received ranged the full spectrum from really wacky to very innovative ideas – from x-ray glasses and clairvoyants, to the use of artificial intelligence.
"It is exciting times, in general," says Salamis. "Just to see the first sparks of sort of cross-pollination of geoscience meets machine learning and artificial intelligence, it was great."
The data champions
The victor was SGS Geostat from Quebec, which applied sophisticated geo-statistical methods from its team's varied professional geology and engineering backgrounds to build an expansive and unbiased block model out of the data. This meant they combined geological knowledge with machine learning techniques to build a digital image.
The team identified high-value targets within the mine which were then examined with the help of Oculus Rift technology (a virtual reality headset), eventually winning a prize of $500,000.
"As a team of geologists, engineers, and computer scientists often bound by certain limitations and boundaries, we relished in the opportunity to channel our collective creativity and curiosity to provide new exploration targets in a historic and famous mining jurisdiction known worldwide," said SGS Geostat team captain Guy Desharnais.
Salamis says that Integra are now working closely with SGS Geostat, doing further studies and research on the project.
"There was another part of the project which we did not cast into the great wide world of study," he says. "So we've now given them that data and they're now processing that data. So they're looking at the project as a whole now."
Coming in second place was The Data Miners, a team of students from Institut national de la recherche scientifique (INRS) and The University of British Columbia (UBC). The team took home $150,000 for their pitch, which involved machine learning algorithms from artificial intelligence alongside solid geological knowledge.
The Data Miners were followed by The Goldcrushers in third place, Paul Pearson in fourth and GoldRX in fifth, who received $80,000, $50,000 and $50,000 respectively.
"In the end, the best two were the ones that mixed traditional geological thinking with very modern machine learning, artificial intelligence techniques," says Salamis. "And that's the first time that I really think that the mining industry has seen anything like that come together."
Exciting times ahead
The judging panel of industry experts consisted of economic geologist and BNN commentator Brent Cook; director of Silver Wheaton and Val-d'Or local Chantal Gosselin; founder of Goldcorp and McEwen Mining Rob McEwen; chairman and CEO of Osisko Gold Royalties Sean Roosen; and CEO of Silver Wheaton, Randy Smallwood.
"The torch has been passed," said Rob McEwen in a statement. "In 2001 the Goldcorp Challenge ignited the careers for the top three finishers, and I know that SGS Geostat will reap the benefits of winning the Gold Rush Challenge."
The judges evaluated the plans and were impressed with all teams' ideas, which they thought demonstrated leading-edge creative thinking in an industry that is undergoing change and challenging times.
"We are proving to Prime Minister Trudeau that there is, in fact, resourcefulness in the resource industry."
In Canada in particular, the mining industry is important but uncertain. Canadian Prime Minister Justin Trudeau has made promises to build more infrastructure and train more people, but he is also concerned for the environment.
De Jong says that, in terms of maintaining Integra as a world leader in the resource industry, the Trudeau Government should be backing innovation and technology in mining. He believes that investment in innovative crowdsourcing ideas shows that the mining sector in Canada is thriving.
"We are proving to Prime Minister Trudeau that there is, in fact, resourcefulness in the resource industry," says de Jong.
Salamis agrees and believes the Gold Rush Challenge is just one of many ways to help the industry innovate, with much more that can be done.
"We've come out of a very definite five-year downturn in the industry and we thought there was no better time to launch a challenge like this," says Salamis. "We hope at least we've created some excitement and some buzz and we provided some stimulation to the rest of the industry to do something similar."
Integra now has years worth of exploration targets to test as a result of the contest. The company has reached conclusions, Salamis says, that it never would have come to on its own, due to how busy the teams are.
"First and foremost we need to squeeze as much as we can out of the results of Gold Rush version one," he says. "Stay tuned for the next round of gold rush version two, whatever that might look like."