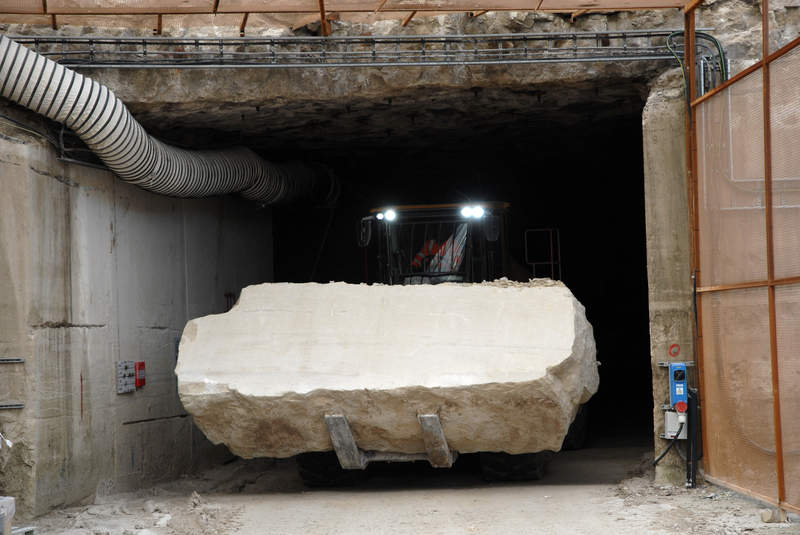 Buckingham Palace. London Bridge. The Irish Houses of Parliament. New York's UN Headquarters.
What do such seemingly disparate edifices, both in purpose and geography, have in common?
As well as many landmarks dotted primarily across the UK, all four are made from Portland stone, the off-white to light grey, specked limestone which has been quarried off the Dorset island of its namesake since the 17th century.
But after close to four centuries of open-cast quarrying, reserves of the precious material, synonymous with historical grandeur, are running low – on the surface, at least.
As a result, Portland's two extraction firms are being forced to switch their operations from open quarrying to full-scale mining.
In June, operator Portland Stone Firms announced its plans to go underground at Coombefield Quarry, in order to prolong the site's lifespan. This leaves the firm– which claims 60% of stone reserves on the island – with just one working open-cast quarry.
"We have to look at how we progress our business – not just for the short term, but the medium and long term, too," says Tim Clotworthy, the group's estates manager.
Running out of quarries
In fact, Portland Stone Firms isn't the first operator to transition to mining. Its competitor, Albion Stone, made the leap over 15 years ago, opening the island's first trial mine in Bowers in 2002. As of 2015, the entirety of the group's extraction activities has been mining-based.
"Mining had not been attempted for Portland Stone and most people said I was mad to try it," remembers Albion Stone managing director Michael Poultney.
"We actually secured our initial small planning permission to switch from quarrying to mining in the late 1990s," he adds, "but it became clear that there was a significant capital outlay, and it was not feasible financially without the certainty of further reserves.
"Albion Stone undertook trips to mines in Italy and Croatia to draw influence."
"At that stage we were a quarrying company running out of quarries."
The years that followed the group's first tentative steps into mining, recalls Poultney, were one of trial and error. Significant capital expenditure was funnelled into testing new cutting technology – vastly different to the brutal, cheaper blasting methods used in quarrying.
"This change to the quarrying was capital intensive, but we had to prove that we could cut the stone from its natural bed without using explosives to dislodge it," he says. "The quarry trials were successful after some initial problems and then we started the mining."
Just about able to prove its mining method to be financially viable, Albion Stone also undertook trips to mines in Italy and Croatia to draw influence and "reinvent the extraction process".
Reinvestments were made in new equipment; consultants from the mining industry were brought in; various planning permissions underwent rewrites. Looking back, it was all worth it, says Poultney.
"In 2008, we opened the Jordans mine, which is now the biggest on the island, with nearly four miles of tunnels," he says.
"Last year," he continues, "we started at Stonehills, and we expect to get our first blocks of from the first new mine to operate on a greenfield site next year. We are proud of the environmental improvements this has made to the island."
Two companies, one stone
Portland Stone Firms isn't quite a novice when it comes to mining. For the last two years, mining has taken place at its Perryfield site. By Clotworthy's estimates, the group has invested around £2m on new equipment, including two new Fantini saws, assembling electrics and training.
"We are still learning, to be honest," says Clotworthy. "It's new for us and a significant investment."
Both being family-run companies, with similarly sized workforces of 60-70 people, and operating in the same field in the smallest of spaces – the Isle of Portland is just 6km long by 2.7km wide – a rivalry exists between Portland Stone Firms and Albion Stone.
One associate closely linked to the latter, who asked to remain anonymous, accused Portland Stones Firms of having "sat back, waited for us to spend all the money and perfect the process, and then copied it".
Separately, according to Geoff Smith, Portland Stone Firms' managing director, his company has drawn little stimulus from Albion Stone's experience. There lies a fundamental difference, he says, between his firm and Poultney's: Portland Stone Firms still has open-cast reserves left; Albion Stone does not.
"Albion had no option but to mine as they had no open quarry permissions left," he says. "So we had no reason to follow, as we have large extant quarrying permissions for the next 100 years.
"There has been no interface between the companies, to the extent that we have never been offered a tour, to date."
Goodbye to eyesores
For the local community on the island, the major selling point of mining over quarrying is environmental. Residents have long been sensitive to surface quarries as eyesores, prompting Dorset County Council, under its minerals policy, to encourage the subterranean switch.
Despite a previous legal dispute existing between Portland Stone Firms and the local council over planning, Clotworthy appreciates mining as being more environmentally unfriendly.
"It's common sense," he says, "It's only a small island, so any new consent ought to be underground, and rightly so. We see that. Everybody sees that."
"Any new consent ought to be underground, and rightly so."
In fact, it also offers his company major advantages when it comes to extraction.
"At Perryfield, we can effectively get more reserves out, because we can go closer to residential properties," continues Clotworthy.
"If we were quarrying, open-cast, we would have to have quite a significant buffer zone between the quarry and houses. But, underground, we can come in quite close."
As Portland Stone Firms plans for the future at Coombefield – the firm's application, while accepted by the council, is still subject to a section 106 agreement – the group is hopeful for the future, says Clotworthy.
Bridging the knowledge gap
But he is also aware that a steep learning curve will need to be travelled in order to seamlessly transition between the two distinctly different practices of quarrying and mining.
"We know the difference between open quarrying and mining is absolutely huge," he says. "That goes for everything from health and safety requirements, to regulations [quarries and mines have their own inspectorates].  So, we've brought in specialist mining and electrical consultants to guide us."
One would like to think that a century or two from now, those aforementioned landmarks will still be standing, with their specked limestone exteriors still intact, still familiar.
But in terms of its extraction process, Portland Stone is undergoing a quiet, underground revolution.