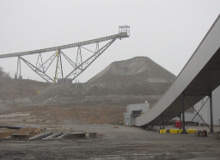 Adani Group secured an environmental permit from the Queensland Government to build the $12.5bn Carmichael coal mine in the north of the Galilee Basin in Australia.
The Department of Environment and Heritage Protection (EHP) granted a final environmental authority (EA) for the mine project with about 140 conditions.
Nine of the conditions relate to the endangered black-throated finch as required by the Land Court of Queensland.
Anglo American decided to cut 2,000 jobs at Union and Twickenham mines in South Africa" class="halfright" height="134″ src="https://www.mining-technology.com/wp-content/uploads/image-digitalinsightresearch/Archive/nri/mining/news/March%2016/miningnews_1.jpg" width="201″ />
Rustenburg Platinum Mines (RPM), the wholly-owned subsidiary of Anglo American Platinum decided to cut up to 2,000 jobs at its Union and Twickenham mines in South Africa.
The latest move is part of restructuring plans at these mines.
RPM has started a consultation process in terms of section 189 and 189A of the Labour Relations Act in this regard.
British Columbia introduced amendments to the Mines Act in an effort to strengthen the government's regulatory oversight of the mining industry.
Announced by minister of energy and mines Bill Bennett, the changes will also give the ministry additional compliance and enforcement tools.
The regulations are part of the government's ongoing actions to implement recommendations on the Mount Polley tailings storage facility (TSF) failure in August 2014, which led to mine waste being released into waterways.
Brazilian police charged six executives and one contractor from SAMARCO due to a dam collapse at the company's iron ore mine in November 2015, which reportedly killed at least 17 people.
Samarco is jointly owned by Vale and BHP Billiton. Among the accused was Samarco's chief executive Ricardo Vescovi.
Accusing the executives of qualified homicide murder charge, the police said that the burst occurred as the dam was over-filled and not monitored properly.
Taseko Mines filed a lawsuit in the BC Supreme Court, seeking damages from the Canadian federal government for blocking the $1.5bn New Prosperity project.
New Prosperity is a gold-copper deposit located in the Cariboo region of British Columbia, Canada.
Taseko's lawsuit claimed that the Government of Canada and its agents failed to meet the legal duties that were owed to the company.
Freeport signed agreement for interest in Morenci copper mine in US for $1bn" class="halfleft" height="134″ src="https://www.mining-technology.com/wp-content/uploads/image-digitalinsightresearch/Archive/nri/mining/news/March%2016/miningnews_2.jpg" width="201″ />
Freeport-McMoRan signed an agreement to sell a 13% interest in its Morenci copper mine in Arizona, US, to Japan-based Sumitomo Metal Mining (SMM) for $1bn.
Upon completion of the deal, expected in mid 2016, 72% of the Morenci joint venture (JV) will be owned by Freeport, 15% by SMM, with the remaining 13% by a fully owned affiliate of SMM.
Freeport plans to use the sale proceeds to repay borrowings under its bank term loan and revolving credit facility and expects to record a $550m gain on the transaction.
Glencore announced plans to refinance and replace the existing $8.45bn revolving credit facility (RCF) with a new $7.7bn deal.
The company said that it received commitments from its senior banks for $8.4bn in this initial pre-syndication phase, representing an increase from 37 banks of close to $3bn above existing commitment levels.
Glencore further plans to broaden the refinancing by the way of launching of general syndication to some 30 additional banks in the second quarter of 2016.
Paramo regions" class="halfright" height="150″ src="https://www.mining-technology.com/wp-content/uploads/image-digitalinsightresearch/Archive/nri/mining/news/March%2016/miningnews_3.jpg" width="200″ />
Colombia's constitutional court banned all mining licences that have been granted to companies planning to carry out mine activities in the Paramo region.
The BBC reported the court ruling, saying that mining in this region in order to extract gold and oil will damage the fragile ecosystem and such activities should not be allowed.
According to officials, the decision announced by the court would see cancellation of around 350 mining licences.
Research by Duke University in the US found that Central Appalachia became 60% flatter due to mountaintop coal mining.
The mining process involves blasting of bedrock in order to obtain coal seams below the surface, with excess rock then dumped in nearby valleys, creating valley fills.
By comparing digitised topographic maps in southern West Virginia before and after mining, the study examined the regional impact of mountaintop mines on landscape topography.
A new bill was introduced by the chair of the US House of Representatives appropriations committee, which would make $1bn in funding available to revitalise troubled coal-producing communities in the country.
Congressman Hal Rogers said that the 'RECLAIM Act' will provide support to those communities that are hit by the downturn of the coal industry.
Under the bill, funding would be released from the government's Abandoned Mine Lands (AML) programme in order to help communities generate new economic activities.