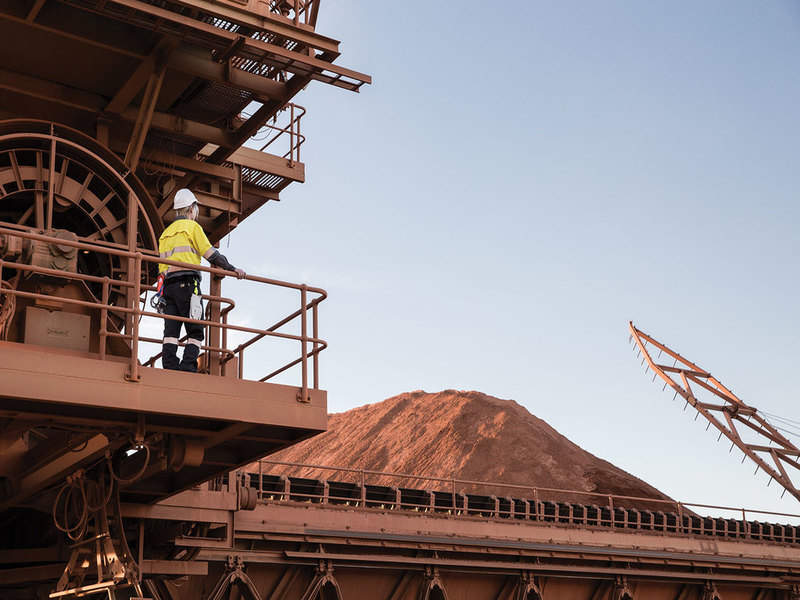 Mining company South32 signed a strategic alliance agreement with AusQuest to advance potential exploration opportunities in Australia and Peru.
Under the agreement, AusQuest will conduct exploratory work in agreed jurisdictions to identify and secure prospective early stage exploration opportunities. The exploration will be funded by South32.
After exploration, South32 will exclusively have the option to enter joint ventures for projects progressed to drilling state.
Mining services company Ausdrill was awarded contract extensions worth more than A$200m ($153m) from its two clients operating in the Goldfields region of Western Australia.
The company received an A$143m ($110m) contract extension from Kalgoorlie Consolidated Gold Mines (KCGM).
Under this contract extension, Ausdrill will provide drilling, blasting and grade control services for additional five years at KCGM's Super Pit mine, one of the largest open-pit gold mines in the country.
Freeport-McMoRan announced that its subsidiary PT Freeport Indonesia (PT-FI) has failed to reach an agreement with Indonesia's Government over concentrate exports and associated matters relating to the contract of work (CoW) after five years of talks.
Last week, PT-FI issued a formal notice of an impending dispute to the government, alleging multiple breaches of the CoW.
In January and February, the Indonesian Government implemented regulations that required PT-FI to terminate its CoW and convert to a special licence (IUPK) to export its concentrates.
Rio Tinto subsidiary Iron Ore Company of Canada (IOC) announced its plans to proceed with the Wabush 3 project after securing approval for a C$79m ($60.33m) investment.
IOC plans to develop the new pit Wabush 3, which is located within its existing mine operations.
This will extend the life of the mine, increase production of quality grade iron concentrates and pellets, and decrease operating costs.
Glencore purchased the remaining 31% stake of Fleurette Group's Mutanda Mining Sarl and also gained a 10.25% interest in Katanga Mining for a total consideration of $960m.
Both mines are located in the Democratic Republic of Congo.
Glencore hired BMO Capital Markets to determine the appropriate consideration for the Mutanda Shares and the Katanga Shares to complete the transaction.
Master Drilling revealed that its Horizontal Raise Boring (HRB) technology is ready for international roll-out after a successful pilot test at the Cullinan Mine in Gauteng, South Africa.
Unlike conventional drill-and-blast mining procedures, HRB technology can increase mining productivity due to its continuous process of rock boring.
As it offers significant safety benefits, projects with less safe access and those requiring deeper mining operations can pass feasibility tests by using the new technology.
Mineral Resources' joint venture lithium project Mt Marion in Western Australia sent its first shipment of lithium concentrate to China.
This shipment carried 15,000t of lithium concentrate from Port of Kwinawa in MV Pacific Venus to the Zhenjiang Port in China.
The product will be delivered to Ganfeng Lithium, another stakeholder in Mt Marion project.
New Gold signed a binding letter agreement with Goldcorp to sell its gold stream on the El Morro project in Chile for a cash consideration of $65m.
With this sale, New Gold procures additional liquidity would help the company advance the Rainy River project, scheduled to start production in September.
New Gold president and chief executive officer Hannes Portmann said: "Our interest in El Morro has generated significant value for our company over the last several years.
"The sale of the stream allows us to realise $65m from an asset that is not a core part of our portfolio to support our key, near-term growth project at Rainy River."
Belo Sun Mining secured the Licenca de Instalacao for construction of its Volta Grande Gold Project in Brazil.
The project received the approval from Secretaria de Estado de Meio Ambiente e Sustentabilidade do Pará (SEMAS), the environmental authority under the Government of Pará, a state in Brazil.
The construction licence is the final governmental approval required, thereby enabling Belo Sun to proceed with construction and development of its Volta Grande Gold Project.
Ascendant Resources reached an agreement between its mine workers and new union representatives to resume complete operations at the El Mochito Mine in Honduras.
Ascendant Resources president and CEO Chris Buncic said: "Although the temporary delay in operations was unfortunate, we are very pleased that both sides were able to reach an agreement allowing our workers to return to work enabling full operations to continue at the El Mochito mine.
"We look forward to developing a new collective bargaining agreement with union leadership in the immediate future to align the interests of the workers and the company. Ascendant has been assured that operations will continue uninterrupted while the CBA negotiations progress."