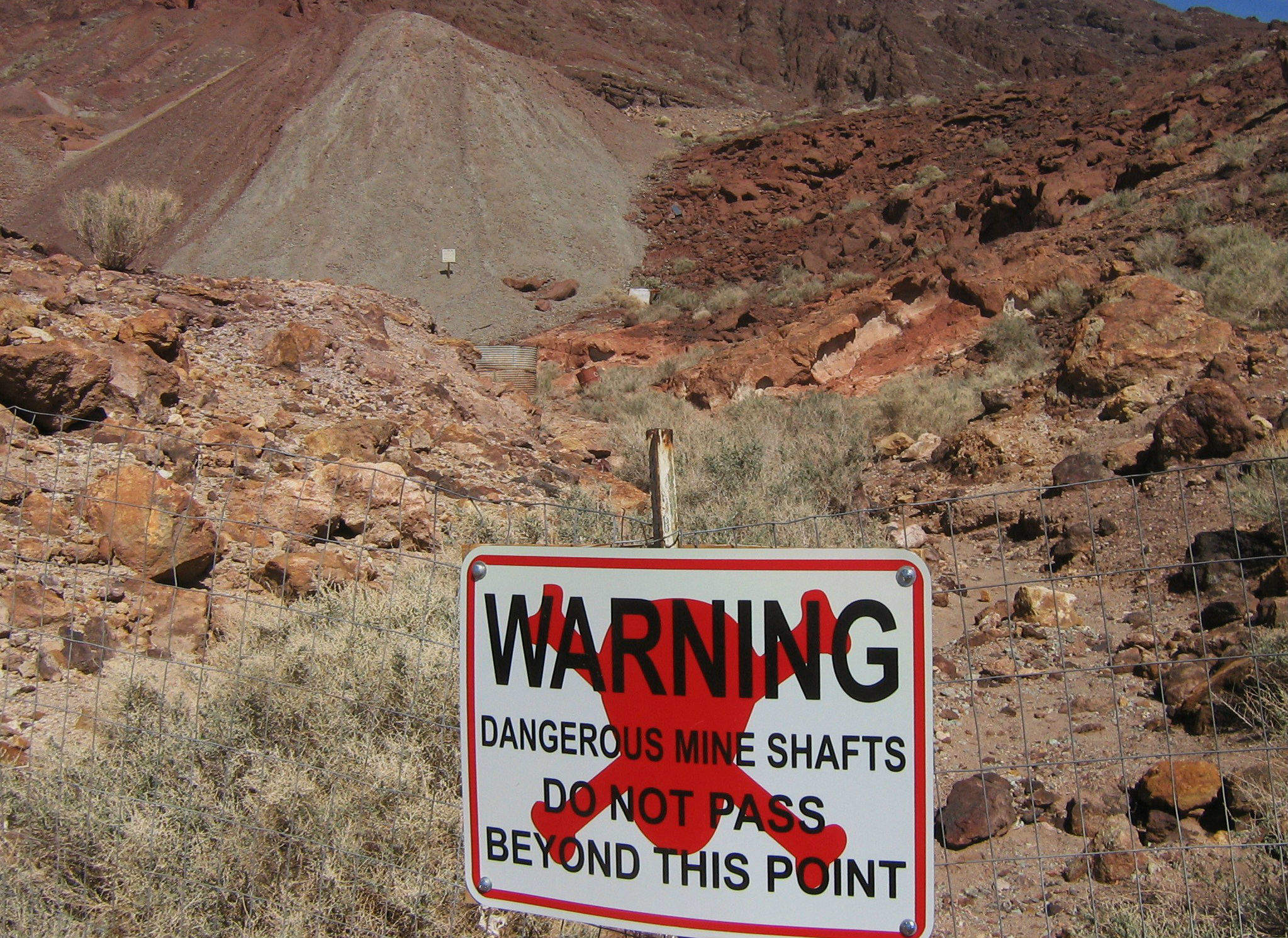 Last August, millions of gallons of toxic sludge was released into rivers in Colorado and Utah by a spill in the abandoned Gold King Mine in New Mexico. This was a harsh wake-up call to authorities of the problem posed by abandoned mines in the state.
The government pledged $750,000 to fix the impact of the spill, but the bigger picture is that there are thousands of abandoned mines in the region at risk of the same fate and in need of analysis.
"So far we've counted 13,000 features in this state," says the leader of New Mexico's Abandoned Mine Lands programme Bill Auby. "But that's not all of them. We're still counting."
Where the problem began
New Mexico has a long mining history, with some of the oldest mining areas in the US, dating back to when the Spanish mined for sulphur in 1540. Coal, copper, gold, silver, zinc, lead, uranium and molybdenum still contribute to New Mexico's income, but a lot of mines have fallen into disrepair since closure.
Auby says the abandoned mine problem started before modern mining regulations were introduced because companies could walk away from any operation once they were done with it.
"They could legally walk away from responsibility," he says. "Leave the open hole and the pile of rocks that are leaching… we don't allow that to happen any more."
"The abandoned mine problem started before modern mining regulations were introduced because companies could walk away from any operation."
Waste rock can pile up for decades in deserted mines, and the deep pits are vulnerable to flooding from rainwater. Many abandoned mines are known to have problems with drainage, and flooding can lead to overflowing, letting acid mine water and heavy metals loose into surrounding rivers. It can seep out slowly or very fast if there is a sudden collapse.
Many hard rock mines like Green King contain sulphide minerals, particularly pyrite, known as 'fool's gold' which creates a solution when exposed to air and water that can leach heavy metals from surrounding rock. This is known as acid mine drainage, and is a problem for many abandoned mines across the US.
Damage caused by Gold King
The Gold King Mine by the Animas River was abandoned for nearly ten years before the US Environmental Protection Agency (EPA) started working on it. The EPA intended to stem the acid mine drainage, but in the process accidentally destroyed the dam that was holding back the mine's tailing pond, which held the entire mine's waste. As a result, three million gallons of toxic mine waste leaked into Cement Creek, a tributary of the Animas River.
The river was turned an unhealthy mustard yellow by the spill from the oxidation of the iron deposits. The unnatural-looking water also contained traces of heavy metals, such as lead and arsenic, that can be especially damaging to the environment.
Investigators concluded that the contamination of the rivers could have been avoided if the EPA team had checked water levels inside the mine before digging into its entrance. The report also pointed out that abandoned mines are not subject to the same level of safety requirements as other mining operations, which is a massive oversight. "Experience indicates that they should be," the report said.
"A collapsed, flooded mine is in effect a dam," added the report. "Failure must be prevented by routine monitoring, maintenance, and in some cases remediation."
The EPA concluded that there appears to be a general absence of knowledge of the risks associated with abandoned mines, and this has implications across the whole of the US. Many mines are yet to be cleaned up and the government estimates the total cost of the problem could be in excess of $50bn.
On a visit to the contaminated site, Colorado governor John W Hickenlooper said there were thousands of abandoned mines in the region, and so action was vital to ensure no accidents like this one ever happened again.
"We take this as a catalyst," he says. "I think our goal here is to really focus on what we can do to make sure that those mines where we know we have a serious problem."
Tackling the bigger problem
New Mexico authorities recognised the incident as a sign that forgotten mines are dangerous and should be dealt with. The Gold King Mine spill highlighted the significant and costly problem abandoned mines pose, so the main focus now is to understand the extent of the problem and prevent future environmental disasters.
When Gold King Mine was built in the 20th century, there were very few regulations. The government demanded two things: that there should be adequate ventilation and no miners younger than 13. Other than that, there were no inspection rules or environmental standards to follow. This means abandoned mines are full of hazards.
Auby says many of the risks associated with these mines are physical, as well as them having a significant impact on the surrounding environment.
"People walking around that area can be exposed to high amounts of radiation in waste rock piles."
"People go in to explore them and encounter the various hazards that you find in abandoned mines, such as lack of oxygen, collapsing rock or falling into a hole," he says.
One environmental danger, he adds, is the risk of being exposed to uranium. In an area in the north-west part of the state, there's an area called the Grants mineral belt, which has hosted a great deal of uranium production. This means that people walking around that area can be exposed to high amounts of radiation in waste rock piles, or to very high levels of radon.
"And of course dust is a huge problem down here," Auby says of the arid New Mexico landscape.
The abandoned mine lands programme
The Abandoned Mine Lands programme which Auby works for is one way that the New Mexico Government is trying to rectify the state's abandoned mine problem.
Teams go out to a mining district to try and figure out how many mining features the area holds, such as a shaft, a pile of rocks or a trench. They then record the location on a GPS and photograph it so a database can be built-up.
To address the actual hazards, shafts can be back-filled; however, Auby says they have to ensure that bats aren't using it as a home first, and if they are, a structure has to be built to protect their habitat.
If a documented mining structure is releasing dangerous substances such as radiation or toxic metals, then environmental laws are in place for the Abandoned Mine Lands programme to track down whoever is responsible for the site and get them to clean it up, or at least pay the cost.
Auby says the Green King Mine spill was "most definitely a wake-up call to the problem" of New Mexico's abandoned mines.
"Every once in a while we get these wake-up calls," he says. "It's either a big mine spill or someone going down a shaft."
He adds that this hasn't translated to more funding as of yet, though it does shine a light on the extent of the problem, which Auby believes is an important step.
Environmental science and engineering in fixing up old mining areas has become quite sophisticated; engineered foam and cellular concrete are just two materials that have been developed for filling up reclamation sites.
A common method used to temporarily stop mines leaking harmful acid water is installing a bulkhead, a 10-15ft-thick concrete plug. When funding and resources are available, a treatment facility is also built to remove metals and acidity from the mine water.
However, plugging up every mine will be an enormous task. Acid mine drainage has been seeping out of tens of thousands of abandoned mines for decades, not just in New Mexico, but across the whole of the US. Reclamation is also expensive, and the state cannot afford to fix them all.
Thus, the remediation works has to prioritise which areas are in most need of reclamation, depending on how much of a health risk the mine is to the public and the environment.
Auby says it's going to take a long time to put right the problem, but the programme is trying to address the issues as well as it can. A positive note is that modern mine regulations are a lot stricter now, so new mines being built will not have these problems to fix in the future.
"It's going to take a lot of time and a lot of money," Auby says. "We chip away at the problem as best we can."