The year 2011 has been one of mixed fortunes for the global coal mining industry. While President Obama's coal tract leases in Wyoming are giving a new burst of energy to coal mining in the midwest of America, Australia's recently unveiled carbon tax threatens to scupper the coal industry on another side of the world.
The industry's continuing poor performance on mine safety casts a shadow over all coal operations, including hugely promising emerging coal markets like Mongolia. Here we look at some of the coal mining sector's most pressing issues in 2011.
Australia's carbon tax: the great debate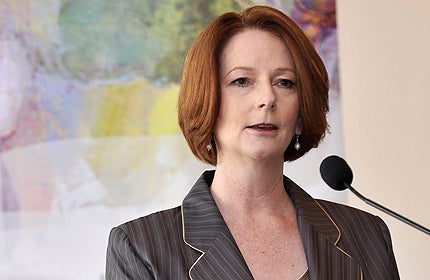 The Australian Federal Government's carbon tax is a levy of A$23 per ton of carbon emissions
---
"Critics cite the poor timing of levying a prohibitive tax on an industry that is achieving excellent prices."
Perhaps the one issue that raised the coal mining industry's hackles most this year was the Australian Federal Government's carbon tax, a levy of A$23 per ton of carbon emissions, on the country's most polluting industries.
Foremost among these is Australia's large and well-developed coal mining industry. Although the carbon tax, which has now passed into law and is due to come into force, has been hailed as a progressive and proactive step towards lowering industrial emissions, it has, rather unsurprisingly, not gone down well with coal miners.
Critics cite the poor timing of levying a prohibitive tax on an industry that is achieving excellent prices for its products and plays such an important role in Australia's economy.
According to the Australian Coal Association (ACA), coal is the country's second-largest export, worth A$36.4 billion in 2009-10, with the industry employing more than 140,000 coal miners and associated workers.
The Australian coal industry also argues that, without a multilateral taxation agreement that transcends international borders (an unlikely prospect, to say the least), the carbon tax will simply wipe out the competitiveness of one of Australia's most profitable industries and cause an unprecedented exodus of skills from the country.
The ACA believes the carbon tax could force the closure of 15 black coal mines in New South Wales and six mines in Queensland, putting more than 21,000 jobs at risk in the ten years following the tax's implementation.
"The government and Greens are imposing costs that none of our international competitors face, and cannot be justified in transitioning the Australian industry to a low carbon future," Minerals Council of Australia chief executive Mitch Hooke told Reuters.
"It will simply export investment, jobs, global market share and emissions offshore."
Obama's massive coal expansion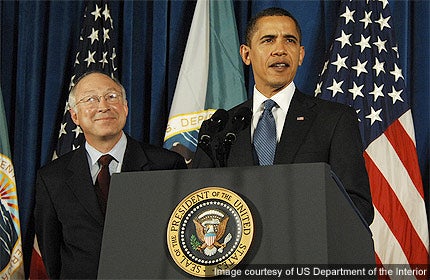 President Obama and US Secretary of the Interior Ken Salazar
---
To the delight of the coal mining industries and the disgust of environmental groups, President Obama in March 2011 hitched the US energy wagon much more closely to coal.
Despite previous assertions on the promise of renewable technologies, US Secretary of the Interior Ken Salazar announced the competitive leasing of four public tracts of land in the Powder River Basin, Wyoming, covering 7,441 acres and an estimated 758 million tons of low-sulphur coal, which burns more cleanly than other coal types, making it a highly prized commodity for coal-burning power plants.
"As the number one coal producer from public lands, Wyoming provided nearly 40% of the domestic coal used to generate electricity last year," said Salazar, "and it's important that we continue to encourage safe production of this important resource."
The four tracts have now all been sold off; two of the tracts went to Cloud Peak Energy while the remaining two were won by bids from Peabody Energy and Alpha Natural Resources. This bidding process generated hundreds of millions of dollars for the US Government.
---
Related content
---
Big is beautiful – The world's richest mine projects
Mining Technology profiles some of the largest and richest mine projects in the world, from an Indonesian gold titan to the world's largest man-made excavation in Utah.
Black Thunder Thermal Coal Mine, USA
The Black Thunder thermal coal mine, located in the Southern Powder River Basin of Wyoming, opened in 1977 and for many years was the largest single coal operation in the world.
---
It's a profitable process which the government is clearly getting used to, given that another large Powder River Basin plot was cleared in August by the Bureau of Land Management to be sold off. The 3,000-acre South Porcupine Coal Tract, which contains an estimated 400 million tons of coal, could well be snapped up by Peabody, given that the tract could extend mining operations at the company's adjacent North Antelope Rochelle Mine by nearly four years.
So for environmental groups, the Wyoming sell-offs represent a gross betrayal by the US President and a huge step back for the country's green energy future. These groups are already launching legal action and appeals against the leases. For the US mining industry, access to these new plots is a boon that will bring renewed life to a number of flagging mines.
"We're very pleased with our acquisition of the West Antelope II South Coal Tract," said Cloud Peak president and CEO Colin Marshall in June.
"Together with our recent successful bid for the West Antelope II North Coal Tract, these tracts are expected to more than double the reserves at the Antelope mine and, along with the additional coal within an existing State of Wyoming lease near our Antelope mine, add more than 12 years of production."
Minegolia: a coal mining paradise?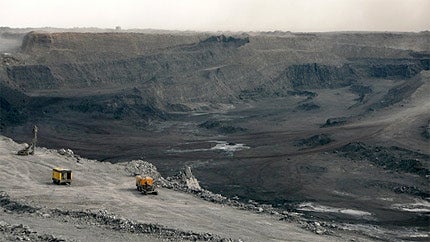 Tavan Tolgoi, the first mega-mine to be developed in Mongolia.
---
The US is not the only country preparing for new large-scale projects to begin. Around the world, the search for new coal reserves is pushing companies to new and remote locations.
"In 2011, Mongolia and the Gobi desert has become a locus of investment in coal mining."
In 2011, Mongolia and the Gobi desert has become a locus of investment in coal mining (among other resources), even receiving nicknames like 'Minegolia' and 'the last frontier'.
The discovery of massive coal deposits, like the six billion tons of coal at the Tevan Tolgoi opencast pit, along with a ready-made and almost limitless source of demand from its southern neighbour China, coal looks set to transform the face of Mongolia with massive investments and huge profits – it has been estimated that Mongolia's economy will triple by 2020.
Despite the massive coal reserves being tapped by mega-mines like Tevan Tolgoi and Ovoot Tolgoi, the sheer remoteness of these arid desert deposits is throwing up challenges for mine operators. Logistics and haulage become much more strained when a mine is located in the Gobi desert, nearly 20 hours' drive from any major point of contact.
---
Related content
---
Unlocking the desert: Mining in Mongolia
Mongolia is the centre of the greatest resource boom in years, despite its remote and isolated location. Elisabeth Fischer profiles some of the technologies that are opening up the wilderness.
Ovoot Tolgoi Coal Mine, Mongolia
The Ovoot Tolgoi mine is in the southwest corner of the Omnigovi Aimag, 320km southwest of the provincial capital of Dalanzadgad and 950km south of the national capital, Ulaanbaatar.
---
Still, these challenges are benefiting from (and to some extent, driving) technological innovation in areas like remote surveying vehicles, geographical information systems and satellite imaging. Even the problem presented by a lack of available expertise in the area could herald new interest in autonomous and semi-autonomous vehicles.
Although mining investment will almost certainly benefit Mongolia as a whole, the picture is not so pretty for the nomads who live in the Gobi desert. Reports have already surfaced of the huge mines monopolising vital water supplies and throwing perpetual clouds of choking dust into the air.
"Every day, they use 2,000 off-road 100-ton trucks," said the Mongolian Green Party co-chairman.
"There is so much dust in the sky, it looks like a war is taking place," said Enkhbat, co-chairman of the Mongolian Green party. "The government needs a much more comprehensive plan to protect the environment and respect local communities. This is not just about economics. It is about human rights."
Another bad year for safety
"2011 marked another year of tragedies in coal mining, an industry that seems to continually re-earn its reputation as one of the world's most dangerous occupations."
Fatal incidents cast a black cloud over the coal mining sector every year, and this year was no exception. 2011 marked another year of tragedies in coal mining, an industry that seems to continually re-earn its reputation as one of the world's most dangerous occupations.
As usual, China's safety record has been inexcusably poor, despite the fact that the country's coal mining fatality statistics have been gradually falling for the last decade or more.
The fact remains that Chinese coal mining disasters reportedly left more than 500 workers dead and more than 100 missing in 2011. The country's ongoing safety fiasco has been attributed to issues like lax regulation, a penalty system that makes it more profitable to pay fines than correct safety faults, the prevalence of small and often illegal mining operations, corruption in day-to-day mining operations and more.
But China is certainly not alone in its safety problems. The deaths of 21 US coal miners in separate incidents seems to have gone mostly under the radar this year.
In the Ukraine, two major coal mine incidents (an explosion and an elevator collapse) occurred in two separate mines on the same day in July 2011, claiming a total of 18 lives and leaving 20 workers missing.
Coal mining might be moderately safer than it was 50 or 100 years ago, but considering the sophistication of available technology in modern mining, that's not saying much. Much of the problem seems rooted in corporate culture rather than technology, however. Mining companies need to understand that profit begins only after the safety of all workers is ensured to the highest levels possible.
This damaging and sinister mingling of production and safety issues was reflected in the report on last year's Upper Big Branch mine disaster by the United Mine Workers of America published on 25 October 2011.
The report accused mine operator Massey Energy of committing "industrial homicide" and criticised management for "a culture that demanded production at any cost and…a callous disregard for the health and safety of the miners employed at the operation".