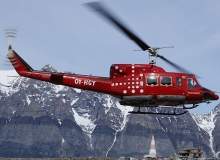 Climate change does have its benefits, for Greenland's mining industry at least. Thick sheets of ice, which glazed huge parts of the country less than 20 years ago, are melting and all the while uncovering a land rich in metals and minerals.
"Greenland has been part of Denmark for almost 300 years."
As a result, a mining boom has exploded in the country, with the first company, Angel Mining, commencing operations there last year and several others expected to follow suit.
High-grade resources including zinc, lead and gold are being discovered in vast quantities around the region, but it isn't just the mining firms who will benefit. These new-found gems are expected to change the political and economic face of Greenland forever.
Independence
Greenland has been part of Denmark for almost 300 years. It was finally granted home rule in 1979, and in 2008 Greenland voted to transfer more power from the Danes to the local Greenlandic government.
It wasn't until 2009 that a new Act on Greenlandic Self-government came into force, granting the country the right to take over the financial and administrative responsibility of most areas of land, including the mineral resource area.
How well do you really know your competitors?
Access the most comprehensive Company Profiles on the market, powered by GlobalData. Save hours of research. Gain competitive edge.
Company Profile – free sample
Thank you!
Your download email will arrive shortly
Not ready to buy yet? Download a free sample
We are confident about the unique quality of our Company Profiles. However, we want you to make the most beneficial decision for your business, so we offer a free sample that you can download by submitting the below form
By GlobalData
Full political independence from Denmark is impossible to achieve, however, without being economically independent.
It was hoped the discovery of oil would rid Greenland of the £370m fund it receives from Denmark every year, but the latest results from drilling the Arctic showed "only minor" signs of oil or gas have been encountered, according to Cairn Energy.
Cairn, an Edinburgh-based explorer, announced in September that it was abandoning an unsuccessful well located off Disko Bay Island, West Greenland. This led analysts to predict that the company will cancel more than half of its $1 billion 2011 Greenland Programme.
Sanjeev Bahl, an analyst at Numis Securities, wrote to investors about Cairn's exploration activities, concluding that Cairn will take a $630m write off on its work in the area.
Greenland's goals for freedom now rest on the quantity and value of its mineral resources, and according to Angel Mining CEO Nick Hall, the mining industry could finally provide the country a means of escape: "The income into Greenland comes a little bit from fishing, but there's not a lot it can do to increase this dramatically; and little bit from tourism, but it can't increase this a huge amount because most people want to sit on a beach with the sun, not freeze to death with a polar bear," he joked.
"Through mining though, Greenland has got of chance of really increasing the amount of money that it is earning, and therefore that moves it towards political independence."
Important projects
The first exploration activities at the Black Angel Mine took place in 1976, but the site, located in the Qaasuitsup municipality of Greenland, was believed to be exhausted by 1990, and was subsequently abandoned.
"It was hoped the discovery of oil would rid Greenland of the £370m fund it receives from Denmark."
New mining techniques were developed in the 1990s which enable mining companies to extract up to 80% of the pillars left behind, as Hall explains: "With pillar entrapment you select pillars based on a computer model of the mine and assess the stresses that are on the pillars, and what would happen if you took one or more of them away.
"By doing so we can design a system whereby we surround the chosen pillars that hold the roof up with a back fill that is bound with cement. That then enables the pillar to take more weight."
Unbeknown to Angel Mining, an additional deposit of lead and zinc lay at the hinterland of Black Angel and was not discovered until the firm obtained the exploration licence in 2004 and undertook additional diamond drilling on the site.
Some of this resource had originally been seen, somewhat accidentally, by Angel Mining director of mining and exploration Tim Daffern and a geologist, Frank van der Styl, as the ore body was outcropping at the foot of a retreating glacier, where ice had melted away.
Pillar entrapment at the mine is expected to take five years, following which Angel Mining will focus on the new discovery at the South Lakes Glacier.
A third deposit, close to the entrance of the mine, could then buy eight to ten more years of mining, based on geological data.
Angel Mining hopes to start production at the site in 2013, by which time it will be producing around 38,000 tons of concentrate per year, of which one third will be lead and two thirds zinc.
The company has also reactivated the Nalunaq gold mine in Greenland and built the first ever underground syonide leaching plant, which produced the mine's first gold bar in August.
Hall says: "It's taken a little longer than we had thought [to get to this stage] but it is now producing gold, it's working 24/7 and I am just delighted that the price of gold has kindly helped us."
Although Hall's company is currently the only mining firm operating in Greenland, he is sure there will be others settling in the country in the years ahead.
For now, exploration companies are setting their sights on the country. In August, North American Nickel commenced a field campaign to evaluate prospective areas within its 4,841 km2 mineral exploration licence. The principal target of the property high-grade nickel-copper occurrences associated with norite and other mafic and ultramafic intrusions.
Greenland Minerals and Energy acquired an outstanding 39% share of its exploration license over the northern Ilimassauq complex. This contains the Kvanefield multi-element deposit which contains rare earth, uranium, and zinc.
Challenging conditions
Located 600m above sea level in a remote area without roads, access to the Black Angel mine is tricky. The operator is currently installing a cable car to transport workers and equipment, but because the surrounding area of the mine is frozen for six months of the year, ships are unable to get near the area and carry freight from the site most of the time.
Logistical challenges could also threaten the lives of workers in an emergency, but Hall insists his company takes health and safety very seriously. "Air Greenland operates a service all around the coast and in the unlikely event that we were to have a serious accident, we can get people taken off the site by helicopter.
"Located 600m above sea level in a remote area without roads, access to the Black Angel mine is tricky."
"We also have a fast boat, so we can get from our gold mine to the local town, where there is a hospital, in half an hour. We have paramedics on site 24/7; we won't operate without them. In addition, many of the guys have taken numbers of first aid courses and are very competent in dealing with emergencies," says Hall.
Strict environmental regulations must also be met by miners working in Greenland. The Bureau of Mining insists all companies must provide an unlimited guarantee, in terms of cost, in the event that environmental repairs are required at any site of their current or former operations.
Hall says: "The problem is, if you do damage to the environment in the Arctic, it takes centuries to prepare it, but if you do damage to somewhere like the UK – create a road, chop down trees etc – ten years later you wouldn't know you had been there. This is not the case in Greenland."
He admits that Greenland is throwing up challenges he hasn't experienced before but believes they are worth facing. "We benefit from the fact that we – both the gold mine and the zinc mine – have very high grade ore bodies and the profit potential is substantial."