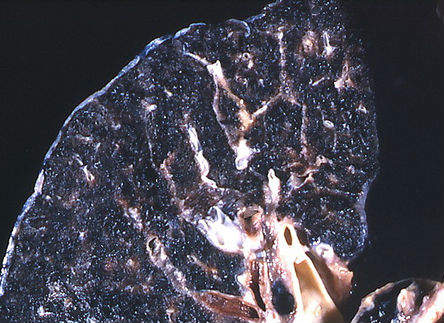 Black lung has long been the scourge of coal mining. Also known as coal workers' pneumoconiosis, the term refers to an occupational lung disease caused through breathing in coal mine dust. When caught in its early stages, it typically has a good prognosis, but so-called 'complicated' black lung can be disabling and often fatal.
Occupational lung conditions have, of course, been a problem for as long as there have been mines. However, it was only in the 1950s that black lung began to come to prominence and only in the late 1960s that the issue was seriously addressed. The Federal Coal Mine Health and Safety Act, introduced in the US in 1969, set standards to reduce dust and compensate disabled workers, causing the number of case to tumble by 90%.
While many believed this was the end, more recently a disturbing trend has emerged. According to the National Institute for Occupational Safety and Health, only 0.08% of all mine workers were diagnosed with progressive massive fibrosis (the most severe form of black lung) in 2000. But by 2012, this figure had climbed to 3.23% of working miners in Kentucky, Virginia and West Virginia – the highest level since the 1970s.
Australia has seen a similar – and perhaps more scandalous – resurgence. Once thought to have been completely eradicated, the condition hit the headlines in November 2015 when Percy Verrall became the first Australian to be diagnosed in 30 years. Since then, several more cases have been confirmed in Queensland. According to the mining union, this could be just the tip of the iceberg, with as many as 1,000 Queensland coal workers potentially affected.
Declining standards in dust control
While there are undoubtedly several factors at stake, the key issue in Australia appears to be a relaxation of dust control regimes. In certain cases, regulations may not have been properly enforced and monitoring systems may have failed.
How well do you
really

know your competitors?

Access the most comprehensive Company Profiles on the market, powered by GlobalData. Save hours of research. Gain competitive edge.
Company Profile – free sample
Thank you!
Your download email will arrive shortly
Not ready to buy yet? Download a free sample
We are confident about the unique quality of our Company Profiles. However, we want you to make the most beneficial decision for your business, so we offer a free sample that you can download by submitting the below form
By GlobalData
For instance, since 1993 all Queensland mine workers have been required to undergo chest X-rays before they start employment, and again at intervals of five years. These X-rays are sent to the Queensland Mines Department for review. Last year, however, the department admitted that 'B-readers' (i.e., specialist radiologists qualified to interpret these X-rays) are few and far between, with over 100,000 worker medicals awaiting database entry.
CFMEU, the miners' union, believes this supposedly defunct condition was not wiped out but was 'hidden, covered up'. In the words of Stephen Smyth, CFMEU mining Queensland district president, "The regulatory system that is meant to detect problems has been asleep".
"The regulatory system that is meant to detect problems has been asleep."
In the US, meanwhile, health officials have pinned the problem on worsening conditions in the mines. An increased demand for coal has seen miners work longer hours than ever, often in small mines with questionable safety records. One 2009 study found that 'Coal miners are being exposed to excessive amounts of respirable crystalline silica", heightening the risk of black lung.
"The problem is most severe in central Appalachia, which is where we're located," says Stephen Sanders, director of the Appalachian Citizens' Law Center. "In underground mining, the miners frequently remove as much rock as they do coal, exposing miners not just to rock dust but also to silica dust, which is particularly harmful. And in surface mining, dust is generated constantly – it's like working in a cloud."
Regulation change in mine worker safety
What can be done is a question in point. Black lung is an eminently preventable condition, and its causes are far from mysterious – but as the recent wave of cases demonstrates, the standards have not always been well-enforced.
"Black lung has been known of for a long, long time, and frankly the only way you're going to end it is by eliminating exposure to excessive amounts of dust," points out Sanders. "I expect the problem is the same in Australia as it is here."
As a public interest lawyer specialising in black lung benefits claims, Sanders has represented disabled miners and widows for over 25 years. He has also advocated for safety improvements, encouraging the US Department of Labor's Mine Safety and Health Administration to do more to protect miners from dust.
This has frequently proven a frustrating endeavour. In 1999, for instance, the Clinton administration proposed lowering the acceptable levels of coal dust to 1mg/m3 (down from 2mg/m3), but the proposal was stopped in 2002. Meanwhile, around 1,000 former coal workers across the US were dying from black lung each year.
The Obama Administration, however, has implemented changes: as of this August, the concentration limit will be reduced to 1.5mg/m³ at underground and surface coal mines, and to 0.5mg/m³ for intake air at underground mines. The requirements for sampling, medical surveillance and certification have also grown more stringent, and mine operators are now required to use continuous personal dust monitors to determine their employees' exposure.
"They're no longer relying on samples of dust in cylinders that have to be sent to a lab to be measured," says Sanders. "Instead, they use an oscillating device which gives an instant read out of the level of respirable dust – the data is collected and put into a computer where they can read it out at the end of a shift."
He believes the new regulations hold promise if operators truly comply.
"The new measures have just taken effect recently, and I don't think I've read anything about whether companies are complying with them – it'll be a while before we know if they've made a difference," he says. "But we're very hopeful they'll be effective in helping to eliminate this exposure to excessive dust."
A wake-up call on tackling black lung
"I think we probably all became somewhat complacent when there wasn't a case that emerged for many decades. It's a bit of a wake-up call."
In Australia, the outlook is perhaps more troubling. Currently, Queensland's maximum allowable dust exposure level stands at 3mg/m³ of air, while the limit in New South Wales is 2.5mg/m³. Having failed to acknowledge the problem until recently, Australia has fallen some way behind in terms of worker protection.
At a Senate hearing in March, former mine workers described how their employers had cut corners, failing to ensure proper ventilation or supply protective masks. A number of mines in Queensland are known to have exceeded the maximum allowable dust limits, with one mine, Vale's Carborough Downs, registering as high as 4.7mg/m³.
"I think we probably all became somewhat complacent when there wasn't a case that emerged for many decades. It's a bit of a wake-up call," Queensland Resource Council chief executive Michael Roche told the current affairs programme 7.30 in December.
With a review into the situation underway and a final report due mid-year, we should soon have some solid answers as to how black lung could have re-emerged. This will most likely spur changes both to mining safety practices and to employees' medical screening procedures.
Through its campaign 'Dust to Dust: Make Black Lung History', the miners union is fighting for new legislation requiring dust levels to be monitored and reported by an independent statutory body. They also want to immediately clear the backlog of X-rays and ensure all X-rays are reviewed by qualified radiologists in future.
With the scale of the problem now apparent, the mining industry has a challenge on its hands. Will operators be able to reverse the deterioration in standards, putting in the same concerted effort they did back in the 1970s? It's an important question, with a sobering caveat – for their former employees now disabled by black lung, any changes will have come too late.