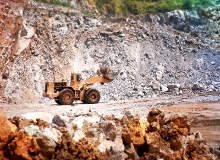 The Queensland Government issued a draft Environmental Impact Statement (EIS) for the Abbot Point coal port project, the backbone for Adani's $12.5bn Carmichael mine.
State Development Minister Dr Anthony Lynham said that the draft EIS was now available for public comment until 18 September and would allow more than 20 business days for public consultation.
Lynham said: "This is a milestone for the sustainable development of the Galilee Basin and the jobs and economic development it could deliver for Queenslanders.
"We are putting dredged material on port land next to the existing terminal, and we are minimising impacts to the Great Barrier Reef World Heritage Area by ruling out at-sea disposal."
French oil and gas company Total decided to pull out from coal production and marketing, following approval from the South African Government for the sale of its coal mining operations.
Total signed an agreement last year to sell Total Coal South Africa to local company Exxaro.
Total chief executive officer Patrick Pouyanné publicly pledged on 1 June that "Faced with the issue of climate change, Total is committed to promoting the use of natural gas, the cleanest fossil fuel, especially compared to coal, which emits twice as much greenhouse gas when used to generate power.
"We cannot claim to be providing solutions to climate change while continuing to produce or market coal, the fossil fuel that emits more greenhouse gas than any other."
Indian power-generation company NTPC is reportedly planning to award a $4bn worth contract to commence its first coal mine in the country.
Bloomberg quoted three people familiar with the company's decision saying that an auction to select an operator for the Pakri Barwadih mine in the eastern state of Jharkhand has been completed.
A venture of Thriveni Earthmovers and Sainik Mining won the auction and has quoted quoted Rs260bn ($4bn) to develop and run the mine for a period of 25 years.
The state-run utility is hoping to save on expensive coal imports by arranging its own supply.
Mining equipment manufacturer Caterpillar joined forces with the US-based Arch Coal's Thunder Basin Coal Company – Black Thunder mine to develop and operate the Cat MineStar Command for dozing at the site near Wright, Wyoming.
The latest technology will reduce cost per tone and helps to improve dozer productivity and safety.
According to Caterpillar, Command for dozing is part of the company's vision for a fully autonomous mine and includes a semi-autonomous solution that enables an operator to operate multiple dozers from a remote office environment.
Sitting in an office, the dozer operator can reduce the risk of injury from mounting and dismounting equipment.
Australian Prime Minister Tony Abbott said he was 'frustrated' with a court decision to revoke environmental approval for Adani's $12.5bn Carmichael coal mine construction in central Queensland, citing the size of investment and job creation potential.
The Federal Court overturned the company's proposal saying that Environment Minister Greg Hunt failed to consider advice about two federally listed vulnerable species, the yakka skink and ornamental snake.
However, according to Abbott, coal extracted by Adani would support 100 million people in the country.
The University of Pretoria (UP) in South Africa opened its new virtual and augmented reality mine design centre.
The new Kumba Virtual Reality Centre for mine design (VRC) focuses on surface and underground mining.
In the new 1,600m² complex, the University of Pretoria invested R32m ($2.5m) and Anglo American group company Kumba Iron Ore invested R18.8m ($1.47m).
Along with the new mine design centre, the university also opened the new offices of the Department of Mining Engineering and the Mining Resilience Research Institute.
Brazil-based mining company Vale announced agreement to sell its Integra coal mine in Australia to Glencore and Bloomfield Group jointly.
The mine, which was put under care and maintenance since July 2014, is the second mine sold by the company in August.
Vale's latest move comes as part of its strategy to divest non-core assets.
The latest sale will see Glencore acquiring the underground operations of Integra, while Bloomfield will buy the open cut mine, the wash plant and rail loop facilities.
Australian mining software services provider Maptek launched new laser scanners for underground mine operators to help improve site safety and survey productivity.
Compatible with I-Site drive for continuously surveying from a moving vehicle, the improved I-Site 8200 laser scanners feature new tools and compatibility with Maptek Sentry surface tracking.
The 500m range scanner I-Site 8200SR serves as an accurate solution for cavity surveys and can also be used for surface applications such as stockpile, shed and silo scanning.
With a longer range at 750m, the I-Site 8200ER scanner provides better outcomes for mapping underground drives and tunnels, as well as surface stockpiles.
Goldcorp and Teck Resources agreed to form a joint venture (JV) and combine their respective El Morro and Relincho projects in Chile into a single project named Project Corridor.
The projects are located approximately 40km apart in the Huasco Province in the Atacama region.
The Canadian mining companies will equally own the JV.
Teck Resources president and CEO Don Lindsay said: "Combining these two neighbouring assets is a common sense approach that allows us to consolidate infrastructure to reduce costs, reduce the environmental footprint and provide greater returns over either standalone project.
"Through Project Corridor, we will work to establish meaningful relationships with the community, indigenous peoples and other stakeholders that will help guide the project's development and create greater value for all parties."
Minerals development group Oro East Mining submitted a patent application for equipment that will dry gold tailings in mining production using parabolic solar concentration.
Using the new patent pending invention, the US-based company can extract water from dry tailings from gold mining production.
According to the company, the invention is used to recycle and reuse all processed water and can improve mining production technology in an eco-friendly direction, especially important in drought conditions such as those currently being experienced in Califronia.