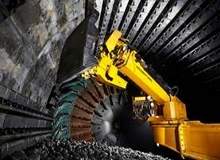 Mongolia gave 'in principle' approval for phase two of Rio Tinto's copper and gold mine Oyu Tolgoi, which will result in a $4.2bn investment in the country.
Mongolian Prime Minister Chimediin Saikhanbileg and the Anglo-Australian mining major are said to have reached an agreement and an official announcement is expected following the final details being confirmed.
The government and Oyu Tolgoi had been holding negotiations for progression of the second phase for two years.
Three of France's largest banks announced they would not fund Adani's controversial A$16.5bn ($12.5bn) Galilee Basin coal mine development in Queensland.
BNP Paribas, Société Générale and Credit Agricole issued statements confirming this decision, which brought the number of international banks that refused to fund coal mines in the region to eleven.
Conservation group Coast and Country had objected to the company's proposal claiming it would contribute to climate change, leading to carbon emissions that would damage the Great Barrier Reef, The Australian reported.
Adani anticipated starting production at the coal mine project by 2017.
UK banking and financial services company Barclays, the largest financer of the mountain-top removal (MTR) method in 2013, said it would no longer fund the controversial coal mining practice.
In a policy document released in March, the company said it would stop supporting companies that use MTR unless they commit to moving out of it within a timeframe.
Said to be widely used in the Appalachian mountains in the eastern US, the toxic coal mining practice involves blasting and shifting the tops of hills and mountains to expose the coal beneath.
US researchers at Michigan Technological University unveiled the first comprehensive guidebook that communities can use to explore the feasibility of using mine water for geothermal energy to heat and cool buildings.
One mine water geothermal system is located at the university's Keweenaw Research Center just north of Houghton, Michigan.
In order to understand the local potential, the research team worked with the University's Keweenaw Research Center and community leaders in Calumet and will present the work findings to the public in Calumet, Michigan.
Rio Tinto selected Accenture for its new information systems and technology (IS&T) delivery model, which will be managed through the Accenture Cloud Platform.
For the mining company, the new model will migrate core enterprise IS&T systems to an 'As-a-Service' solution based in the cloud.
In order to ensure costs are fully flexible and in-line with business demand, the new model also includes consumption-based pricing.
Rio Tinto's existing enterprise resource planning (ERP) and Information Management (IM) platforms will be modernised, consolidating and hosting the applications in the public cloud.
BHP Billiton selected Loc8's cloud platform to manage costs at the company's Mooka Iron Ore railcar facility in Australia.
The mining company will implement complete automation of railcar maintenance tasks as part of an A$1bn ($775.6m) capital productivity project.
BHP will use the Loc8 software application to track the of automation, data dissemination and operation of the processes controlling 67 robots for the rolling stock reliability system (RSRS) at the company's Nelson Point and Mooka Ore car repair shops (OCRSs).
Mooka OCRS is said to be an integral part of BHP Billiton Iron Ore's (BHPBIO) overall expansion strategy.
Alamos Gold and AuRico Gold announced a $1.5bn merger plan that would create a new intermediate gold producer.
The merger will involve complementary asset portfolios, including two long-life gold mines AuRico's Young-Davidson mine in Ontario, Canada and Alamos' Mulatos mine in Sonora, Mexico.
Alamos and AuRico shareholders will each own about 50% of the merged company, to be named Alamos Gold.
The deal will also create a spinoff company called AuRico Metals, which will own AuRico's Kemess project, a 1.5% net smelter return royalty (NSR) on the Young-Davidson mine, AuRico's Fosterville and Stawell royalties, and will be capitalised with $20m of cash.
Mexican mining company Peñoles Group awarded a €60m contract to Finland's Outotec to deliver technology and site services for the expansion of Met-Mex Peñoles' zinc production facilities in Torreon.
Using Outotec's direct leaching technology, Peñoles aims to expand its annual zinc production capacity by 100,000t.
Under the terms of the contract, Outotec will supply the technology, engineering and licence for atmospheric direct leaching of zinc concentrates and downstream process areas.
The company will also deliver proprietary and auxiliary equipment for the OKTOP reactor plant, in addition to its advisory services for installation, commissioning and ramp-up.
Metso was contracted to reduce production downtime associated with mill liner changes and increase grinding efficiency at First Quantum Minerals' (FQM) Kevitsa copper and nickel mine in Sodankylä, Finland.
Under a three-year lifecycle service agreement, the company will supply, install and manage Kevitsa mine's mill liners.
By optimising wear parts selection, the company will decrease the duration of downtime and extend the periods between shutdowns.
Mining and construction equipment manufacturer Komatsu and General Electric (GE) will jointly leverage the Internet of Things (IoT) technology to provide big data analysis to mining customers.
The IoT refers to a growing network of physical objects embedded with electronics, software, sensors and connectivity, which means that all devices can become 'nodes' on the internet.
According to the companies, efficiency in mining operations can be increased using the big data analysis methods.
Komatsu Australia managing director Sean Taylor said: "GE Mining has long supplied electric drive systems to Komatsu, which is the world's market leader in electric-drive dump trucks."
Chile's state-owned copper mining company Codelco released plans to extend the life of its oldest mines with a $4bn investment this year.
Codelco CEO Nelson Pizarro told Platts that the investment will also used to bring the mines into line with stringent environmental standards.
The Chilean company plans to spend about $1.2bn on its structural projects, which include deepening its underground El Teniente copper mine and transforming the Chuquicamata pit into an underground operation.
Researchers at the University of Adelaide in Australia started development of a new method for mineral exploration companies, which will help them test for gold in ore samples at the spot on the drilling rig.
The university's Institute for Photonics and Advanced Sensing (IPAS) researchers used light in fluorescence and absorption processes to detect gold nanoparticles at detection limits 100 times lower than achievable under existing methods.
University of Adelaide postdoctoral researcher Dr Agnieszka Zuber said: "The presence of gold deep underground is estimated by analysis of rock particles coming out of the drilling holes.
"But current portable methods for detection are not sensitive enough, and the more sensitive methods require some weeks before results are available."