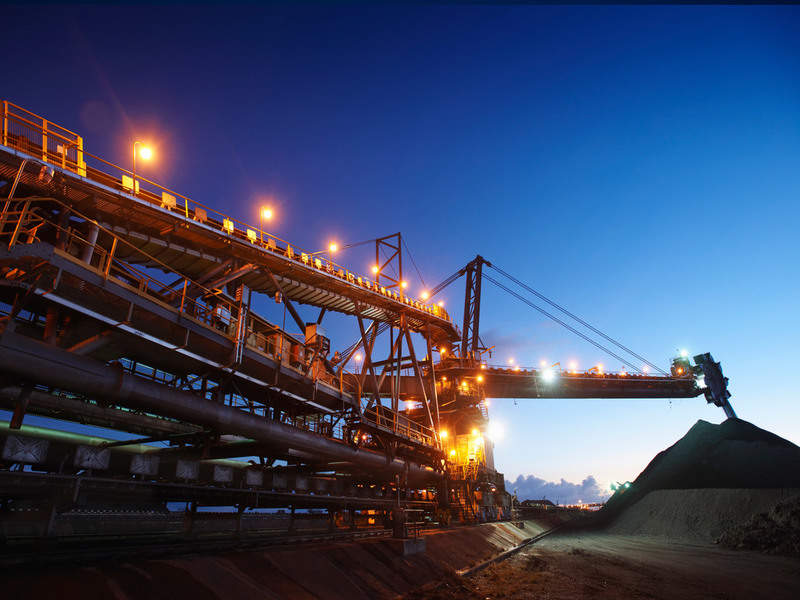 BHP Billiton Mitsubishi Alliance (BMA) revealed plans to invest $204m in the Caval Ridge Southern Circuit (CRSC) capital growth project at Bowen Basin, Central Queensland, Australia.
An 11km overland conveyor system, CRSC will be used to transport coal from Peak Downs Mine to the Coal Handling Preparation Plant (CHPP) at the nearby Caval Ridge Mine.
This project is expected to create 400 new construction jobs and approximately 200 ongoing operational roles.
Newmont Mining announced plans to build a new underground mine and expand plant capacity by more than 50%, intending to extend profitable production through this at its Ahafo operations in Ghana.
The Subika Underground mine is expected to produce 1.8 million ounces of gold over an 11-year mine-life, and features ore grades of 4.7g per tonne.
The company intends to improve margins through this expansion process, which would also support profitable production at Ahafo through at least 2029.
Mineral sands developer Strandline Resources signed an earn-in and joint venture (JV) agreement with heavy mineral sands producer Rio Tinto.
The new agreement will be worth up to $10.75m, and relates to Strandline's suite of heavy mineral sands (HMS) tenements in southern areas of Tanzania, as well as an adjacent project area.
Rio has the option to earn up to 75% interest in Strandline's southern Tanzanian portfolio of tenaments, by spending up to $9m on project-related expenditure via a two-stage initiative.
Peabody announced it would to retain the Metropolitan metallurgical coal mine and its associated 16.67% interest in Port Kembla Coal Terminal in Australia.
The decision comes in the wake of the termination of the purchase contract by proposed buyer South32, after it failed to obtain clearance from the Australian Competition and Consumer Commission (ACCC) within the timeframe required under the contract.
Peabody president and CEO Glenn Kellow said: "We are surprised that South32 and the ACCC reached an impasse, given both the physical synergies and the global nature of the metallurgical coal markets.
Accend Capital signed a letter of intent (LoI) to acquire 100% of the Block 103 iron ore property of Canada-based mineral exploration company ML Gold.
Block 103 is a series of Newfoundland and Labrador mineral licences, located in the Labrador Trough, Labrador, approximately 30km north-west of the mining town of Schefferville in Quebec.
Exploration and geological works were carried out by ML Gold from 2011 to 2013, including 28,000m of drilling in 115 holes.
Canada-based uranium exploration and development company Plateau Uranium signed a letter of intent (LoI) with Curzon Resources, indicating the potential sale of a portion of future production from Macusani Plateau Uranium Project in south-eastern Peru.
The deal involves the sale of up to two million pounds of uranium concentrates (U3O8) over a five-year period (400,000lb per annum), beginning in the first year of commercial production from the Macusani Project, which is expected to start production in late-2020.
Additional provisions have been incorporated in the LoI, which provides options for an increase in the annual volumes and a two-year extension.
Queensland Minister for Natural Resources and Mines Dr Anthony Lynham announced that geologists have found evidence that a remote north-western part of the state may host rare minerals needed for advanced technologies.
Referred as Diamantina Minerals Province, the discovery is expected to give a significant boost to mining activity in the region.
The discovery includes an area from Fifield in central New South Wales through Queensland's North West country ranging up to the Merlin diamond mine in the Northern Territory.
The World Bank's Board approved a $150m to increase the mining sector's contribution to the Nigerian economy.
The credit is expected to facilitate development, improve information infrastructure and bolster its government institutions to encourage investment in Nigeria's mining sector.
World Bank country director of Nigeria Rachid Benmessaoud said: "Nigeria has a favourable geological potential that, if adequately assessed, well-exploited and sustainably managed, could support broader economic growth through the mineral sector.
Nunavik Nickel Mines signed a deal with the option to buy a 100% interest in 61 of Golden Valley Mine's grassroots properties.
Under the option agreement, Nunavik Nickel must spend $4m for exploration and other mining operations on the properties before 31 December 2021.
Expenditure targets have been fixed in a time-based schedule, with $500,000 to be incurred before 31 December 2018, with a further $750,000 to be spent before 31 December 2019. In addition, $1m is due before 31 December 2020, and the remaining $1.75m by 31 December 2021.
Savage announced it the purchase of US-based companies Gobco and Power Fuels for undisclosed amounts.
Gobco is involved in removal of waste coal piles from abandoned mines and the restoration of impacted land, streams and forests.
Also known as 'Gob', waste coal is separated from rock and transported by trucks to the Power Fuels terminal in St Paul, Virignia, where it is mixed with run-of-mine coal and used in electricity generation at Virginia City Hybrid Energy Center (VCHEC). VCHEC is owned by energy producer and transporter Dominion.