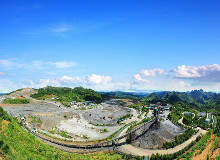 The Queensland Government has approved mining leases for Adani's A$21.7bn ($16bn) Carmichael coal mine and rail project in the Galilee Basin, Australia.
Queensland Minister for State Development and Minister for Natural Resources and Mines Dr Anthony Lynham issued the mining leases, 70441 Carmichael, 70505 Carmichael East and 70506 Carmichael North, which will see the mining of 60 million tonnes of coal every year.
The three individual mining leases are estimated to contain 11 billion tonnes of thermal coal, and will provide for mining and the development of infrastructure.
Mining and automation robotics company Deltion Innovations was awarded a contract by the Canadian Space Agency to work on a new device, designed to perform future mining on the moon and Mars.
The new Percussive and Rotary Multi-Purpose Tool (PROMPT) has been designed for potential use on exploration and prospecting missions.
Deltion secured the $700,000 contract as part of the Canadian Space Agency's (CSA) Space Technology Development Programme.
Mining major Rio Tinto cut its production guidance from its Australian iron ore mines for 2017, due to a delay in advancing its AutoHaul transport project.
The company said that testing and verification of its $518m autonomous transport technology is still continuing, with more than 75,000km of mainline trials completed.
Due to the delay, production from its Pilbara mines is expected to be between 330 million tonnes and 340 million tonnes in 2017, subject to final productivity as well as capital expenditure plans.
Research by the University of Queensland in Australia in collaboration with Brazilian mining company Vale has found that termite guts could contribute to mining site rehabilitation.
University of Queensland School of Earth Sciences researcher Dr Emma Gagen said that termite guts were under the microscope in research investigating how microorganisms could help remediate iron ore sites once mining stops.
The research focuses on the method to promote formation of a type of iron cement crust known as canga that naturally forms a protective layer over the top of iron ores.
Anglo American reached an agreement with China Molybdenum to sell its niobium and phosphates businesses for $1.5bn.
The amount will be payable to Anglo American at closure of the deal, subject to certain closing and post-closing adjustments.
The fully owned niobium and phosphates businesses are located in Goiás and São Paulo in Brazil.
An Australian-Indian consortium intends to restart mining operations in Kolar gold field in Karnataka, the southern state of India.
Australian miner Citigold Corp has agreed to partner with Indian-based Essel Group to submit bids to mine Kolar gold field, reported Reuters.
The Australian company has conducted field visits to Kolar since 2006.
Malaysia is set to extend its ban on bauxite mining activities in Pahang from mid-April by another three months over contamination issues.
The ban was initially announced in January 2016 for a period of three months.
Bauxite mining in the country attracted criticism as it was found to have contaminated the water and some rivers in Kuantan.
Six companies in Poland signed an agreement to invest $620m in the newly established Polish Mining Group (PGG) in a bid to save Kompania Weglowa from bankruptcy.
Due to low coal prices and high labour costs, Kompania is said to be on the verge of going bankrupt and was expected to run out of money last month if no agreement is reached.
Even after several trials, Poland's previous PO-led government could not agree a rescue plan for the company, Platts reported.
Eldorado Gold signed an agreement to sell its 82% interest in the Jinfeng gold mine in southern Guizhou province to China National Gold Group's wholly owned subsidiary for $300m.
The open-pit and underground mine uses Biox technology and a conventional carbon in leach circuit to produce gold doré.
The transaction is subject to obtaining various regulatory and other approvals and is slated for completion in the third quarter of 2016.
Three scientists in Queensland, Australia, secured funding from the state government to conduct research in a bid to overcome mining industry challenges.
The three scientists will receive $180,000 for a period of three years, and work with Queensland research institutions and industry organisations to ensure the research is translated into real practical application.
Advance Queensland Research Fellowship recipients to undertake the research are Dr Hong Peng, Dr Pradeep Shukla from the University of Queensland's School of Chemical Engineering and Dr Sergio-Andres Galindo-Torres from the University of Queensland's School of Civil Engineering.