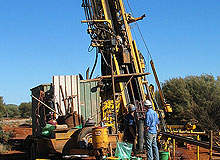 In late summer 2010 the mining industry media reported the development of drilling technology that was said to tick many if not all of the 'green' boxes. The kit, which is based on closed-loop water hydraulics, is said to use 0.01% of the energy of some existing systems and 60% less water, with the financial and environmental benefits that implies.
But if you look behind the headlines here you'll see there is little that's new. For one thing, the technology has been under development for 25 years.
In fact, according to independent mining consultant Dr Robert Dowdell, "I've heard about this technology being a major new innovation so many times in the past. It's been touted all over the place."
The very idea of becoming greener on the energy side is not even a priority for some mining companies. For example, a Rio Tinto spokesman says, "Energy efficiency isn't one of the major strengths of our mine innovation."
And according to a spokesman for consultancy SRK Exploration, "There hasn't been a great deal of change in this respect in the industry. The biggest push at the moment is to be seen to be greener in terms of such things as on-site recycling, rather than energy efficiency."
Electric revolution
"The very idea of becoming greener on the energy side is not even a priority for some mining companies."
One mining company that is grasping the energy nettle though, is Anglo American subsidiary Anglo Platinum, which is switching from traditional compressed-air drilling kit to electrical systems, supplied by Hilti.
As the company's group energy engineer Gerhard van den Berg explains, "Our Twickenham mine is now fully electric, as is our Brakfontein operation (a newly developed incline shaft at Bokoni platinum mine), and all our new projects will use electric drilling. We're also phasing out compressed air, specifically the compressors themselves, as the equipment reaches the end of its life."
There's a fundamental reason for this. "The point with electrical systems is that you're using the electrical energy directly," van den Berg says. "With compressed air systems, that energy first has to be applied to compressing the air, so in an electrical system the losses are inherently lower."
"We commissioned a report from South Africa's Council for Scientific and Industrial Research (CSIR), which shows that compressed-air drilling 'costs' us 7.2kWh per metre drilled, whereas electrical drilling comes in at only 0.1kWh. Electrical systems are more expensive than compressed air but the savings offset this, to the point where changing over to electrical systems is cost-neutral," he says.
Electric drilling was a considered choice as well. Van den Berg explains, "We've also carried out tests in conjunction with the CSIR on hydro-powered drills but we found they produced a lot of water. They're better than compressed-air systems but they still can't beat electrical kit."
There are other advantages to electrical drilling, he says. "First, noise levels. Electric drills are three times quieter than systems using compressed air, which goes a long way to eliminating noise-induced hearing loss."
"All in all, switching to electrical drilling has raised our productivity."
"There's also the issue of oil for rock-drill lubrication – compressed air systems need it; electrical systems don't. Before, we could have tons of oil down a mine, but that's not the case now with the electrical systems."
"That brings with it a variety of benefits associated with the environment down in the mine but also with the flotation process on the surface to recover the PGMs," he says.
"In the past, the presence of oil in the ore would interfere with flotation, so we had to add reagents in the flotation tanks to counteract this. Now, with no oil present those reagents aren't needed."
Symbiosis
It's this symbiosis between a cleaner environment and more efficient production that in Anglo Platinum's view makes energy efficiency worthwhile. As its head of engineering Krish Pillay says, "It's always been an issue for us but it's also a question of taking a long-term view, given the problems in recent times in South Africa with energy supplies and the heightened global awareness these days of emissions."
"There are business benefits as well of course," he concedes, "in that energy efficiency has a positive influence on the bottom line. All in all, switching to electrical drilling has raised our productivity."
For now though, Anglo Platinum may be little more than a prophet in the wilderness. It's perhaps difficult to persuade some mining companies of the bottom-line advantages of energy efficiency when the prices of many commodities are at all-time highs and have every chance of rising further. But that is bound change, and when it does it's reasonable to expect it to herald a much greater demand for energy-efficient technology.