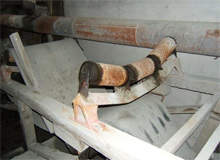 With the current economic climate sending production costs soaring to unprecedented levels, it is important that companies do as much as possible to protect machinery from devastating setbacks that could not only cost the company extortionate amounts in repairs, but also cause devastating setbacks to production.
For this reason, lubrication and wear protection are vital tools at any miner's disposal. With a great deal of machinery needed to successfully and efficiently sustain a mining operation, various forms of lubrication and wear protection are needed. Here, we examine the key products on the market.
Rubber conveyor lining
Used to protect and maintain conveyor belt operation, rubber linings are designed to be abrasion resistant and delay corrosion of the belt itself. The linings are tightly bonded to the belt itself and, when used, can significantly extend the service life of equipment.
Given the nature and conditions of mining operations, linings and belts must not only be super abrasion resistant, but also both heat resistant up to 200°C and fire resistant. For this reason, most linings are generally manufactured from soft natural rubbers with a hardness range between 40 and 70 IRHD (international rubber hardness degree).
Open gear lubricants
There are numerous and various lubricants available, each designed specifically to offer different levels of protection to the various types of machinery used within a mining operation. Mainly designed and used to reduce friction, heat and wear in frequently used machinery, lubricants form a microscopic layer on the metal surface and are particularly used on loaders, shovels and dump trucks.
"Lubrication and wear protection are vital tools at any miner's disposal."
Open gear applications, including machinery such as ball mills, are widely considered to be particularly difficult to lubricate successfully because of how they operate at low-pitch line velocities and are often tasked with supporting heavy loads. Successful open gear lubricants must possess a number of desirable qualities and properties, including load-bearing capability, vibration reduction and water-washout resistance.
As a result, several industry-wide specifications and standards have been established by the American Gear Manufacturers Association (AGMA), dictating the use of open gear lubricants including asphaltic types, semi-fluid greases, gel / polymers and high-viscosity synthetics.
Asphaltic types are formed using high-viscosity mineral oils containing a high level of asphalt and are typically considered to be hugely reliable amongst operators. They operate on the basis of an oil film acting between the surfaces of the pinion and gear, preventing corrosion and friction between the two. Despite their reliability, asphaltic-type lubricants tend to attract contaminants because of their adhesive nature.
Semi-fluid greases usually consist of medium-viscosity petroleum base oil with a gelling agent or thickener and are more commonly used in small quantities, allowing the gear and pinion surface to operate under boundary lubrication conditions. When applied to open gearing systems, semi-fluid greases produce a thick, semi-dry working film that separates gears during mesh, preventing build-up in the roots of the gears.
High-viscosity synthetic oils are the latest lubricant to have found a place in the market, appearing in the early 1990s. Formed using high-synthetic base fluids such as polyalphaolefin and polyol esters, synthetic oils have low traction properties resulting in low fluid friction in the load zone and mating gears. This, in turn, reduces the operating temperature of pinion and gear joints, improving efficiency.
The oils operate under the same principle as asphalt-based lubricants, forming an oil film to separate surfaces, and are primarily used in high operating temperatures because of their inherent thermal stability.
Wire rope lubricants
Mainly used in drag lines and drag ropes, wire rope lubricants are used to form a dense film to protect them from corrosion. They typically fall into two categories, penetrating and coating. Penetrating lubricants contain a petroleum-based solvent that carries the lubricant to the core before evaporating, lubricating each strand in the process, whereas coating lubricants seal the outside of the cable with a thick film to reduce wear and corrosion.
Because most rope fails occur inside the core of the wire, it is important to adopt a strategy including both lubricants to ensure a high level of protection.
Petrolatum-based wire lubricants can provide excellent corrosion and water resistance with the added bonus of being translucent, allowing easy visible inspection.
"Rubber linings are designed to be abrasion resistant and delay corrosion of the belt itself."
Whilst they perform consistently in cold climates, they are prone to dripping off at higher temperatures, which can prove problematic in certain mining operations.
Asphalt-based compounds can make inspection difficult, but make for efficient wire coating because of their longevity and ability to withstand high temperatures, whereas petroleum and vegetable oils offer more comprehensive penetration whilst proving to be easier to apply and providing excellent wear and corrosion resistance.
Lubrication systems
Lubricants offer extensive wear protection, but must be administered in the correct fashion to pivotal areas and, as such, the correct lubrication system is particularly important.
Automatic lubrication systems protect equipment by automatically supplying lubricant in exact quantities to areas of friction and wear, ensuring machine safety and endurance. They generally comprise a timer, pump and reservoir, delivering lubricant to the area through the pump at designated intervals.
Single-line systems use metering valves and dispensing pistons that feed lubricant from the supply line to lubrication points one after another, using secondary progressive metering valves sized individually for differing lubrication points. This differs from a dual-line system that has two supply lines used alternatively as pressure / vent lines to dispense measured shots of lubricant. A Dual-Line system can be advantageous as it is capable of maintaining a number of lubrication points from a single pump station at a large distance.